(CNN) -- The nation's foreclosure crisis threatened a high-profile victim this week: TV legend Ed McMahon, best known as Johnny Carson's sidekick on "The Tonight Show."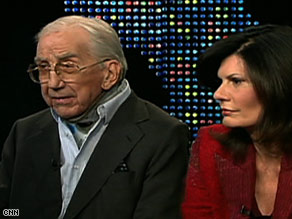 Ed McMahon and his wife, Pam, talk to CNN's Larry King about their mortgage problems.
The Wall Street Journal reported Tuesday that McMahon was $644,000 in arrears on a $4.8 million loan for a home in Beverly Hills, California, and his lender had filed a notice of default.
McMahon and his wife, Pam, appeared on CNN's "Larry King Live" on Thursday night to talk about their financial woes and other topics.
Some highlights:
Larry King: What did happen, Ed?
Ed McMahon: It's a combination, it's like a perfect storm. Economy problems. Selling the house right now is a tremendous operation .... We've had this house on the market for two years. We've shown it, I don't know how many, 50 organizations or people. Nobody has made an offer. I mean, it's just a lovely home. I hate to leave it. I want to keep the home. I want this all to work out.

Watch McMahon tell King what went wrong »
King: And the payments, you can't make -- what's the problem?
Ed McMahon: Well, if you spend more money than you make, you know what happens. And it can happen. You know, a couple of divorces thrown in, a few things like that. And, you know, things happen. You want everything to be perfect, but that combination of the economy, I have a little injury, I have a situation. And it all came together.
King: Did you break your neck?
Ed McMahon: I broke my neck. I had a fall. ...
King: Has that stopped you from working?
Ed McMahon: Oh, sure. You know, you can't work with this [brace] around your neck. And I have to wear this.
King: But, Pam, the assumption is that the McMahons are multimillionaires and multimillionaires -- how much behind are you, $644,000, right? That's what's reported? ... If you're a millionaire, shouldn't you be able to pay $644,000?
Don't Miss
Pam McMahon: I think over the years, you know, it's just a kind of a combination of maybe Ed working so hard and not kind of looking at proper management, which happens a lot. ... Because you're a celebrity, people think you have a lot more than you have. And you always want to take great care of all of your friends and your family and everybody, and you do. And you don't, and I think, you know, we didn't keep our eye on the ball. We made mistakes.
King: And are they foreclosing?
Pam McMahon: Yes, they are. ...
King: So you will lose this home?
Ed McMahon: It's possible, yes. But now, I'll tell you what's happened, oddly enough. Today, all kinds of wonderful things have happened. New things have happened. And new interest in this house. Where the house had no interest, now there's all kinds of, tons of interest. So who knows what's going to happen. I'm optimistic. ...
King: Ed, why have you gone public?
Ed McMahon: Well, I figured I wanted to, in a sense, speak for the million people you mentioned [facing foreclosure]. I heard that figure today and I just couldn't believe it. Anyway, the million people that now have foreclosure signs on their house, or nearby. And I just want to give them hope, give them optimism, give them some kind of guidance. Get the best corrective people you need around you. Keep working on it. Don't stop. There's a lot of people that are hard workers, did everything right, didn't do anything wrong, and all of a sudden, they're in this boat. And I speak for all of them, as far as I'm concerned.
E-mail to a friend

All About Ed McMahon • Real Estate • Larry King