(CNN) -- Common's "Universal Mind Control" is set to hit store shelves Tuesday, but the rapper has a lot more than an eighth album release on his horizon.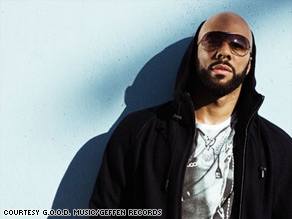 The rapper Common has a new album coming out and an upcoming role in "Terminator Salvation."
The Chicago-born entertainer recently sat down with CNN's Eliott C. McLaughlin to discuss the album, teaming up with superstar music producers, President-elect Barack Obama, his upcoming role in the "Terminator" sequel, his new Web site and hanging out with tennis star Serena Williams.
The following is a transcript of the interview, which has been edited for content, length and clarity:
Eliott C. McLaughlin: Originally, this project started out as an EP. You were going to name it "Invincible Summer." Now they've pushed back the release date to December, and it's a full album called "Universal Mind Control." What happened?
Common: I was pretty much done with the album and it was called "Invincible Summer" and it was due out in late June. But I got a call for the "Terminator Salvation" movie and they said they wanted me for a role in the film, and this was around May when we were close to completion [of the album]. But they offered me a role in the "Terminator" movie and I was like, "I have to do this movie," so I ended up focusing on the film for the summer and decided to push the album back to when it was done and done completely and done right and in the correct way.

Hear Common chat about what drove the new album »
I was still holding on to the title "Invincible Summer," even though it may have been released in October or November, but then a close friend of mine who's been doing creative consulting suggested, when she heard the album, that it be called "Universal Mind Control" because that's what the album felt like. When she said that, it's like the heavens opened, a glow. It was like, "Thank you!" because it just felt so much better being called "Universal Mind Control" and so much more fitting for the album.
McLaughlin: Why was it more fitting?
Don't Miss
Common: I think when I heard the title "Universal Mind Control" -- which was the title of the single and that's where she had gotten the name from -- I feel that it sounds like something that's futuristic, like it's a whole new sound and a new movement and I feel that that's what this music is. It's like a new movement, and it's expressing the future of what hip-hop is and it's progressive, and I feel that's what "Universal Mind Control" means and says. And I think the only way that I can really relate "Invincible Summer" to this album is because the music is the music that makes you feel good and I relate summer to happiness and bright days, so that was really the only connection that "Invincible Summer" had to the music.
McLaughlin: When I was listening to the title track, there's a heavy electronic backbeat -- that synthesizer -- and we've seen some of this in past. Kanye West's "Stronger" is one of the best examples. Is this an emerging trend in hip-hop?
Common: I believe it's definitely something that people are open to doing and the audience is open to listening to. I think the hip-hop audience is broadening, just like the world is. Right now, we've got a great time in the world when people are putting away the past and trying to look to the future. And I believe that's what's happening in hip-hop where you have artists such as Kanye and N.E.R.D. and Lupe Fiasco and groups that are known as the next movement -- like Cool Kids -- that are using different sounds and different things to progress the music, and I've always been open to advancing and growing. I did an album called "Electric Circus" where I used a lot of electronic music back in 2002, and that album was ridiculed at the time, but I feel now in hip-hop there's more opportunity to do progressive music and it be accepted.
McLaughlin: Speaking of West, you teamed up with him on "Be" and "Finding Forever," and those albums were well received. Why did you decide to change directions by teaming up with Pharrell Williams [of the Neptunes] on this album, and do you think "Universal Mind Control" might suffer -- among your fans and among music critics -- because you didn't link up with Kanye?
Common: No, I believe that music is about making quality things, making quality art, and no matter who you decide to work with, you and that person have to come up with something special, come up with something that is excellent material so whoever hears it and reviews it will like it. I believe I chose to go in this direction because I wanted to do something different and I didn't want to be predictable in what I do, and it came from an organic place. It wasn't reactionary or anything.
I seen Pharrell and he was like, "Man, let's work," and I said, "Man, I've been wanting to work with you." We had done something before. We started in the studio -- Electric Lady Studios -- in late February and the songs that we were coming up with just felt good and felt natural and felt like the sound that I wanted to go to. At the time, I didn't know who else would produce on the album. But the Neptunes ended up doing so many beats, our working chemistry and pace was just moving forward and it just felt right, so I decided to have them produce the majority of the album.
And them along with Mr. DJ -- who did work with OutKast; he co-produced "Bombs Over Baghdad" and "Ms. Jackson" -- he produced the rest of the album. And it all gave me the sound that I wanted, and I'm one for coming and doing the unexpected, whether it's with my girlfriend, taking her somewhere new or going to a museum to do something different. I don't like repetition or redundancy.
McLaughlin: Mr. DJ obviously has an Atlanta connection. I noticed you're teaming up again with Cee-Lo [of Goodie Mob and Gnarls Barkley] and producer Alex Kresovich, who has an A-town connection. What drew you to the Dirty South for this album?
Common: Oh man, I love what the South brings as far as the soul, and I really have noticed from even the early days of listening to OutKast and Goodie Mob that Atlanta and the South has a diverse sound to it. You have bounce music. You have soulful musicians. You have artists with vocals who try to do different things.
And Mr. DJ he just had a whole different sound and layers to his music, but it still had a bounce to it that everybody could bounce to no matter who you are. You can move to it. It sounded like it was an alternative brand of music with soul. And I love that. I love Radiohead. I like music that pushes the envelope, but it still has soul to it and that's what those artists brought.
McLaughlin: You've always been discernible from other lyricists. You've got a unique sound, unique cadence. Do you think you get the credit you deserve as an artist?
Common: I actually think I do, man. I feel like God gives you what you deserve. Whatever that time is, you get what you deserve. And you have to work and continue to work to expand your audience or to grow in whatever way you want to grow, meaning I feel like I was doing music that was creative and was good music, but maybe it was only directed to a certain audience when I was known as being an underground artist because that's what I see.
That was my vision at that time. And though I would say to myself, "Man, I want to be one of the biggest artists ever," maybe my scope of the world wasn't up to par at that point, or maybe I wasn't aware of what it would take to be the biggest artist. Because if I said I wanted to be a big artist known to all the masses, then after I make the music, I've got to go out and make good business moves. And I don't think I was doing that early in my career, so I feel like I was getting what I deserved by what I was putting into it and by what work that I wanted.
I was more just, honestly, about the creative aspect of making music than about the business. And mind you -- I want to say this, Eliott -- as an artist it's important that you focus on creativity. That's what you first have to have is good music because if you don't have good music, then trying to sell some weak product to people is not the move.
But after you make good, quality music, then it's your job to go out there and promote it and to market it and to get it out there to the people. I feel like I wasn't doing that early on. Now I am, and I feel like I'm growing as a songwriter and working with producers that are very incredible, so I feel all that is contributing to me getting the recognition that I'm getting.
McLaughlin: Did teaming up with superstar producers like West and Williams play a role in bringing you from the underground to the mainstream?
Common: It definitely played a role. It first played a role because the songs got better. These producers are not just very popular producers because of their name. It's because of their talent, their quality and their vision. Working with Kanye, he wouldn't allow a song that we did to come out not good. It would have to have a good hook. My raps would have to be right, whereas some producers just allow the artist to do whatever they choose to do, but Kanye took that extra step, which made the songs greater.
And of course, working with him and him being one of the biggest artists in the world, him going out and promoting me as an artist, also helped. But I'm a true believer that it all boils down to the music, because Kanye can endorse something and if people don't like it, they ain't gonna get with it regardless of whoever endorses it.
And the same kind of working relationship happened with Pharrell. Like him producing these songs, he really kind of orchestrated and Quincy Jonesed it, like "Hey, we need to get this. Maybe you can rhyme in this pattern." He would give suggestions. I feel that's a good quality of a good producer.
McLaughlin: Let's switch gears for a second. What's your take on Obama being elected?
Common: I'm so enthused for this country and for the world. I felt there couldn't be a more deserving person in office to lead this country and to lead the free world, as they say. I've met this individual and really thought that he was one of the warmest and nicest people I've met and definitely had the best vibe out of anyone I've met in politics. I think Barack Obama is the leader of the future in a way because we need people in politics who can bring in all types of people and not just one genre of people. Barack Obama is that unifying factor from every level.
McLaughlin: Do you think hip-hop helped Obama on the campaign trail?
Common: Yeah, I do believe hip-hop helped Obama. Hip-hop has invited the youth in to become more political and to become more aware of what's going on in the world and to make a difference. Hip-hop artists such as myself, Jay-Z, P. Diddy, all these cats stepped up and said, "Man, we can make a difference. We can use our voice to do something to help change this world. And we've been changing the world through music and through this culture, but we can also do it in a political structure, too, so let's go out and encourage the people to vote and encourage the young people to be a part of this and to effect the change."
The "Yes We Can" video, people doing concerts all over -- every concert I did, whether it was at colleges or whatever, I would mention Barack Obama, and actually, he got the most cheering out of anything I mentioned the whole night. The hip-hop community was very supportive and very influential in the success and in the election of Barack Obama.
McLaughlin: Do you think Barack Obama's presidency will have an effect on hip-hop's message in coming years?
Common: I really believe it will, because hip-hop truly is a reflection of society and what's going on in the world and how we as the youth see the world and see what's going on. Being that we know that there's going to be a brighter day and there's going to be change and positive change, I think hip-hop artists will have no choice but to talk about different things and more positive things and try to bring a brighter side to that, because even before Barack, I think people had been tired of hearing the same thing.
I made a choice as a hip-hop artist -- I've always been conscious, honestly -- I made a choice on this album, "Universal Mind Control," to really make some music that was bright, that would be a little more lighthearted, just because of what was going on in the world. I really do believe we as hip-hop artists pick up what's going on in the world and try to reflect that. And I know that Barack, his presidency, him being elected president, is going to change hip-hop for the better.
McLaughlin: You were talking about "Terminator Salvation" earlier. Is it true you'll be playing Green Lantern in an upcoming "Justice League" movie as well?
Common: I was slated to be in the "Justice League" movie, and the "Justice League" movie didn't happen. I was slated to be Green Lantern but because the movie didn't happen, I'm not the Green Lantern right now, but God willing, as the movie comes back together, I will be able to be the Green Lantern.
McLaughlin: What draws you to acting?
Common: I love what it allows me to feel as an artist. I feel like I'm expressing other sides of me that I'm afraid to express in my daily life or even in hip-hop. I feel that it allows me to learn a lot about people and even about myself. Any fields that you may be playing a character of, any field that that character is a part of, you learn a lot. I love the education that comes in acting, and the fun and the glory, too.
McLaughlin: Do you think we'll see you go increasingly in this direction, or will you try to keep a happy balance between acting and hip hop?
Common: I would truly love to go increasingly in the acting direction. I really love acting a whole lot. I'm passionate about it. My goal is to be a movie star. I want to be at Will Smith's level. I want to be co-leading with Leonardo DiCaprio.
McLaughlin: So if you could give up hip-hop and be a top-tier actor, you would?
Common: I don't think I'd give hip-hop up. If I could -- I will be at that level of leading man and movie star -- I definitely would focus on that more than making music. The funny part is, I make music better the more movies I'm doing. I don't take as much time overthinking it. Actually, since "Be," I've been working on films and each album has been expanding and increasing, so I feel like I would still make music, but it wouldn't be the main gig.
McLaughlin: I heard you've been hanging out with Serena Williams? How are things?
Common: From what I was told, Serena's doing excellent. She's just finishing up a tennis tournament. I think she did a trip in Africa and did some really great things. They opened up a school in her name and different things like that, which was cool. If you want to know, for me right now, I'm so focused on music and the release of my album and movies and the release of my new Web site. I hadn't really had a lot of time to focus on a relationship like that.
McLaughlin: Anything else we need to touch on?
Common: Just another thing, Eliott -- I want to let the people know that they can get the album for 99 cents on Zune.net. And I'm launching my new Web site today, called thinkcommon.com.
McLaughlin: Tell me about that.
Common: The truth is I had never really been on the Intenet too much, like not too present. Common didn't have a presence on the Internet. I had my Web site up that the label had established and the MySpace that the label had established. But I really wasn't into it. At some point I realized how valuable it was and how valuable it could be just to communicate with your fans and to give them a place to come to to commune and discuss the music and different things that I was doing and make them aware of that.
So I came up with the idea of thinkcommon, which would be the name of the Web site, and then I found a great Web designer. And once I seen what he was doing as far as Web design, I really got excited about it. Now I'm going consistently on the blogs and going back and forth with my fans and people that's just getting hip to Common.
McLaughlin: Tell me why you wanted to make your album available for 99 cents.
Common: It's also a way to market the music and let people know that when they get the music that they will spread the love and make more people aware of it. It's really a good marketing strategy and also just a way to say, "Hey man, I'm going to try to give y'all a deal with this," because we teamed up with Zune and my label teamed up with them also to make sure that we can provide the music at such a low price so that they can get aware of what's going on and get the feel for "Universal Mind Control" and hopefully go out and support it in more ways than one.
E-mail to a friend

All About Common (Rapper) • Kanye West • Pharrell Williams • Serena Williams