By Shanon Cook
CNN
NEW YORK (CNN) -- John Legend just woke up from a nap. He's a little groggy, but he's determined to have a serious conversation about evolution.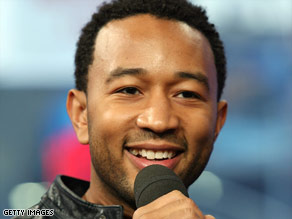 John Legend focuses on more uptempo R&B on his new album, "Evolver."
His evolution.
The 29-year-old crooner released his third album, "Evolver," this week, and as the title suggests, he's moving in a new direction. In fact, he's doing a lot of moving around ... on the dance floor.
Legend spends less time on soulful, piano-driven ballads on this release and focuses more on contemporary R&B tracks with playful electronic beats. Andre 3000, Kanye West and Brandy join him for the ride. You'll also hear from rising British star Estelle, whom Legend signed to HomeSchool Records, the label he launched earlier this year.
The five-time Grammy winner is also finding his voice outside the music world. In August he signaled his support for presidential candidate Barack Obama by debuting the song "If You're Out There" at the Democratic National Convention in Denver.
Legend, who was born in Springfield, Ohio, as John Stephens, is also working on alleviating poverty in areas of Africa with his charitable endeavor the Show Me Campaign.
He's the first to point out what a self-starter he is.
"I call myself John Legend," he says. "So I'm a bit ambitious anyway."

Watch how Legend tries to live up to the name »
No wonder he's so sleepy. A logy Legend sat down with CNN to talk about his new sound, politics, and why he doesn't get riled up about what he reads online. The following is an edited version of the interview.
CNN: Is it my imagination or are you going for a more uptempo vibe this time around?
John Legend: You're not imagining things. It's a real thing. This album definitely has a different feel. There are definitely still some good ballads on the album.
Actually some of the best songs on the album are ballads. But the overall feel ... it's more up-tempo. Some of the sounds are different on this album. It has a heavier electronic feel. It's fresh. Not stale in the sense I could've done the same thing over again but I didn't want to.
CNN: You also get a bit sexy with the lyrics. Like on the song "Good Morning" (in which Legend tries to commence amorous activity with his lover in the morning hours).
Legend: That's nothing new. I'm used to getting sexy sometimes in the lyrics.
CNN: It's extra sexy.
Legend: It's extra sexy, yeah. I would agree with that. But the topic is extra sexy.
CNN: You performed at the Democratic National Convention and recently at a benefit supporting Obama. What prompted you to get into politics?
Legend: Well, I've always followed politics, and I think politics is everybody's business because we're electing someone who's going to be making important decisions that will affect all of our lives.
So I've just chosen to support somebody who I believe is the right candidate. ... And because I support him, because I'm passionate enough in my belief that he's the right person, I've done specific things to help him get elected, like helping to raise money, helping to get out the vote.
CNN: Your song "If You're Out There" sounds like a real rallying cry.
Legend: Yeah, that's the idea behind it. I figured I could be ironic, I could be subtle, or I could be cynical, but why not just go out there and say it, you know. Let's make that anthem, try to get people to rally without being ashamed of the clearness and the boldness of the message. Let's just say it.
CNN: Have you met Barack Obama?
Legend: Yeah, I've met him a few times.
CNN: Does he listen to your music?
Legend: I'm told that he does. He told me he does, and his staff told me he's a big fan. So that's cool.
CNN: When you support a candidate as you have you take the risk of ticking off some of your fans. Does that worry you at all?
Legend: I get the sense that most of my fans are also Obama supporters. Call me crazy but I just get that sense. And for those who don't agree with me, I feel like I respect their right to disagree and they should respect mine as well.
CNN: I noticed somebody posted a message under one of your videos on YouTube essentially saying they decided not to buy your new album after seeing you voice your support for Obama ...
Legend: You can always find a stray negative comment on the Internet. It's like everybody loves to put negative comments on the Internet under the cloak of anonymity. It is what it is. If a few people decide not to buy my album it's really not going to change my life that much.
CNN: Do you ever check out what people are saying about you online?
Legend: Sure, I read it sometimes. And it's entertaining. Sometimes I take it as constructive criticism. Every artist wants some sort of feedback, because you make this music and you hope people love it and you want to hear if they love it and what they love about it, what their favorite song is, what they think the next single should be. I like to hear those things.
And sometimes I just think people are haters. And if they're haters, you can listen to what they have to say but you have to take it with a grain of salt.
CNN: You're appearing in the upcoming film "Soul Men." Do you like acting?
Legend: I had fun doing "Soul Men." It wasn't much of a stretch because my role was purely musical. I was just doing performances. I had no speaking lines but I had a great time, so maybe I'll do some more in the future.
CNN: Really? There's not too much "hurry up and wait"?
Legend: There's a lot of hurry up and wait, yes. But it gives you time to write a song (laughs).
E-mail to a friend

All About John Legend • Music