(CNN) -- Elvis Presley may have left the building three decades ago, but he raked in more money last year than many living titans of the music industry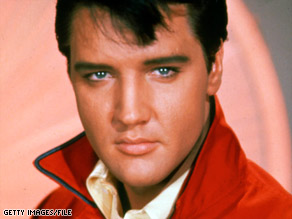 Singer Elvis Presley tops the Forbes list for the second year in a row, raking in $52 million last year.
For the second year in a row, Presley topped the Forbes magazine's list of Top-Earning Dead Celebrities, hauling in $52 million last year.
In comparison, the very-much-alive Justin Timberlake earned $44 million while another superstar, Madonna, made $40 million, the magazine reported Tuesday.
The 30th anniversary of Presley's death boosted attendance and merchandise sales last year at his Memphis, Tennessee, home, Graceland.
A long list of licensing deals, such as a Presley show on satellite radio, added to the earnings.
The business magazine has been compiling its annual list of departed celebrities' earnings since 2001. Since 2003, the feature has coincided with Halloween.
This year, the top 13 celebrities earned a combined $194 million in the last 12 months.
The magazine says it talked to people inside the celebrities' estates and calculated their gross earnings from October 2007 to October 2008.
Some celebrities are staples on the list, which is in its eighth year.
Cartoonist Charles Schulz, who created Snoopy, Charlie Brown and the assorted cast of "Peanuts" characters, is second on the list.
Ringing Up The Dead
Forbes' top earners among dead celebrities:

1. Singer Elvis Presley - $52M

2. Cartoonist Charles M. Schulz - $33M
3. Actor Heath Ledger - $20M
4. Physicist Albert Einstein - $18M
5. TV producer Aaron Spelling - $15M
6. Author Theodor Geisel (Dr. Seuss) - $12M
7. Singer John Lennon - $9M
8. Artist Andy Warhol - $9M
9. Actress Marilyn Monroe - $6.5M
10. Actor Steve McQueen - $6M
11. Actor Paul Newman - $5M
12. Actor James Dean - $5M
13. Singer Marvin Gaye - $3.5M
Schulz, who died in 2000, had posthumous earnings last year of $33 million, the magazine reported.
He owes his constant presence to a steady revenue stream from the ongoing licensing of his characters, the magazine said.
Schulz and Presley join Theodor "Dr. Seuss" Geisel (this year's No. 6), Beatles legend John Lennon (No. 7) and actress Marilyn Monroe (No. 9) as the only entertainers to make the list every year since its inception.
Physicist Albert Einstein, best known for his theory of relativity, is fourth on the list. It is his third consecutive year making the Forbes rankings.
Though he died in 1955, a franchise bearing his name -- Baby Einstein -- made big bucks last year selling educational books, DVDs, CDs, toys and other products. It plans to expand into the young-adult market this year.
Australian actor Heath Ledger, who died of an overdose in January, made his debut on the list in third place.
The magazine estimated his earnings at $20 million, thanks to the success of the movie, "The Dark Knight," in which Ledger played the Joker. The movie grossed $991 million worldwide.
Paul Newman, who died of lung cancer last month, also made his first appearance on the list, raking in $5 million.
"His income still largely stems from residuals from his classic pictures, as well as more recent productions," the magazine said.
The legendary actor's line of natural and organic food products, Newman's Own, earned revenues of $120 million last year, but the earnings were not considered in the tally because Newman donated all profits to charity while he was living, the magazine said.
Several entertainers from last year's list failed to make this year's cut, including composer, producer and Beatles guitarist George Harrison, rapper/actor Tupac Shakur, "Godfather of Soul" James Brown, and reggae legend Bob Marley.
E-mail to a friend

All About Forbes Media LLC • Elvis Presley • Charles Schulz • Heath Ledger