By Denise Quan
CNN
LOS ANGELES, California (CNN) -- The night before I interviewed James Taylor, I received a BlackBerry message from my executive producer, Karen.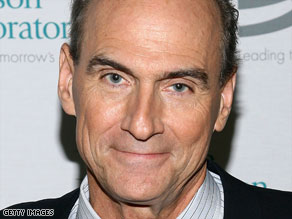 James Taylor covers songs such as "Wichita Lineman" on his new album, "Covers."
"Can you find out where he got the hat he's wearing on the cover of his new CD?" she asked.
The next morning, I dutifully relayed the question to Taylor, who laughed heartily. "I lost that hat! I love it, too!" he said.
He led me into his dressing room and began rifling through his duffle bag, pulling out a similar gray fleece cap.
"See? I collect hats. That's what you do when you're bald."
When he found out Karen was also bald -- because of chemotherapy for ovarian cancer -- he grew concerned, asking questions about her treatment. "Would you allow me to write her a note?" he asked.
He disappeared in his dressing room for a minute, then came back out. "I can't find a piece of paper to write on," he said ruefully. "Do you think it would be OK if I wrote on a CD?"
And that pretty much sums up why sensitive singer-songwriter James Taylor earned the reputation of "senstive singer-songwriter" back in the '70s.
Though he's taken a few jabs over the years from rock critics, it hasn't hurt his standing. He's been inducted into the Rock and Roll Hall of Fame and the Songwriters Hall of Fame for penning such heartfelt, timeless tunes as "Fire and Rain" (about his experiences coping with drug problems and a friend's suicide) and "Carolina in My Mind" (about his childhood in North Carolina).
Taylor's latest album, "Covers," puts his signature acoustic spin on 12 songs made popular by other artists, including Glen Campbell's "Wichita Lineman" (written by Jimmy Webb) and "Sadie" by the Spinners. The CD debuted at No. 4 on the Billboard Top 200 album chart.
The last few days, JT has been "goin' to Carolina" to perform five free concerts in support of Barack Obama, determined to help turn the state blue for the first time since 1976. (The last concerts are Tuesday night.)

Watch why Taylor revels in "Covers" »
CNN recently caught up with the 60-year-old artist and activist in Los Angeles, where he was sporting a navy Versace suit ... and no hat. The following is an edited version of the interview:
CNN: You're one of America's great singer-songwriters. So why are you looking to other people's material on your new album, "Covers?"
James Taylor: Well, you know, I've done a lot of covers in my time. "How Sweet It Is," "Handy Man," "Up on the Roof," "You've Got a Friend."
CNN: Sometimes we forget they're covers because you've made them your own.
Taylor: That's actually one of the main questions when you do a cover of another tune. Usually it's a song you love. So what makes it worth doing another version of it? You have to find another angle. You have to come at it from a different place. It's never going to actually be better than it was, but it could be different.
When I approach a song, I put it into my sort of harmonic context, and I play it on the guitar with my technique and stuff, and I do with it with my voice what I tend to do -- so the arrangement does sound like a song of mine.
CNN: Have you heard from any other the folks you've covered?
Taylor: Yeah, Jimmy Webb heard our version of "Wichita Lineman" and he got in touch. Well, I actually learned it from him. I played it at Carnegie Hall with him a couple of years ago at a benefit that we were both doing, so he's been in touch. And one of the guys from the Spinners who wrote "Sadie" (Bruce Hawes) got in touch with us and said that he really liked the version that we'd done.
CNN: Have you ever heard a really bad cover version of a James Taylor song?
Taylor: Um, no. Not really bad. People don't tend to put things out that are really bad. They don't make it onto the radar if they're really wretched.
(Laughs) I've heard ones that have sort of missed the mark, or that I didn't think really got it. Babyface did a couple of songs of mine -- "Shower the People" and "Fire and Rain" -- and it was just beautiful to hear. It's a thrill. That's really like the top. The best thing is when you hear somebody take your song and make something great of it.
CNN: I heard you just did an interview with Stephen Colbert ... and he asked you why there's no version of [a] Wu-Tang Clan [song] on your new album, "Covers."
Taylor: Yeah, he wanted to know why no Wu-Tang Clan. I don't know what to tell you.
CNN: "Covers II," right?
Taylor: "Covers II." Yeah, it's always a possibility. We cut 20 things and had to pare it down to 12 to make an album, so we've got another seven or eight songs that are just waiting to see what we're going to do with them. We might release "Covers 1.5" or something.
CNN: You're an Obama guy, aren't you?
Taylor: I am an Obama guy. I'm sure we don't know the entire John McCain, we don't know the entire Barack Obama. That's what the campaign really needs to be about. We need to know who these guys are.
CNN: So you think it's not only the issues, but also what type of man or woman?
Taylor: Yeah. You know, a lot of the job's reactive. A lot of it is reacting to things that happen -- not just what you planned to do, but also how you respond. And I just feel so good about seeing Obama present himself, and people getting to know who he is, and how he responds, how he works. I have a huge amount of hope.
I think one of the things about the Obama phenomenon has been the degree to which people have felt engaged in their own political process. It's a democracy.
In order for it to work, that means the citizenry has to participate. ... And I feel really good about our prospects. For a long time, I had the sense that we had a government of people sent to us by people who don't believe in government. We need somebody who says, "Yeah, I'm running for government, and I believe in government. I believe it can be good."
CNN: As a Rock and Roll Hall of Famer, you're a real rock star. How do you feel about pundits calling Obama a rock star?
Taylor: They called Clinton a rock star, they call Obama a rock star. I think they call people rock stars when they want to be complimentary or say that they have a huge crowd appeal. Bruce Springsteen's a rock star. Elton John is a rock star. I'm a folk musician. Honestly, I think that's true.
CNN: You never felt like you were the cool guy in the room?
Taylor: I never did feel like, uh, like I was the cool one back then.
CNN: Chick magnet, I believe is the term.
Taylor: Chick magnet. No, no.
CNN: The way you are now?!
Taylor: I don't get that. Well, I do have this fine suit on.
E-mail to a friend

All About James Taylor • Barack Obama