By Hilary Whiteman
CNN





LONDON, England (CNN) -- The call doesn't come very often, but when it does the answer is invariably yes. This week, 91 of the world's finest musicians will clear their diaries and fly to Jerusalem for a rare performance of the World Orchestra for Peace.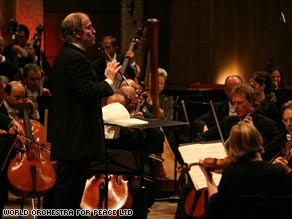 Valery Gergiev conducts the World Orchestra for Peace in Jerusalem, October 19, 2008.
Each will have received a call from Charles Kaye, former executive administrator to the orchestra's founding conductor, the late Sir Georg Solti, and now its driving force.
"The orchestra doesn't exist unless I put it together," Charles Kaye tells CNN from his home in London. "I lift the phone to every one of the 91 musicians because only that way can I be sure that I have the very best in the world."
A week before the concert, the results of his marathon round of phone calls are piled high on his cluttered desk; flight details for all performers, bills and the battered cover of a well-thumbed checkbook.
Sir Georg Solti pulled together the first Orchestra for Peace in 1995 at the behest of the United Nations Secretary-General Boutros Boutros-Ghali to celebrate the organization's 50-year anniversary.
"It was great fun in those two years before the first concert," Kaye recalls. "Literally after the first couple of rehearsals for every orchestra he conducted, Solti would call in who he regarded as the star of the orchestra and say, 'My dear, we are doing an extraordinary concert in Geneva, would you come? We can't pay you anything but we'll probably call it the World Orchestra for Peace.'"
The concert was a huge success but it was the last one Solti would conduct. He died six months before the second concert to inaugurate the new Festspielhaus in Baden-Baden.
Kaye says: "They called me two weeks after Solti died and said, 'Help, Mr. Kaye you're the only one who knows how many of the players have been booked. We want to keep the opening concert the following April exactly as Solti had planned it. We'll do the same program, we'll dedicate it to his memory and that will be our opening concert. And please, by the way, can you get us another conductor?'"
Valery Gergiev was the "obvious" choice. The young, talented and headstrong conductor had the same strength of passion for his homeland Russia as the Hungarian Solti had for Europe. Solti admired his ambition to take the Mariinsky Orchestra outside Russia and share its music with the world. Kaye says: "In three days Gergiev worked this orchestra together and afterwards he bounced off the stage and said, 'When can we do this again?'"
It was Gergiev's idea to take the World Orchestra for Peace to Jerusalem this October. "He very much wanted to do a concert," says Kaye. "He said, 'Look things are so bad there, I think we've got a message.'"Read more about Valery Gergiev
One of the world-class musicians tasked with delivering that message is 27 year old violinist, Nabil Bulos. As a permanent member of the West-Eastern Divan Orchestra, he has spent many hours using music to promote greater understanding between young Arabs and Israelis.
The prospect of peace in the Middle East strikes a personal chord with the violinist, who, while born in Jordan, is the son of two Palestinian refugees.
"When I am playing in an ensemble that has people who are ostensibly my enemy, I am not thinking about how they have oppressed my people or how there is all this injustice -- all this falls by the wayside," Bulos tells CNN.
"At that moment all I care about truly is that the person who is playing plays as best as they can, whether that person is Israeli, Japanese, German, Russian, etc. The point is that the power of music in such a project lies in making a person wish for something positive for another person, as opposed to wishing them ill."
Solti's ambition to bring the world closer together through music was founded at the start of the Second World War, when the young pianist found himself homeless and penniless in Switzerland; a Hungarian, Jewish refugee with no friends and no hint of the acclaimed conductor he was to become.
After the war, he traveled to Germany where he found his first job. There, his wife, Lady Valerie Solti, says he formed a bond with others who were eager to put the war behind them and embrace a time of peace.
"These were all people from all over the world living in ruined houses. He had to live in a bombed-out house, people were living in cellars, there was no heating, nothing," Lady Solti tells CNN.
"He said, 'We were all young people, all determined to make a better Europe.' That was really his tremendous motivation," she says, "He was a very keen European, he believed in unity."
Unity is the key message of the Orchestra for Peace. Musicians from 40 nations and 70 orchestras come together for just a few days for a one-off performance to show that it's possible for people of different race, religion, color and creed to work together to achieve a greater goal, be it beautiful music, or peace. Watch the Orchestra's performance in Jerusalem

"I think of course, he would be very, very pleased that the message is still going on," says Lady Solti.
"That was the dream of these young people in 1946 in a bombed out Germany, a bombed out ruined Europe, to go forward. And here we are in a dreadful situation at the moment, but we mustn't give up. There's no point in looking back, no point in recriminating. That's the message: get it right next time. Keep trying."
There's little doubt the Orchestra for Peace will continue, so long as Charles Kaye keeps picking up the phone.
A framed photo of Sir Georg Solti hangs above his desk, a reminder of why the Orchestra must play on.

"I keep it there, I know it sounds strange, but after 20 years after working with a man like that and doing all sorts of amazing projects together I'm very much in touch with him. If I have a problem I think, now maestro, what would you do with this one? And I very often get the answer."
And that answer is invariably yes.
E-mail to a friend