By Denise Quan
CNN
WEST HOLLYWOOD, California (CNN) -- The date was October 13, 2007. In four hours, T.I. was scheduled to appear at the BET Hip-Hop Awards in Atlanta, Georgia, where he was nominated for nine trophies.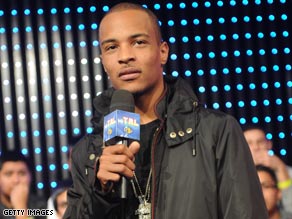 "I have a lot of people to make proud," T.I. says.
Instead, the hip-hop superstar found himself handcuffed in a downtown parking lot for attempting to buy machine guns and silencers in an undercover sting. He pleaded guilty to illegal weapons possession and was sentenced to seven months of house arrest, 1,500 hours of community service and one year in jail -- which he begins serving next March.
In the meantime, T.I.'s new CD, "Paper Trail," has become his third consecutive No. 1 album. And if that isn't enough, he sits at No. 1 and No. 2 on the Billboard Hot 100 singles chart with "Live Your Life" and "Whatever You Like."
CNN Senior Producer Denise Quan spoke with the multiplatinum rapper, born Clifford Harris Jr., backstage before a recent show at the Key Club in West Hollywood, California.
CNN: When I first heard about the charges, I said, "You have got to be kidding. WHY?"
T.I.: Well, in order to fully understand the answer to that question, you will have to put yourself in my shoes. You know how many attempts have been made against my life? There are people out there that would rather kill you than to tell you "Good luck" or "I am happy for you." So until you understand that, you wouldn't understand my train of thought. iReport.com: What do you think? Share thoughts on video
Not to say it was right. It's just my best explanation.
CNN: What scares you?
T.I.: Federal court dates. (Laughs)
CNN: Are you scared about going to jail for a year?
T.I.: I wouldn't describe it as fear. I would describe it more as concerned. Concerned, and I am a little anxious. Sooner I get started, sooner I get finished.

Watch T.I. talk about his hope for redemption »
CNN: What do you think is the biggest misconception is about you?
Don't Miss
T.I.: The biggest misconception is that I am a hotheaded thug. Ignorant, cold-hearted, just another ignorant rapper who had a chance at success and has done nothing but horrible things with it. Nothing can be further from the truth.
CNN: Do you think you have a lot to prove?
T.I.: A lot to prove? No. I have a lot of people to make proud. Even the government -- the people in the government who stood up for my conditions to be the way they are, rather than the way a lot of people wanted them to be. The last thing I want to do is let them down.
You know, they kind of stepped outside of the norm, as far as allowing me to be at home on a house arrest situation, whereas charges like mine would have normally been no bond, no consideration for bond. When I saw that they were trying to give me another chance, that kind of showed me something -- like, "You can't blow it." You gotta meet God halfway. You have to help him help you.
CNN: You've done the seven months of house arrest. And you're in the midst of completing the 1,500 hours of community service ordered by the court.
T.I.: Absolutely, yeah. Getting people to register to vote, encouraging young kids to respect one another, and stressing the value of an education, and trying to do away with teen-on-teen violence as much as possible -- using my experiences to keep them from going down a similar path.
CNN: The hip-hop community seems eager to get involved in registering young people to vote.
T.I.: I think that the hip-hop community should definitely become more involved in the political process, because we are the most influential genre of entertainment in the world.
CNN: But it seems as though some artists are holding back in terms of their involvement because they don't want to hurt their candidate.
T.I.: Absolutely. You know, when you look at the situation with Ludacris [who wrote a pro-Barack Obama song that was condemned by the Obama camp for its negative lyrics about other politicians], I would not want my support of someone to hinder their chances. I think you have to know what helps and what hurts.
CNN: You can't vote because you're a convicted felon.
T.I.: As far as I know, that is the case.
CNN: How much does that hurt? Is there a candidate you want to support?
T.I.: Well, man, it isn't necessarily about a candidate that I want to support. I feel like I owe that to my kids, my little cousins, everybody in the generation under me, to try to make this world a better place, this nation a better place. I am not going to focus on what I can't do. I am going to focus on what I CAN do.
CNN: How many kids do you have now?
T.I.: Six.
CNN: Six?! How many kids do you want?
T.I.: I'll have as many as the Lord blesses me with. So be it, as long as I have enough money to take care of them. I don't ever want to have kids who don't know their brothers and sisters. I want them all to grow up together, knowing each other, living together. I don't ever want to have some secret children.
CNN: That's very Bob Marley of you.
T.I.: (Laughs)
CNN: Do you think there's been a price to pay for your success?
T.I.: Absolutely. Absolutely. There has definitely been a price to pay. So far, it has cost me my best friend [T.I.'s 26-year-old personal assistant, Philant Johnson, was killed in a freeway shooting after a 2006 concert in Cincinnati], it has cost me time in jail, it has cost me time away from my family. I have missed four birthdays, two first days of school, four football games and a few more other things. Important outings that I would have liked to be home for.
But I mean -- I'm not going to complain about it, you know what I'm saying? I prayed for this for so long, and now I got it, you know? So I am going to maintain my position.
CNN: How have the experiences of the last couple of years changed you?
T.I.: In many ways. I think I have a calmer spirit. I think I have become a man of thought, rather than a man of action. I think I have evolved as a person. I think I have grown. I have stepped outside of the tough exterior shell I used to have. I am still myself. I still know how to get down with the best of them, but it ain't necessary to show that. There is no room in my life for that part of me.
CNN: Do you ever worry you are going to get into trouble again?
T.I.: Nope. That is not a slight -- I don't even consider this. I got it now. I got it now.
E-mail to a friend

All About T.I. (Rapper) • Hip-Hop and Rap • Ludacris