By Todd Leopold
CNN

(CNN) -- Josh Rouse is a chameleon. And a busy one, too.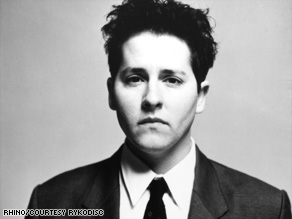 Josh Rouse has made his name with well-crafted songs in a variety of styles.
Listeners to his first album, 1998's "Dressed Up Like Nebraska," may have lumped him into the alt-country movement. Aside from Rouse's rough, intimate voice, that album sounds little like 2003's "1972," which features songs such as "Love Vibration" and "Comeback (Light Therapy)" and has a funkier, more upbeat production to match.
The 36-year-old singer's willingness to follow several paths may have come from moving around as a child. Rouse was born in Nebraska and grew up around the West and the South.
"It really shaped me as a person," he told the Toronto Sun. "There's an openness to the sound that I think I got from moving to, say, a big city in California to a Wyoming town of five or six hundred."
Though he has yet to have a breakthrough single in the United States, his music has appeared in the movie "Vanilla Sky" and TV shows including "Dawson's Creek" and "Party of Five."
He's also admired by fellow songwriters. In 2004, the Australian newspaper The (Melbourne) Age noted Rouse was going to have dinner with Edie Brickell, the "What I Am" singer who is married to Paul Simon.
"She called me and said, 'I love "1972," ' and I was like, 'I was listening to you when I was 16 -- and you're married to Paul Simon!' " Rouse told the paper.
On the business side, he's marching to his own drummer. On joshrouse.com, Rouse's Web site, he sells his "Bedroom Classics" -- dozens of songs Rouse recorded live or in random locations (hotel rooms, apartments) available to fans.
For those who like a more traditional medium, the CD, Rhino Records recently compiled a two-disc set of Rouse's material -- including several demos and outtakes -- for "The Best of the Rykodisc Years," which covers the first seven years of Rouse's career.
"Listening to this collection of tracks taken ... it's plain that Josh Rouse arrived fully formed," writes Allmusic.com's Tim Sendra. "From his first release ... he was already a thoughtful writer with a heartbreakingly intimate voice and the unfailing ability to wrap his melancholy in warm and sweet melodies."
Rouse answered several questions via e-mail for CNN.com. The following is an edited version of the interview.
CNN: Your music showcases a number of styles -- the fairly basic sound of the early records, the early-'70s infused stuff from "1972," and then there are songs like "Miserable South" that would sound comfortable coming from Otis Redding or Al Green. So, though it's a cliché, what are your influences?
Josh Rouse: Anything that is soulful and honest is an influence. There are too many musicians/writers to name.
CNN: Are you surprised that Rhino put together a "best of"?
Rouse: No, I was aware that they were planning on doing it. It's nice to reflect on the body of work I've created.
CNN: One of your songs, "Directions," was on the "Vanilla Sky" soundtrack. What effect, if any, did this have on your career?
Rouse: Well, I got to meet Cameron Crowe, and he seemed nice. I'm sure it exposed my music to some people who might not of heard it otherwise. However, it did not have a Zach Braff effect on my career.
CNN: With all the material on the Web, as well as your albums, you're obviously a prolific songwriter. Has it been helpful to put all that out there, or have some people criticized you for releasing too much, as Ryan Adams has been criticized?
Rouse: More than being criticized for releasing a lot, I think it's more difficult to receive a lot of attention for one specific record. Sometimes [the] press doesn't want to write on a songwriter they just wrote about a year or two ago. I think my fan base is grateful.
CNN: Which of your songs are among your favorites, and why? Which would you like to have back -- or rework?
Rouse: "1972" is a beautiful song all the way around. I don't think I ever want to rework anything. I'm constantly trying to move forward. Sometimes you say, "I wish that was faster, etc." but it I'm not going to go back and re-record it.
CNN: In the album notes, you mention that you write best when you're in motion -- getting ideas for melodies in taxicabs, for example. How do you hold on to those?
Rouse: If they're good, I can usually remember them. I also have a variety of small handheld recorders.
CNN: You've got songs referring to Nebraska, the Hamptons, Nashville ... have you thought of pulling a Sufjan Stevens and profiling a state?
Rouse: No, and I'm not sure half of those Sufjan songs are profiling a state. However, it makes for a great marketing tool.
CNN: You say you feel as if these albums are your "first stage." What's next?
Rouse: I'm currently working on an Afro-Brazilian record in Spanish.
E-mail to a friend

All About Music