JERUSALEM (CNN) -- Some 43 years after a Beatles concert was -- according to popular belief -- banned by Israel, Paul McCartney has announced he'll perform there in September.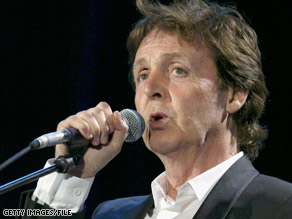 Paul McCartney says he's looking forward to playing a concert in Israel next month.
The show, which will be held September 25 in Tel Aviv, had been rumored for months.
Promoters are saying it will be one of the biggest concerts ever held in Israel, and they hope it will encourage other top stars to come to Israel.
A web site offering tickets for the concert put prices at 1,500 shekels and 490 shekels or between $426.86 and $139.44 U.S. dollars.
Israelis "will finally get the chance to experience a night of music and history they have been waiting decades for," a news release on McCartney's Web site announced Wednesday.
Two plane loads of equipment will be arriving with around 100 McCartney production people. The concert will cost around $10 million to produce and the organizers said they are hoping to make a profit.
In the mid-1960s, when the Fab Four from Liverpool, England, ruled the music charts, a concert in Israel was proposed. It never happened.
The long-told story maintained that Beatlemania was deemed too potentially injurious to Israel's youth. A more recent theory, however, blamed the ban on a tiff between competing concert promoters.
Whatever the reason, Israelis never got to experience The Beatles live.
Earlier this year, Israel's ambassador to Britain, Ron Prosor, visited Liverpool and apologized to The Beatles for the "misunderstanding."
In a letter Prosor wrote: "There is no doubt that it was a great missed opportunity to prevent people like you, who shaped the minds of the generation, to come to Israel and perform."
McCartney and Ringo Starr are the only surviving Beatles. John Lennon was slain by a deranged gunman in 1980; George Harrison died of cancer in 2001.
McCartney is billing the Tel Aviv show his "Friendship First" concert.
"I've heard so many great things about Tel Aviv and Israel, but hearing is one thing and experiencing it for yourself is another," McCartney said in the news release. "We are planning to have a great time and a great evening. We can't wait to get out there and rock."
E-mail to a friend

All About Paul McCartney • The Beatles