In CNN.com's Behind the Scenes, CNN correspondents and producers share their experiences in covering news and analyze the stories behind the events. CNN's Lola Ogunnaike, entertainment correspondent for CNN's "American Morning," previewed the James Brown auction at Christie's.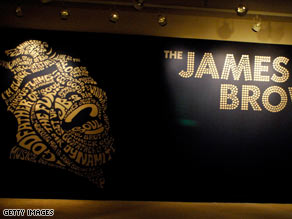 The auction of James Brown's belongings is expected to bring in $2 million.
NEW YORK (CNN) -- He was the hardest working man in show business, but judging from his possessions up for auction Thursday at Christie's in New York, James Brown also knew how to have a really good time.
More than 300 lots from Brown's South Carolina home are for sale. His costumes, his instruments, his furniture, even his martini glasses all up for grabs. The sale is expected to net nearly $2 million.
The auction was contested by two of Brown's former business managers, but earlier this week a state of appeals judge in South Carolina ruled that the sale could proceed. His children are devastated over the matter and are planning to protest the auction.
I spent a recent afternoon perusing the items and there was a lot to treasure: the Grammy he won in 1986 for "Living in America;" the capes his handlers draped over his shoulders as he strutted off stage in a cold sweat; handwritten letters and song lyrics.

See photos of the items up for auction »
Brown, ever the showman, was not a fan of understatement. His costumes were covered in sequins, grommets and silk fringe. Many of them were so heavy I was left wondering how he managed to move so effortlessly on stage.
I played his piano, wore his fedoras and all of his sunglasses. I fell in love with a floor-length mink that once belonged to his wife and did my best to escape Christie's with it on.
Brown also had a salon in the basement of his home. Naturally, I couldn't resist digging through the Godfather of Soul's bag of rollers and beauty supplies. There were several strands of hair still trapped in the teeth of one of his combs. Not a pleasant surprise.
Every item had a story. He wore the denim-and-cotton jumpsuit while performing in 1974 at the "Rumble in the Jungle" showdown between Muhammad Ali and George Foreman. The baby grand piano was a Christmas gift from his wife, Adrienne. The sex machine belt was a gift from one of his fans.
Look closely at all of the jumpsuits he wore on stage and you'll find his initials embroidered in the collar.
It's easy to remember him for the chaos in the latter years of life -- the police chase, the crazed mug shot, the jail stint. But my afternoon at Christie's brought me back to Brown's better years, the years when the Godfather reigned.
E-mail to a friend