By Lola Ogunnaike
CNN American Morning Correspondent
NEW YORK (CNN) -- Natasha Bedingfield strutted onto the Irving Plaza Stage in Manhattan earlier this week, sporting an elaborate faux hawk, black shorts and a fierce pair of thigh-high boots. She delivered tracks from her latest album, "A Pocket Full of Sunshine," and during her hourlong set, the UK-bred artist sang about love and loss.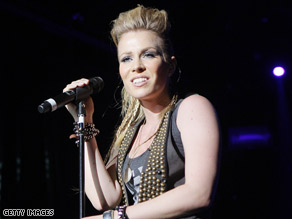 Natasha Bedingfield performs in New York on Wednesday night. She finally performed "Unwritten" as an encore.
She was alternately determined, ferocious and optimistic as the crowd, a mix of gen-Xers and millennials, watched in utter delight. She closed the show with her album's title track, said her good nights and left the stage.
Delight quickly turned into despair ... at least for me.
What about The Song? Had she retired it? Was she going to pull a Madonna and act like she was so beyond her old hits?
Thankfully not. Bedingfield, after demands for an encore, returned to the stage and sang the song. The song that opens each episode of MTV's hit show, "The Hills." The song that's featured in a ubiquitous Pantene commercial. The song that refuses to die more than two years after its release.
"Unwritten."
And as Bedingfield sang "Unwritten," a four-minute self-empowerment seminar set to a catchy melody, the room erupted into one giant karaoke session. There I was, a married woman in my early 30s, crooning like some wide-eyed pre-teen at her first slumber party.
"No one else, no one else, can speak the words on your lips/ Drench yourself in words unspoken/ Live your life with arms wide open/ Today is where your book begins/ The rest is still unwritten ..."
Cheesy? Absolutely. But I was too wrapped up in the warm, feel-good vibes to care.
I wasn't alone. At one point, the crowd was singing so loudly that Bedingfield began to chuckle.
In recent years, it's become increasingly difficult for a song to have real staying power. "A hit song usually sticks around for about three months, and then it's done," says Caryn Ganz, deputy editor of Rollingstone.com.
But "Unwritten," co-written by Bedingfield, Danielle Brisebois and Wayne Rodriguez, was released in 2005, and it's still blasted regularly on the radio. On YouTube, there are dozens of covers of the song. (Warning: Most of them are awful.)
Ganz credits "The Hills," in large part, for "Unwritten's" staying power. But it also happens to be a damn good pop song, she says.
"It's so bouncy and positive, and it's one of those songs that girls like to get together and sing at the top of their lungs," she says. "And for a tween or teenage girl, it's the ultimate fantasy of self-determination. Your whole life is an open book, you can write your destiny."
Walking home from the concert, my sister and I continued to sing "Unwritten" at the top of our lungs. We passed a gaggle of girlfriends, and they were singing the song too. We laughed. All of us were doing our part to keep the song alive.
E-mail to a friend