By Doug Ganley
CNN
NEW YORK (CNN) -- People. Tiger Beat. Miss Teen USA. Nickelodeon. And Disney, of course.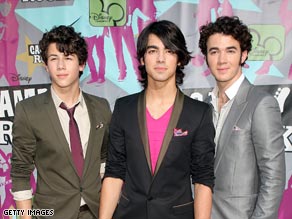 Nick, from left, Joe and Kevin Jonas attend the premiere of "Camp Rock" last week in New York.
You can't hide from the Jonas Brothers.
The latest teen sensations -- brothers Kevin, 20, Joe, 18, and Nick, 15 -- have risen quickly, particularly since appearing on Miley Cyrus' "Hannah Montana" extravaganza tour this year.
Now the summer will belong to them.
The Jonas Brothers have starring roles in the Disney Channel movie "Camp Rock," airing at 8 p.m. ET Friday. In July, they begin their "Burning Up" tour. And there's a new TV series, too.
So who's behind that tousled hair? CNN's Doug Ganley talked to the trio about shooting "Camp Rock," golf and walking the straight and narrow. The following is an edited version of the interview:
CNN: So guys, did you have a lot of fun making "Camp Rock"? Was it a good movie to make?
Joe Jonas: We had a great time actually. We shot it in Canada, and it was really cool for us. It was our first time there. ...
It was awesome. You got up every morning, but you were happy because you were going to this beautiful lake. It was the best time ever.
CNN: Were you guys up there the entire time?
Kevin Jonas: Yeah, we spent the entire trip up there. It was amazing to be able to be on set, and then when we got weekends [off] or something, we would go play some golf.
CNN: Are you guys good golfers?
Joe Jonas: Love to play golf.
Kevin Jonas: Love it. Enjoy it. It's our free time. It's our get out on the green and enjoy being out there by ourselves.
CNN: You play a character in this movie -- the disaffected rock star.
Joe Jonas: Right.
CNN: How do you keep that from happening to yourself? You guys are all very successful.
Joe Jonas: I think it's cool because we do this with each other and we are able to watch each other's back[s], and when somebody says something stupid ... we're like, "Psh, whatever." It's funny to play that role because it's not how we are in real life. I'm more the funny one in real life and for me to be kind of serious, and -- you know -- all suave, is kind of funny. It was a fun challenge.
CNN: I mean, you are the oldest right? You've got to watch out for the other kids? Your brothers here ...
Nick Jonas: Actually, I'm the youngest.
CNN: Oh, are you? I'm looking the wrong way.
Joe Jonas: [laughs]
Kevin Jonas: Yeah.
Nick Jonas: Yeah, I'm the youngest of the group.
CNN: So you've got to follow in their example; they've got to watch out for you.
Nick Jonas: You know, I think we each kind of have our leadership roles in the band, and we treat each other with respect, which is really important. And we're just having fun, so it's all good.
CNN: You guys obviously try to [be] a role model for other kids your age. How difficult is it to hold yourself up to that high standard and know that everyone is watching you and that some people are probably expecting you to fail?
Nick Jonas: We're just doing what we love to do, and we're trying to be the best guys we can be and make our mom proud.
CNN: If you are out to do something, do you say, "What would my parents think? What would my mom think if they knew we were doing this?"
Kevin Jonas: They've raised us really well, and you know, they're the best, and we love them with all our hearts.
CNN: Your dad's a minister, right?
Kevin Jonas: Yeah.
Nick Jonas: Was.
Joe Jonas: Was, yeah --
Nick Jonas: Full-time co-manager now.
CNN: Right.
Kevin Jonas: [laughs]
CNN: With that kind of influence, as you get older, do you still maintain your spiritual upbringing?
Nick Jonas: The faith is definitely part of everything we do and has been forever.
Kevin Jonas: Yeah.
CNN: Was the actual experience of making this movie kind of like going to camp?
Joe Jonas: We felt like it was camp because for us we are so used to being so busy, being in one place for like a month was just almost surreal. We are so used to moving around so much that it felt like you are at camp. You are at this beautiful place, you woke up, you did activities, you know, things like that. So it was -- it was like camp.
Kevin Jonas: No cell reception, no Internet.
Joe Jonas: [laughs] Right.
CNN: Now you're back in the grind, right? And you've got your TV series coming up. I mean, does it feel like you are back and surrounded and just overly busy?
Kevin Jonas: It's crazy right now because we are on a European tour with Avril Lavigne ... and we flew in from Paris last night and did the ["Camp Rock"] premiere. Then we're here today and going to Milan tonight actually. And then ... we start our "Burning Up" tour this summer.
You know, "Camp Rock" premieres, and then of course, we have our new album coming out in August and the TV show, 3-D movie, a book. A lot is happening, but we're just really, really excited.
CNN: I don't think you'll have a lot of time to work on your golf moves.
Kevin Jonas: You know what, I think actually on the summer tour we're working on --
Nick Jonas: Yeah --
Joe Jonas: We're trying to get tee times set every day.
Kevin Jonas: Each city that we're in. So if we can make it happen and it works out properly, our game will actually probably improve.
CNN: That's good, so who's the best?
Kevin Jonas: Nick's the best golfer, but I'm working hard to hopefully one day be able to beat him.
CNN: You can't let your little brother beat you all the time.
Kevin Jonas:: You know, it's OK though. I've never really actually considered him "little brother," though, ever. ...
We just have a weird dynamic in our family that most people don't have, and I think we just really appreciate each other all that way.
E-mail to a friend

All About Jonas Brothers • The Walt Disney Company