By Ed Payne
CNN
(CNN) -- Some fans of the band Chicago thought this day would never come. Many have waited 15 years for it.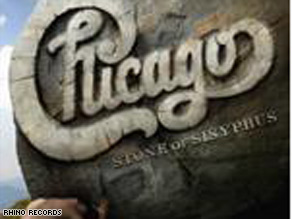 An album Chicago recorded in 1993 finally goes on sale Tuesday.
An album the band recorded in 1993 finally goes on sale Tuesday, long after a squabble between the group and its former record company shelved the project.
The album's release by Rhino Records has set off a wave of excitement on Chicago's fan club Web site.
"I am waaaaay excited about this," said a fan nicknamed "sprout." "I've been hearing about these songs for years, and now I'll actually get to hear them for myself! Yea!!!!!!"
"I am really glad to see Rhino finally releasing a forgotten masterpiece," another fan said.
The album, "Stone of Sisyphus," takes its name from a character in Greek mythology who rolls a heavy stone up a hill only to have it roll back down -- again and again -- for eternity.
"It's very apropos, isn't it?" producer Peter Wolf said. "It took us 15 years to see the light of day."
The album harkens back to the band's socially conscious early days, recorded in a style much different from the light-rock ballads that sent Chicago to the top of the pop charts.
The band formed in 1967, committed to the concept of a rock 'n' roll band with horns. First called The Big Thing, the group was known as Chicago Transit Authority (CTA) on its debut album before taking its present name.
In more than four decades, Chicago has sold more than 122 million recordings. It had five consecutive No. 1 albums and has had more than 50 Top-40 singles.
The band became a staple of underground FM and college radio stations a few years after forming. Disc jockeys talking in low, slow tones feasted on tracks like "Does Anybody Really Know What Time It Is?" and "Beginnings."
Listeners debated the meaning of "25 or 6 to 4." Some said it was about an LSD trip, and that got it banned from some radio stations. Chicago was so hip that Janis Joplin and Jimi Hendrix invited the group on tour.
Yet that sense of cool was lost as Chicago launched a string of successful -- if horn-muted -- ballads in the late 1970s and 1980s. Producer David Foster is credited with resurrecting Chicago's career and shoving it into overdrive by downplaying the band's traditional sound in favor of more synthesizers and ballads.
Foster's formula thrust singer Peter Cetera into the spotlight. Chicago became a pop music juggernaut. Cetera left in 1985 after "Chicago 17," the group's biggest-selling album, and was replaced by Jason Scheff, son of Elvis Presley's former bassist, Jerry Scheff.
But little changed as the band continued to roll out a familiar string of pop ballads - topped by the million-selling "Look Away" in 1988.
By the early 1990s, however, producer Wolf was happy to oblige band members after learning that they wanted to return to their roots.
"I was always a huge Chicago fan. It was a natural thing for me wanting them to sound like the Chicago I love," Wolf said. "They have an incredibly identifiable horn sound. You have to bring that out or you're not doing it right."
The band was on a mission to bring back the old sound, said former Chicago guitarist Dawayne Bailey, who composed the title track of the new album.
"The entire project was a direct and deliberate response to what they had been releasing up to that point " he said.
Chicago brought back the horns and the rock 'n' roll attitude on "Stone of Sisyphus," but Warner Brothers Records shelved the project.
"It was a little too adventuresome, shall we say, for the label at the time," trombonist and founding member James Pankow recalled on A&E's "Private Sessions." "They were expecting another 'If You Leave Me Now,' 'Hard to Say I'm Sorry.'"
Wolf said the rejection had little to do with the music.
"It was only about politics and greed," Wolf said, "nothing to do with the talent."
"They heard the album and they didn't get it," Pankow said. "They asked us to go back and do it again and we said, 'Sorry, this is where we're at.'"
Trumpeter Lee Loughnane said the band was "dumbfounded" by the rejection.
"We had finished and released 21 previous recordings," he said, "so I guess the shock of our first rejection took a little time for us to get used to."
When the band left Warner Bros, they took the album with them. They shifted their focus to other projects, other songs, but the fans did not forget. They passed along rumors that the album would come out in the mid- 1990s, but that didn't happen.
A few fans obtained taped copies of the album. They would copy the tapes and trade them by mail, each successive copy worse than the one before.
Hard-core fans yearned to hear the Chicago of old -- with the trademark horn style -- but Chicago continued in the 1990s to record the type of ballads members said they wanted to get away from. That only increased fans' curiosity about "Stone of Sisyphus."
Chicago teased its fans in 2003, making three tracks from the album available as part of a four-CD, career-spanning box set.
Fans weren't satisfied.
"All the fans have been e-mailing us again and again to release the record," Wolf said. "Nothing could hold it back."
A few versions of the "lost" album became available for download on the Internet, but that was a bootleg release, and relatively few people knew about it.
Now the album is available to the general public, a varied collection with the Chicago horns up front and prominent.
The styles range from rock to pop to soul -- true to the band's Grammy-winning, genre-blending formula -- with a few ballads thrown in for good measure.
"Even though there's still some soft, fuzzy ballads ... that we were supposedly getting away from," Bailey said, "the lyric edge in (the) songs proves that we were going for more organic true expression over uninspired canned radio product."
The band hopes "Stone of Sisyphus" reminds its most ardent fans of a sound that launched the band in the late 1960s.
"Good things come to those who wait," Loughnane said.
E-mail to a friend

All About Warner Bros. Records Inc. • David Foster