By Tom Charity
Special to CNN
(CNN) -- It's been a while since Jim Carrey did an out-and-out comedy -- unless you count "Fun With Dick and Jane," which I don't. "Yes Man" isn't going to figure in any Top 10 lists or Oscar prognostications, but it takes a simple idea and runs with it, reminding us how Carrey became such a big star in the first place.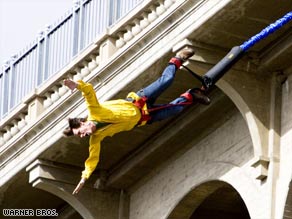 Jim Carrey takes the plunge into positive thinking in director Peyton Reed's comedy "Yes Man."
Carl Allen is a bank loan officer (like Stanley, Carrey's character in "The Mask"), a divorced guy who lives alone and prefers it that way. He'd rather watch "300" or "Transformers" at home than venture out for a drink with friends. He's switched off, like his cell phone.
Would a guy like this get himself to a lecture on the powers of positive thinking? Probably. Who else do the self-appointed, self-help gurus feed on, if not the lonely and the miserable, or those who suspect they might be?
Completely in control, Terence Stamp makes a masterly (and very funny) pitch for the joys of Yes, and Carl is browbeaten into signing on. Within minutes of the meeting, he's given a homeless guy a lift to the middle of nowhere, handed over his cash and been stranded for his pains.
But good karma kicks in when he bumps into Allison (Zooey Deschanel), a kindly kook on a scooter. Maybe there is something to this Just Say Yes ethos after all.
At any rate, it would be nice to think so. In reality, Carl would probably be destitute or in prison before the week was out -- unless he had a book and BBC TV deal to back him up, like British humorist Danny Wallace, who gave this idea a whirl a few years ago. The screenwriters have ditched almost all of Wallace's nonfiction book in moving it to California and grooming the material for Carrey. (Wallace went to Amsterdam; Carl takes the first flight out of LAX to ... Lincoln, Nebraska.)
Don't Miss
But that's by the by. It's the idea that counts. For Carl, saying, "Yes," indiscriminately unlocks doors he hadn't even noticed before. He even gets a promotion. (Given his largess in the loans department, we can assume he'll soon be tapped for a job at the Fed.)
A restless personality at odds with himself is prime Carrey territory, and he throws himself into it with a will. "Yes Man" often feels like an unofficial follow-up to "Liar, Liar" in which he played a lawyer cursed to speak nothing but the truth. Personal growth is like an addiction to Carl, something painful and euphoric, and he gives himself over to it completely. Of course, this could be a radically different story according to the nature of the propositions that come his way.

Watch Carrey on "Larry King Live" »
Deschanel, one of the most consistently fresh and engaging actresses around, enjoys good rapport with Carrey. They seem so relaxed and fun together, it's easy to overlook the wide (18-year) age gap between them. Deschanel doesn't stress the character's eccentricity but plays through it, making her quirks seem natural and free.
For director Peyton Reed this is a safer, more formulaic romantic comedy than his previous "Down With Love" and "The Break Up," but it's also likely to be more successful. It's hard to resist all that positivity on screen.
It would be going too far to describe "Yes Man" as an offer you can't refuse, but this is such a genial crowd-pleaser, it's a definite maybe.
"Yes Man" is rated PG-13 and runs 104 minutes. For Entertainment Weekly's take, click here.
E-mail to a friend

All About Jim Carrey