UNITED NATIONS (CNN) -- Hollywood actor Ben Affleck and rock luminary Mick Jagger launched a media campaign meant to raise money for and draw attention to people displaced by recent fighting in the Democratic Republic of Congo.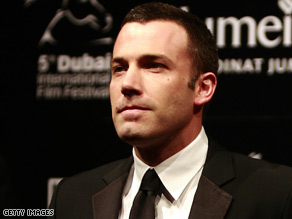 Ben Affleck hopes his new film helps raise assistance for displaced people in the Dem. Rep. of Congo.
Speaking at the United Nations Wednesday, Affleck announced the release of "Gimme Shelter," a short film he hopes will raise $23 million in humanitarian assistance for the war-ravaged African nation. Jagger did not attend the ceremony at the U.N.
Directed by Affleck and filmed by John Toll, both Academy Award winners, the footage was shot in the North Kivu region of Congo, where thousands fled their homes after heavy fighting resumed in August.
"We made this film in order to focus attention on the humanitarian crisis in the DRC at a time when too much of the world is indifferent or looking the other way," Affleck said in a statement released Wednesday.

Watch Affleck explain how the film came about »
"The suffering and loss we've all seen firsthand is staggering -- it is beyond belief," he said.
The U.N. Security Council recently approved sending about 3,000 additional troops to bolster the 17,000-strong peacekeeping force already in the region.
"The current humanitarian crisis in the North Kivu province is a scar on the conscience of the world," U.N. envoy Olusegun Obasanjo, a former Nigerian president, said last week. "We must act quickly to get the internally displaced persons and refugees back to their homes."
Fighting broke out in eastern Congo at the end of August between government forces and CNDP rebels under the command of Laurent Nkunda.
The conflict is an offshoot of the Rwandan conflict dating back to the early 1990s, when hundreds of thousands of Rwandans were killed in ethnic battles between minority Tutsi and majority Hutu.
Nkunda says his forces are fighting to defend Congolese Tutsis from Hutu militants who escaped to Congo.
He declared a unilateral cease-fire on October 29, but it failed to stop the fighting and reports of atrocities.
The United Nations' refugee agency says warfare in Congo has uprooted 250,000 people since summer and claimed as many as 5.4 million lives in the past decade -- with an estimated 1,000 people still dying every day.
E-mail to a friend

All About Ben Affleck • United Nations