By A. Pawlowski
CNN
(CNN) -- Of all the holiday films to depict the giddy anticipation of Christmas, only one has inspired a cable marathon, a booming leg lamp industry and fans who dress up in pink bunny suits.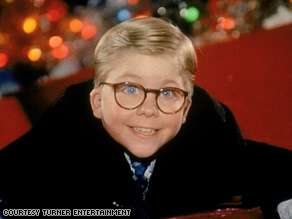 "A Christmas Story," released in 1983, starred Peter Billingsley as a boy on a quest for his dream present.
It has been 25 years since "A Christmas Story" arrived in movie theaters and soon vanished from the big screen and people's minds.
Reviews of the film were mixed at the time, with a critic for The New York Times calling the cast "less funny than actors in a television situation comedy that one has chosen to watch with the sound turned off."
But you're triple-dog-dared to say that today to the fans who tune in to its regular holiday showings -- including an annual 24-hour marathon on Christmas Day -- and who have transformed a small house in Cleveland, Ohio, into a tourist attraction simply because it was featured in the movie.
(The film's airings, including the annual marathon, are on TNT and TBS. Those networks, like CNN, are a unit of Time Warner.)
"It's a film where almost every actor seems like they're born to the role," said Brian Jones, a fan and the owner of A Christmas Story House and Museum, which sees more than 30,000 visitors a year.
Jones bought the home for $150,000 on eBay in 2005, but he was already making a living selling leg lamps -- replicas of the hilariously tacky "major award" one of the characters wins in the movie, complete with an illuminated base that looks like a woman's leg in a fishnet stocking and a lampshade that looks like a short skirt.

See why Jones went from the Navy to selling leg lamps »
He now sells 10,000 lamps a year to fans like Rose Davis of Ashtabula, Ohio, who was one of the first people to visit the house when it opened and who has attended an annual convention devoted to the movie three times.
Memorable quotes
• "I want an Official Red Ryder Carbine-Action Two-Hundred-Shot Range Model Air Rifle!"

• "You'll shoot your eye out, kid."

• "Fra-gee-lay. That must be Italian."

• "In the heat of battle my father wove a tapestry of obscenities that as far as we know is still hanging in space over Lake Michigan."

• "Only one thing in the world could've dragged me away from the soft glow of electric sex gleaming in the window."

• "Now it was serious. A double-dog-dare. What else was there but a 'triple dare ya?' And then, the coup de grace of all dares, the sinister triple-dog-dare."

• "Scut Farkus! What a rotten name! There he stood, between us and the alley. Scut Farkus staring out at us with his yellow eyes. He had yellow eyes! So, help me, God! Yellow eyes!"

• "He looks like a deranged Easter Bunny."
"He does not!"
"He does, too, he looks like a pink nightmare!"


Davis, 68, still remembers the first time she saw the film with her family when it came out in 1983.

"We just sat in the back row of that theater and roared with laughter. We were even missing some of the punchlines," Davis said. "It was a disappointment that it wasn't a hit at that time. But then it took video and television to really make it so popular."

The Thanksgiving weekend convention in Cleveland attracted more than 4,000 people, including Davis.

Fans took part in a character look-a-like contest, met some of the original cast members and screened documentaries about the movie's director and the making of the film.

The idea for the gathering came naturally, Jones said.

"They have 'Star Trek' conventions, 'Star Wars' conventions, why not have 'A Christmas Story' convention?" he said.

See photos of the look-a-like contest and the cast members as adults »
Famous tongue
If "Star Trek" has Trekkies, "A Christmas Story" has Ralphies, named after the hero of the movie: Ralphie Parker, a 9-year old boy growing up in 1940s Indiana. He's on a mission to convince his parents, a cranky department store Santa and anyone who will listen that a BB gun is the perfect gift for Christmas.
"You'll shoot your eye out," everyone replies, to his exasperation.
Along the way, viewers meet Ralphie's colorful family, friends, classmates and tormentors, who fill the nostalgic landscape with lots of humor and childhood angst. The film was based on the stories of radio host and writer Jean Shepherd, who drew from his own childhood in Hammond, Indiana.
"It transcends generations. It doesn't matter if you're 5 or you're 85, you always remember that one particular holiday... when you wanted that one particular gift," said Scott Schwartz, who played Ralphie's friend Flick in the film. iReport.com: Are you a "Christmas Story" fan?
Schwartz was 14 when he was cast in the movie, appearing in one of its most famous scenes: Flick's tongue freezes to a metal pole when he touches it on a dare.
"It's very funny to have the world's second most-famous tongue: [KISS frontman] Gene Simmons and me," Schwartz said.
Filming the scene was actually much less excruciating than it looked. The pole was made of plastic with a suction tube inside and a little opening for his tongue, Schwartz said. When he touched it, the vacuum effect made it look like he was stuck.
"It was an absolutely painless experience other than the bitter, bitter cold," Schwartz recalled.
Cable hit
Schwartz still keeps in touch with Peter Billingsley, who played Ralphie and continues a career in show business. Billingsley, 37, most recently produced the Vince Vaughn-Reese Witherspoon comedy, "Four Christmases" and had a cameo in the film.
Billingsley said he doesn't mind that he's most famous for a role he played as an adorable, chubby-cheeked, wide-eyed little boy.
"It's nice to be known for a pretty great movie," he told The San Francisco Chronicle earlier this year. "I'm certainly proud of it, and I'm finally at the point where I can watch it and appreciate it."
The movie has been a hit on cable television. TNT began airing a 24-hour marathon on Christmas Eve in 1997. The all-day fest moved to TBS in 2004. More than 47 million people watched at least part of the marathon last year.
If the marathon isn't enough, there are countless "A Christmas Story" plays staged across the country. A stage musical based on the movie is in the works.
It's all amazing and gratifying for the original cast.
"It's a phenomenon to some degree and part of Americana," Schwartz said. "People go out of their ways to do things for us simply because we brought them so much joy for so many years. It's a nice feeling."
E-mail to a friend