By Jacque Wilson
CNN





ATLANTA, Georgia (CNN) -- Taraji Henson lost her father one year before she began filming "The Curious Case of Benjamin Button."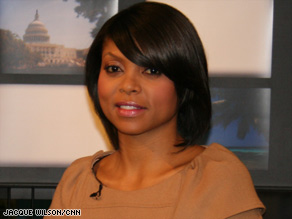 Taraji Henson received the part of Queenie based on her role in the critically acclaimed "Hustle and Flow."
"You kind of always want to ask, why, why, why now? Why in the height of my career? Everything that he always said would happen to me, he's not here in the flesh to see it," Henson said.
The actress -- best known for her role as a singing prostitute in "Hustle and Flow" -- plays Queenie, the adoptive mother of Brad Pitt's character, Benjamin Button.
Button is born with a disease that causes him to begin life in his 80s and age backward. The film centers around death -- especially through Queenie, who runs a senior citizen home and is surrounded by it every day.
The film is based on a short story written by F. Scott Fitzgerald in the 1920s. It's said that Fitzgerald based his story on a quote from Mark Twain.
"There's this beautiful saying in the script about how you have to live life forward, but the only way you understand it is backwards," Henson said. "I miss my father, and I love him, and I wish he was here, but it was like I had to experience a death of that magnitude to even bring Queenie to life."
CNN talked to Henson about Queenie, what makes the film intriguing and whom she bonded with on the set. The following is an edited version of that interview:
CNN: What was your reaction when you first got the role of Queenie?
Taraji Henson: I was blown away because I didn't think I had a shot. It's a big, major studio film [with] big names like Cate Blanchett, Brad Pitt attached and a huge director, David Fincher. I just didn't think that they would go for me because I'm not considered a name in Hollywood -- yet! Hopefully this movie will do it.
Don't Miss
I later found out that, actually, my performance in "Hustle and Flow" got me this film. Laray Mayfield, who casts Fincher's films, saw me in "Hustle and Flow" and actually called him while she was in the theater and said, "I think I found Queenie." And, literally, she went to him and said, "You can make your job difficult and watch all of these audition tapes, or you can just hire this girl." And he trusted her.
CNN: What do you connect with personally in Queenie's character?
Henson: I think her being a mom and her ability to love unconditionally. How nurturing she is, that's what I connect to.
CNN: What about the movie intrigues you the most?
Henson: What intrigues me most about the movie is that when it's real love, it's forever. You know, Cate Blanchett's character is aging one way, and Brad Pitt's character is aging backwards, so they never really find that time when they can get together.

Watch Henson explain how they filmed Pitt's character through the ages »
I mean, they do, but it's a constant throughout the whole movie, like, "Oh, when are they going to get together? She's still too old, he's still too young, oh, she's there," and then they finally get to a great meeting place. But then she's still aging and so is he, backwards. So ...
But when it's real love, it doesn't matter which way you're going. It's real, and it always stays with you.
CNN: What was the interaction like on the set between the cast?
Henson: We had a lot of fun. A lot of laughs, a beautiful set, easygoing, lots of jokes. Every Friday, we would put $5 in a can, and somebody would pull a number, and they'd get it. Sometimes, Brad would pull a number; sometimes I would. We had a good time, a really good time. We ate out a lot.
CNN: What about working with the director? I've heard he's intense.
Henson: Oh, David Fincher, I just love him so much. I never thought I'd meet someone who sweats the small stuff like I do, and I think that's where we connect. We're both obsessive. I thought I was obsessive, and I was like "Oh, God, you take the cake, David!"
But I love that about him. Because when you see the film, if you haven't, you'll see that he does not leave one stone unturned. He goes over every grain of salt. He is very meticulous, and that is the type of director you want to work with: someone that is going to make you look incredible.

CNN: Let's say you were aging backwards, like Benjamin Button in the movie. What one lesson have you learned that you would like to take back with you to adolescence or childhood?
Henson: Patience! Just be patient and have faith. That's something I'm still learning every day. Because, you know, sometimes you sweat the small stuff, and you spend all that time sweating and gaining the gray hairs, for it always to work out anyway. It always works out, doesn't it?
E-mail to a friend

All About Brad Pitt • Cate Blanchett