By David Daniel
CNN
LOS ANGELES, California (CNN) -- "Bolt" is Disney's first animated feature since Pixar guru John Lasseter took over the company's animation division, so it's no surprise the voice cast is loaded with top talent. John Travolta makes his voice actor debut in the title role, "Hannah Montana" star Miley Cyrus plays Bolt's owner and friend, and then there's 13-year Disney veteran Mark Walton.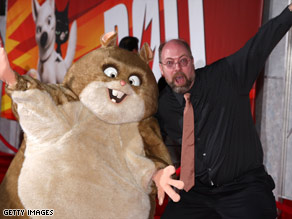 Mark Walton poses with his furry alter ego, Rhino, at the "Bolt" premiere.
Who?
Walton provides the voice of Rhino, an irrepressibly gonzo hamster who's Bolt's biggest fan. But he's an animator, not an actor. A story visual development guy, not the star of the show.
Portly and balding, Walton is hardly a glamorous Hollywood figure, and yet he's doing press with stars Travolta and Cyrus, walking the red carpet with them and drawing the film's biggest laughs.
Walton's journey from schlub to star surprised him as much as anybody, he told CNN.

Watch how Walton brought Rhino to life »
Before the big-name voice actors go into the recording studio, he explained, animators do a kind of rough draft of the film, with temporary voice tracks provided by volunteers within the animation division.
"Some people who had known me here ... [and] knew my personality and my voice decided that I might be a funny match for this crazy, enthusiastic hamster," he said, seemingly at ease with a half-dozen camera techs and studio publicists surrounding him at the movie's press junket. "But, of course, the assumption was always that some professional, big-name actor would be brought in to do the real voice."
Not this time. One by one, name actors were brought in and matched to their characters: Travolta for the earnest, lovable dog star; teen icon and devoted pet owner Cyrus as a dog-loving young actress; wisecracking Susie Essman from "Curb Your Enthusiasm" as a streetwise cat; and Malcolm McDowell as TV show villain Dr. Calico. But as the film continued to progress from the drawing boards to finished product, Walton stayed in the picture.
Don't Miss
"We got to the point where it's like, we can't find an actor to come even close to how good this is," recalled Lasseter. "So of course we're going to give it to him, because ... it's not important how big of a name an actor is, it's about how great the character that's being created, how it jumps off the screen and becomes memorable. That's what it's about."
And Walton's take on Rhino, the creation of his pal and character designer Joe Moshier, was certainly memorable.
"He's seen how I go to the buffets," Walton joked about Moshier. "And he knows how hamsters can stuff a lot of food into their cheeks. ... And I think that knowing how I like food kind of informed the round, kind of chubby, inflated shape of the character, as well as the uneven, kind of crazy, slightly psychotic and googly eyes. I say, you like something about Rhino, I'll take credit for it."
He's getting lots of credit.
"When I heard Rhino, I was like, this guy's hilarious. Who is it?" said Essman. "I wanted to know who the actor was, if it was somebody I knew. And they told me it wasn't. I thought that was so cool, that he's just, he's one of the story artists."
Audiences think it's cool too, judging from the reaction at a preview screening filled with kids and adults. Walton's Rhino steals every scene he's in.
Walton, who has worked on Disney animated features since 1999's "Tarzan" and provided minor voices for "Home on the Range" and "Chicken Little," said he'd gladly have stepped aside if a big-name actor had come in and done a better job.
"That's the best thing for the movie," he said. "But there was something very satisfying about knowing that yes, one of us, the little people behind the scenes, who don't always get a lot of attention or notoriety or visibility, could do the part, and that people recognized that."
E-mail to a friend