By Tom Charity
Special to CNN
(CNN) -- The kids are burning for "Twilight."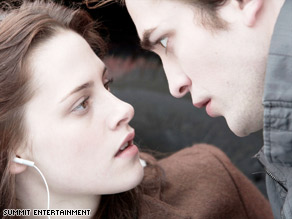 Kristen Stewart and Robert Pattinson strike sparks in "Twilight."
Stephenie Meyer's novel has been flying off the shelves, the soundtrack's topping the charts, and Robert Pattinson -- a 23-year-old Brit whose only previous claim to fame was playing Cedric Diggory in the Harry Potter movies -- has been anointed the hottest pinup since the Jonas brothers.
All of which is very good news for Summit Entertainment, the independent outfit that backed the movie at the relatively modest budget of $30 million.
Will the book's fans mind that the effects are decidedly low-tech, that there are no famous faces and that the whole show hasn't been transplanted to glossy Los Angeles? I doubt it.
Director Catherine Hardwicke -- who made "Thirteen" and "The Lords of Dogtown" -- hasn't made a great film or even a very good one, but she has stayed true to more than the letter of the novel. She obviously got it, and the movie gets it too.

Watch clips from 'Twilight' »
Got what, you say? Well, that "Twilight" isn't about special effects or horror, for a start. It's a Gothic romance reconceived for 21st-century teens. Bella Swan (played by Kristen Stewart) is the new girl in Forks, Washington, where she's moved in with her dad. Forks may not be Wuthering Heights, but it's wild, and it's wet, and her lab partner in biology class has a Heathcliff-Darcy-Rochester thing going for him. When she sits down beside Edward, he looks like he wants to throw up.
Pattinson is enjoying the lion's share of the spotlight, and it's not hard to see why. Hardwicke shoots him like a sex god, in enraptured slo-mo and lingering close-ups. (It's how Michael Bay shot Megan Fox in "Transformers": gaga.)

Watch Pattinson's effect on a crowd of fans »
Don't Miss
With his permanently tousled hair, dark eyebrows and pupils of black or gold ("It's the phosphorescence," he sort-of explains), Pattinson comes in somewhere between Prince William and one of the more manly Greek gods. If you catch him in the sunlight, his skin positively sparkles.
It takes Bella a while to figure it out, but unless you've been spending too much time under a rock recently, you'll know that Edward is more than strong, dark and brooding: He's a vegetarian vampire (i.e., he only eats animals). Bella confuses him, and not just because she gives him the munchies.
"I can read every mind in this room," he tells her. "Except yours." He proceeds to prove it with these snap insights into the assembly: money, sex, sex, sex, money, sex ...
Actually, Bella's mind isn't hard to read either -- and she's not interested in money. A pale, introverted teenager, smitten with a dashing but dangerous older (much older, actually) man who confesses he may not be able to control himself -- I think we know what that's all about. iReport.com: Share your thoughts about "Twilight"
The first half works best, perhaps because its timorous torment flows naturally from Bella's barely suppressed dreams of sexual abandonment. Hardwicke's handheld, intimate style effectively undercuts Meyer's overblown idea of romantic anguish. "It's like a diet of tofu," laments Edward. "Healthy but not satisfying. Not like drinking your blood ..." The old smoothie!
The second half is more tongue in cheek, closer to "Buffy" than the Brontes. A vampire baseball game? The pure Bella doesn't even get to first base.
No great shakes as an action director, Hardwicke fails to persuade that anything really nasty might spoil our fun. A better -- or at least more grown up -- movie would need more bite and maybe some blood on the sheets. "Twilight" settles for pallid heavy petting and a return engagement in the not-too-distant future.
But that's OK. The little girls understand.
"Twilight" is rated PG-13 and runs 120 minutes. For Entertainment Weekly's take, click here.
E-mail to a friend