(CNN) -- The biggest challenge was finding an Edward.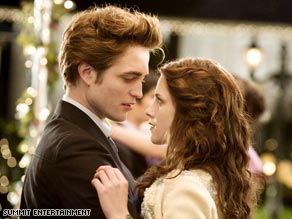 Robert Pattinson and Kristen Stewart play Edward and Bella in "Twilight."
"The most perfect guy in the world," "Twilight" director Catherine Hardwicke said, ticking off the characteristics of "Twilight's" vampire hero. "Cannot be Leo [DiCaprio]; cannot be Brad Pitt. They don't fit in high school anymore. And there are a lot of cute guys, but do they really look like they've lived for 108 years?"
Probably not, but with a fan base as large as "Twilight's," Hardwicke had to search for one. And if the thousands of screaming girls who show up at autograph signings are any measure, she found him in Robert Pattinson.
The actor, best known for playing Cedric Diggory in "Harry Potter and the Goblet of Fire," has faced mob scenes wherever he's appeared. Fans in Dallas waited overnight in the rain for a chance to see him; an event in San Francisco was delayed because of the crush.
Pattinson is still surprised by the reaction. Though things started quietly during filming, by the time production was wrapping, "there were like 200 people turning up to the set every day," he said. "And now, if we were trying to shoot it now, it would be absolutely impossible to do anything. Because where ever there's a 'Twilight,' anything mentioned about 'Twilight,' thousands of people turn up."
"Twilight's" many fans -- most of whom will get their first feature-length glimpse of Edward when the film opens with midnight showings Friday -- can't wait for the witching hour. They also haven't been afraid of letting Kristen Stewart, who plays Bella Swan in the film based on Stephenie Meyer's series of books, know about their feelings for "Twilight" -- and Edward.
Some have been downright disdainful, Stewart told CNN at the Los Angeles interviews for the film.
"Very communicative looks," Stewart said. "Like, 'I'm just letting you know with this look that you're nothing special. ... I'm here for Edward, and I hope you don't ruin the movie.' It's really crazy."
Stewart doesn't let it bother her, though. She's been focused on portraying Bella, a clumsy, awkward 17-year-old who moves into a small town that she finds quite boring. Boring, that is, until she meets and falls in love with Edward(Pattinson).

Watch Pattinson greet a line of screaming fans »
The vampires created by Meyer are different from those of the past. They dress fashionably, have good taste in art and music, and are very much human.
"They are the main characters," Stewart said. "They are the people that you sympathize with. They're not just the villains in the movie."
Edward is one of the Cullen family of vampires, a clan that has stopped drinking human blood.
"He made his world smaller and smaller so he never killed anybody," Pattinson said of his character. "And he didn't care about anyone else. Imagine, never having an emotion ... and then suddenly this girl comes into your life. As well as breaking down all your self-discipline, which you've had for 80 years, she also makes you feel everything again."
Edward and Bella must overcome obstacles worthy of "Romeo and Juliet" in their relationship. (Besides the differences in her background with Edward, Bella is also stalked by a vampire with fewer scruples than the Cullen boy.) But it's that sexual tension that makes the whole vampire culture so undeniably delicious, Hardwicke said.
"The idea of this incredibly seductive creature wanting to bite your neck," she said. "And if he does, on one level it could be pleasurable. If he goes too far, you could die. That kind of razor's edge, that sexual tension, is incredibly seductive."
That doesn't mean the film is all lovey-dovey. Hardwicke and the movie's stunt coordinator spent hours trying to figure out how to keep the fight scenes true to Meyer's books. Meyer's vampires can't be killed with stakes or holy water; they have to be ripped limb from limb. And then what's left has to be burned.
"How do you fight when you're trying to pull somebody's arms off or twist their head off?" Hardwicke asked. "That makes for a different kind of fight."
Romance, seduction and violence are all well and good, elements that have fulfilled audience desires for decades. But it's the vampires that give those characteristics an extra edge, whether it's in Bram Stoker's "Dracula," "Buffy the Vampire Slayer" or "Twilight." iReport.com: Are you planning to see 'Twilight'?
"A vampire itself is just such a great template for making a mysterious character," Pattinson said. "They can only come out at night. They have a dark secret, which by vampire law they're not allowed to tell anybody. And the only people who find out, die."
"Twilight" is based on the first of Meyer's now four-book series. So will the movie "Twilight" follow in the footsteps of another book series with a huge audience, J.K. Rowling's Harry Potter tales? Hardwicke said she doesn't know.
"Stephenie went a little wild [in the sequel] and wrote all these visual effects and werewolves and Italy and everything," she said. "So the next book is going to be a lot more expensive [to make]. But if this one makes enough, then we'll get to do it."
E-mail to a friend

CNN's Jack Hannah contributed to this story.