By Todd Leopold
CNN
(CNN) -- Abe Vigoda found out he was dead in 1982. He was doing a play in Calgary, Alberta, while a People magazine writer visited the "Barney Miller" wrap party in Los Angeles, California.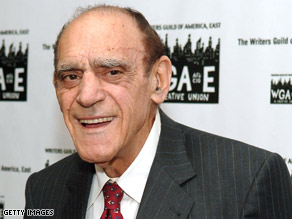 "The Godfather" was Abe Vigoda's first film -- and more than 35 years later, he's still around to enjoy it.
"Somehow it mentioned in the article that 'the late Abe Vigoda' was not [there]," Vigoda recalls.
The error was corrected, but the damage had been done. Vigoda's "Barney Miller" character -- the decrepit, downcast Det. Phil Fish -- didn't help the image. Never mind that the real Vigoda was a vigorous man just turning 60 at the time; the question of whether he's shuffled off this mortal coil has followed him around ever since. There's even a Web site devoted to his life-or-death status.
But Vigoda takes the attention with good humor (and occasional appearances on "Late Night with Conan O'Brien"). Now 87, he can look back on a successful career with at least two immortal characters: Fish and the "Godfather" lieutenant, Sal Tessio.
Vigoda was a successful New York stage actor when "Godfather" director Francis Ford Coppola came calling. (Among his credits: Robert Shaw's 1968 play "The Man in the Glass Booth," with F. Murray Abraham.) Though he hadn't read the book -- and was Jewish, not Italian -- he had a presence Coppola liked, and was finally cast as Tessio.
Don't Miss
"The Godfather" -- now in a digitally pristine "Coppola Restoration" DVD edition, out Tuesday -- was Vigoda's first movie, and it was an experience he greatly enjoyed. Every day, a car would pick him up at his apartment to take him to the location; at makeup, he'd sit near Marlon Brando.
"I found him to be a quiet man. He kept mostly to himself," Vigoda recalls. "I respected his privacy. He was a great star. This was my first big thing -- I felt lucky and grateful I was with these people."
More amusing were some of the people on the set, actual members of New York Mob families. "They kept looking at me, as if to say, 'What family is he from?' " Vigoda says. "It was fascinating."
After "The Godfather" came out, people started confusing Vigoda with his character. In one case, he was driving with his wife in Los Angeles when a police car pulled him over. One officer asked for his license; his partner glowered at Vigoda, gun drawn.
"He said, 'You look familiar to me.' ... I said, 'My name is Abe Vigoda, I'm an actor.' And he said, 'Oh! Tom, this is Abe Vigoda, the actor. So good to see you. Go ahead and have a good time in L.A.,' " Vigoda says. "These were the incidents that followed 'The Godfather.' "
"The Godfather" changed Vigoda's life. He was quickly offered a movie of the week, then the role of Fish on "Miller," a character eventually spun off into his own show. He's had roles in "The Cheap Detective," "Look Who's Talking" and "Joe Versus the Volcano," as well as the occasional TV guest appearance.
And -- have no fear -- he's still in good shape. For years, Vigoda was a top New York handball player, and he still plays.
"I'm still quite [involved]," he says. "Which has helped me with my coordination all my life, including with my theater work. Coordination is the key in getting things done correctly."
E-mail to a friend

All About Late Night with Conan O'Brien • Conan O'Brien