By Gregory Kirschling
Entertainment Weekly
(Entertainment Weekly) -- "The Sisterhood of the Traveling Pants" and its sequel, the less elegantly titled "Sisterhood of the Traveling Pants 2," both make a good-natured case not only for equality among women but for equality among a far cattier subset: up-and-coming starlets.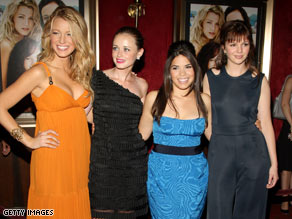 The four actresses in "The Sisterhood of the Traveling Pants 2" are a terrific team, says EW.
In each film, the story -- easily shorthandable as a young-adult version of "Sex and the City" -- follows the separate adventures of four best teen gal pals as they compulsively mail each other the same pair of "magic" vintage jeans.
But three years ago, in "Sisterhood 1," half the cast were way more famous than the other. Back then, TV stars Alexis Bledel ("Gilmore Girls") and Amber Tamblyn ("Joan of Arcadia") were the well-known pair of actresses, although you'd never know it from the movie, which smoothly offered all four performers equal time to be cute, freak out about something, and literally wear the pants.
Perhaps it's no shocker, given the way Hollywood likes to turn 'em over, but now it's the other two members of the sisterhood -- Blake Lively of "Gossip Girl" and America Ferrera of "Ugly Betty" -- who are a lot bigger deals outside the multiplex.
Once again, much to the sequel's credit, the story doesn't seem to care. The movie keeps moving quickly (but not sloppily) among the heroines, so that if you're overloaded, say, on one sister's sugary plotline, it only comes around every fourth scene or so, and never sticks around too long. Even at 111 minutes, "Pants" mostly sprints.
Don't Miss
This time, the summer after our heroines' first year of college, Carmen (Ferrera) arrives at theater camp a backstage tech and -- whaddaya know -- discovers she's a leading lady; Bridget (Lively) ditches an archaeological dig in Turkey to learn more about her dead mother; Tibby (Tamblyn) almost has a breakdown after a bad experience with a two-year-old condom; and Lena (Bledel) wastes time with a fella who (oh, no!) doesn't believe in the idea of one true love.
As with the first movie, only two of these plots (this time, Tamblyn's and Lively's) transcend being kinda silly; the other two are harder to take if you're over the age of 15 and old enough to know how the world really works. But even cynics might concede that, again, four capable actresses have pulled off a relatively rare thing: They've convinced us they're an honest-to-God movie sisterhood.
EW Grade: B+
E-mail to a friend

CLICK HERE to Try 2 RISK FREE issues of Entertainment Weekly
Copyright 2009 Entertainment Weekly and Time Inc. All rights reserved.