By Stacy Curtin
CNN
NEW YORK (CNN) -- CNN came to the junket for "The Sisterhood of the Traveling Pants 2" to ask questions of stars Amber Tamblyn, America Ferrera, Alexis Bledel and Blake Lively.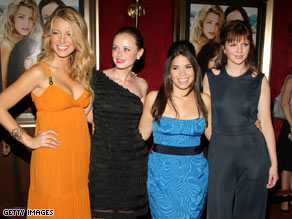 From left to right, Blake Lively, Alexis Bledel, America Ferrera and Amber Tamblyn are bonded by "Sisterhood."
Tamblyn decided to turn the tables.
"What's it like to work with Sanjay Gupta?" she asked. "What's it like to work with Anderson Cooper?"
Well, the thing is, not everyone at CNN gets to work with Cooper and Dr. Gupta, so we couldn't give her colorful answers. But Tamblyn didn't mind. She just wanted to show she's a fan.
"CNN is my MTV," she said.
We appreciate the enthusiasm.
The four actresses are justifiably enthusiastic about their own careers. All four have starred in past or current TV shows: Tamblyn in "Joan of Arcadia," Ferrera in "Ugly Betty," Bledel in "Gilmore Girls" and Lively in "Gossip Girl." It's another bond between the women, who characterize each other as friends.
In two separate interviews -- one with Tamblyn and Ferrera, the other with Bledel and Lively -- the four answered questions about stardom at a young age, what they admire about "Traveling Pants" and each other's secrets. The following is a combined and edited version of the interviews.
CNN: As young actresses, successful actresses, how has your life changed?
Tamblyn: Well I don't know in comparison to what, but it's just been, I don't know, it's always kind of been the same way for me because --
Ferrera: You've never known anything but --
Tamblyn: Yeah, I've been acting since I was 9, so that's all my life is, just a lie (laughs).
CNN: But with the newfound success, has it changed at all?
Tamblyn: Oh, it's uh, you know, newfound success. It's great at times, it's also exhausting.
Ferrera: I feel like the only thing that's changed for me is that I now work. I have a job, and I get paid to do what I love to do and that's the difference.
Tamblyn: That's important.
Ferrera: I mean, that's about it. And it, it's the best part of it. I now have a job.
Lively: Less sleep (laughs). It's, you know, just working a lot, and realizing how much work it really is. I got ["Gossip Girl"] and I talked to the girls and they told me, "You are going to be working 16-18 hours a day and you're gonna be -- your weekends are gonna be filled with photo shoots, you're not gonna even have time to go to the grocery store." And I was like, "OK, they're preparing me for the worst."
And really, it's pretty true. You work a lot. But other than that ... it's, you know, you're the same person at the end of the day, it's just your job.
Bledel: It's nice that we've all been on shows now so we all know what it's like.
CNN: What do you think makes this movie so original?
Tamblyn: I think that the most obvious thing -- and something that America said before -- is the fact that it feels like we sort of become our characters. We just fall right into them because we are such close friends in real life, all of us. I think that just adds a special chemistry and aspect to the film itself.
Ferrera: What I really love about this movie and why I would have ran out to see this film even if I wasn't in it ... is that I feel as a young woman I'm always constantly craving my stories to be told, you know? When I was younger and movies like "Now and Then" came out, which was the story about four best friends, I ... wanted it so bad. And we got the VHS and watched it 25 times.
You know, you want to see your story represented out there in the big world of entertainment and so I think it's exciting for young women to get to see things like "Hannah Montana." ... Not that you can't enjoy all types of films, but it is special for young women to see a real portrayal of how hard it is to grow up and how special friendships can be.
Lively: And also, you know, a lot of movies that appeal to a younger audience that have females in them, normally women are pitted against one another. But these [films] are [about] four girls loving each other and supporting each other and the friendship is really the most important thing, it's not the love interest or the cute, the popular boy in school that you get.
Outside of that, the things that they're dealing with aren't just for girls. So I think that we've been able to speak to a broader audience because men will see the movie, they'll stumble upon it and actually like it because ... every man has gone through a first love or knows somebody that has a family member that's been divorced, or, you know, knows somebody that's died of cancer or this or that.
CNN: So tell me something about the other two girls that we might not know.
Tamblyn: Blake loves cupcakes.
Ferrera: And asparagus.
Tamblyn: Ask her about that.
CNN: What kind of cupcakes?
Tamblyn: I don't know.
Ferrera: I don't know.
CNN: Anything in New York?
Tamblyn: Just ask her. Tell her this room wanted to know about cupcakes and asparagus.
CNN (later, to Lively): They told me to ask you about cupcakes.
Lively: Oh, Lord have mercy. Give me some cupcakes, don't ask me about them.
CNN: What kind do you like?
Lively: Sprinkles. It's the best in the whole wide world. ... I'm trying to bring one to New York [by voting on Sprinkles' Web site]. There's one in Los Angeles and Phoenix, oh no, Scottsdale, sorry. And Dallas. So please vote. Please. Vote for cupcakes. Sprinkles.
Bledel: (laughs) Did they tell you about the cliff-jumping business?
CNN: They did not.
Lively: That was something that we actually did ourselves and they wrote it to the movie.
Bledel: Yeah, [Tamblyn and Ferrera] found the spot and saw people cliff-jumping and they decided to try it, and then told the producers about it and they wrote it in.
CNN: Were you guys scared to jump off that cliff?
Lively: It was scary, but it was --
Bledel: It was fun.
Lively: Exciting. Yeah.
CNN: Do you have a favorite pair of jeans that you can't live without, that you wear all the time?
Lively: I have lots of favorite pairs of jeans. I wear these a lot (laughs). I wear these, I have two pair of these, so maybe [these].
E-mail to a friend