LOS ANGELES, California (CNN) -- Kevin Costner hasn't decided whom he's going to vote for. Which puts him in a similar position as Bud Johnson, the character he plays in the new film "Swing Vote."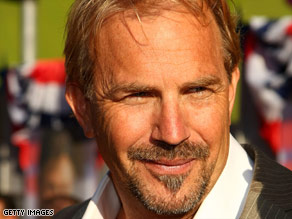 Kevin Costner, star of the new movie "Swing Vote," arrives at the film's premiere in Hollywood, California.
There are differences, of course. Costner is a famous movie star and Oscar-winning director. On the other hand, life has passed Bud Johnson by. He's apathetic and loves beer, and the only bright spot in his existence is his 12-year-old daughter, Molly.
The fate of the free world rests in Johnson's hands when his attempt to vote in the presidential election malfunctions. It's an improbable political fluke -- his ballot will be the deciding factor in an upcoming presidential election -- but it delivers a message Costner believes in: One person can matter.
"I thought [the script] was smart. I thought it was funny, and I thought above all, it was moving without trying to be," Costner said. "It's not a public service announcement, but it probably is more effective than any one you could actually put forth."
"Every message in this script [hits you] like a paintball gun," said Madeline Carroll, who plays Molly. "I hope people walk away with every single one of those."
There are other targets in "Swing Vote," which comes out Friday. Political candidates and their adjustable beliefs are gently skewered, as is the media, which swarms around Johnson as its latest Big Story.

Watch Costner talk politics and Hollywood »
With a real election day just three months away, cast members can't help but notice parallels between the film and real life, though real life probably doesn't involve a presidential candidate buying a voter a case of beer.
Don't Miss
"These are exaggerated parallels, but they certainly exist," said Kelsey Grammer, who plays President Andrew Boone. "You give a speech one day to one group of people, and then you give a different one to another group of people, and the positions change. That's, I think, part of the political process."
Grammer, who agrees with a description of himself as "famously Republican" in largely Democratic Hollywood, is throwing his vote toward Sen. John McCain. "He's the most principled politician of my entire life."
On the other hand, Nathan Lane, who plays one of the candidates' campaign managers in the film, is a long-time Democrat. "We do need a change, and I feel like [Sen. Barack Obama] has a lot of the qualities that I admire," he said.
Costner, who describes himself as "a registered independent," is taking a wait-and-see attitude. Both McCain and Obama have been criticized in the media for not taking "big" enough stands, and Costner says it's those kinds of statements -- announcements of big ideas -- that he's waiting on before making his decision.
"I'd like to see the candidate I want to support raise the stakes a few more times," Costner said. "I'd like to see some bigger promises, some bigger swings for the fences."
Still, he observed, the tendency of politicians to promise everything to everybody is exactly what "Swing Vote" analyzes. The actor said he thinks politicians' ability to be swayed by polls is standard human behavior. He understands the desire to win, which can cause somebody to alter who they are in fear of losing. And this, he said, happens on both sides of the political spectrum.
"I think that's where the movie is even-handed," Costner said. "It doesn't demonize one group, and it doesn't preach. Even though it's a comedy and takes its big cuts comedically, there is a lot of real behavior in it."
There is one group in particular that takes a hit in the film: the media, which get involved in a tug of war with both political sides in "Swing Vote's" small Southwestern town.
Costner, who's taken some media hits himself, can relate.
"Again, it's a comedy," Costner said. "It's the media on the ground that has to be voracious. So even though there's a little bit of a leap there, I've lived in this a long time, and it's pretty accurate."
Still, Costner has some empathy for the journalists going after the story.
"What are you going to do? It is your job."
E-mail to a friend

CNN Entertainment Producer JD Cargill contributed to this story.
All About Movies • Kevin Costner