By Mallory Simon
CNN
(CNN) -- Nick Patten apparently has never been happier to go work on two hours of sleep.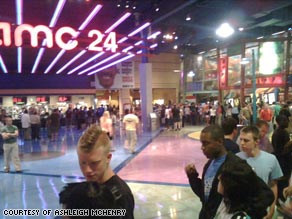 Moviegoers jam theaters, such as this one in Concord, North Carolina, early Friday to see "The Dark Knight."
He went to a 12:05 a.m. Friday showing of "The Dark Knight" and says he didn't get home until 3:30 a.m.
"I think one day of being tired at work, drinking Red Bulls to stay awake all day is well worth staying up late the night before to see a great movie before the rest of the world does," said Patten, a multimedia designer from Queens, New York.
Such fatigue appears to be common Friday, hours after "The Dark Knight" premiered with thousands of showings that started at midnight and ran into the wee hours of the morning.

Watch iReporter Chelsea Itson tell her tale »
Ashleigh McHenry of Charlotte, North Carolina, got to her theater, which was going to have three showings, at 11:15 p.m. Thursday. Because of the sheer demand, she said the theater decided to show it on three additional screens.
"We started in one theater that was absolutely packed, where we couldn't find four seats together or even two and two to accommodate my boyfriend and I and the couple we went with," she said.
"We didn't even bother with concessions," she added. "The lines were from the lobby well into the hallways of the theater."
Moviegoers such as Patten and McHenry took to various sites, including Twitter and CNN's iReport, to share their reviews -- and their exhaustion.
The fatigue was expected by a number of experts, including Harry Medved, spokesman for the ticket-buying site Fandango.com, which reports that Friday could be the biggest day in its history, with "Dark Knight" selling almost 10 tickets per second Friday morning.
The film already has the biggest midnight debut ever, with tracking firm Media By Numbers reporting "Dark Knight" made $18.5 million at its midnight showings alone. That breaks the record of $16.9 million held by "Star Wars Episode III: The Revenge of the Sith."
"The Dark Knight's" 3 a.m. and 6 a.m. showings weren't included in the tally.
Medved said Thursday he couldn't remember the last time there were more than two or three showings of a film in the middle of the night -- usually in New York or Los Angeles.
Medved declared "The Dark Knight's" opening day "Dark Friday," predicting attendance at work could be dramatically down.
During a survey of people who buy tickets through Fandango.com, 38 percent of those who are working said they would be taking either some time or the day off to see the movie.
The movie was expected to be shown on 9,400 screens in a record-breaking 4,366 theaters for its opening, according to its studio, Warner Bros. (Like CNN, Warner Bros. is a division of Time Warner.)
But enthusiasm was high for the late-night (and early-morning) screenings. One group attending a showing at the 428-seat Henry Ford IMAX Theatre outside Detroit, Michigan, drove to the venue in their version of the Batmobile and outfits representing nearly every major Batman character. The midnight show -- with a costume party preceding it -- sold out in less than a week, according to the Detroit Free Press.
The film opened Thursday in Australia and Wednesday in Taiwan. It will be released in Japan on August 9. See when the film is opening around the world
"The Dark Knight" was going to attract interest anyway -- 2005's Batman reboot, "Batman Begins," did more than $200 million in business domestically -- but the focus on the late Heath Ledger's turn as the Joker has ramped up enthusiasm.

Watch how the studio dealt with Ledger's death »
Ledger's performance has been hailed as "indelible" (Los Angeles Times' Kenneth Turan), "powerful" (The Washington Post's Stephen Hunter, in an overall mixed review) and "mesmerizing" (CNN.com's Tom Charity); clips of his character have dominated the movie's marketing campaign.

See how Ledger made the joker his own »
His absence was conspicuous Monday at the New York premiere, his co-stars said.
"He should be here, shouldn't he? Because this is his big moment -- because he is the most amazing thing in the picture," said Michael Caine, who plays Bruce Wayne's butler Alfred. "And it's not because he's dead or something and everyone's concentrating on him. He would have been the most amazing thing in the picture anyway."
Other members of the cast praised Ledger for redefining the character brought to life in the past by Mark Hamill ("Batman Beyond: Return of the Joker") and Jack Nicholson ("Batman")

See members of the cast praise Ledger »
Aaron Eckhart, who plays crusading District Attorney Harvey Dent, said it was tragic that Ledger wasn't around to celebrate his achievement.
"It's hard to talk about; this is his. He created the Joker," Eckhart said. "He did it in his own way, and it's sad, but on the other hand, I am proud to be able to honor him tonight."
Director Christopher Nolan also praised the rest of the cast, including Christian Bale as Batman, Gary Oldman as police Lt. Jim Gordon, Maggie Gyllenhaal as Rachel Dawes and Morgan Freeman as tech wizard Lucius Fox.
Nolan, who also directed "Batman Begins," said he was glad he was able to take a step back and opt for a different approach.

See the cast on the "black carpet" »
"I think we've tried to expand the scope of the story, to tell a grander, more epic tale," he told CNN.
Hollywood columnist Nikki Finke said insiders at the studio are being conservative, predicting a weekend opening of between $90 million and $100 million -- strong but not record-breaking.
But box office experts, according to Finke, are saying the movie could make as much as $130 million, which would make it a narrow third for best opening weekend, behind "Spider-Man 3" ($151 million) and "Pirates of the Caribbean: Dead Man's Chest" ($136 million).
Regardless of how much money the movie grosses, by far the biggest anticipation may be whether the Academy Awards agree with those -- including Oldman -- who say Ledger should earn an Oscar.
"I just wish that he was here to talk about his performance," he said. "I really feel that there is at least an Oscar nomination, if not a win for him. He really is that good."
Patten, the New York moviegoer, said that "The Dark Knight" exceeded his expectations.
"The opening scene had moments of complete and utter silence from the crowd," he said. " [It's] chilling and can say a lot when a crowd well over 300 or 400 is that concentrated to the point where they aren't even talking to their neighbor about their excitement."
And his lack of sleep? No problem, he added.
"It's the gamble you take, and it was so worth it," Patten told CNN. "[I] just might be going to bed early tonight."
E-mail to a friend

CNN entertainment producer Doug Ganley contributed to this report.
All About Heath Ledger • Academy Awards