By Mallory Simon
CNN
(CNN) -- As "The Dark Knight's" crusading District Attorney Harvey Dent vigorously tries to combat Gotham City's crime spree, he quotes the old saying: "The night is always darkest before the dawn."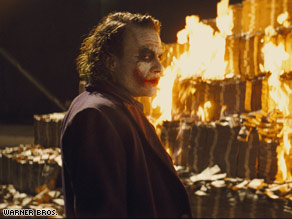 The late Heath Ledger plays the Joker in "The Dark Knight," a performance already garnering raves.
But the dawn may have been the brightest time for "The Dark Knight," which was scheduled to have about 3,000 late-night showings, including almost 100 showings at 3 and 6 a.m. Friday, according to Fandango.com spokesman Harry Medved.
Medved said he couldn't remember the last time there were more than two or three such showings in the middle of the night -- usually in New York or Los Angeles.
"Isn't that when people are just thinking about waking up and going to Starbucks?" Medved asked. "I predict coffee sales will increase tomorrow."
With the film's running time of two and a half hours, Medved is declaring "The Dark Knight's" opening day Dark Friday, predicting that attendance at work could be dramatically down.
During a survey given to people who buy tickets through Fandango.com, 38 percent of those who are working said they would be taking either some time or the day off to see the movie.
According to MovieTickets.com, "Dark Knight" sold out more than 150 performances in Los Angeles and New York alone.
The midnight show times were not just for major movie centers, either. Medved said cities such as Fresno, California; Orlando, Florida; and towns in Minnesota are hosting early-morning showings.
Enthusiasts showed up in groups, some dressed head to toe in costume to celebrate the movie's release. The midnight showing at the 428-seat Henry Ford IMAX theater in Detroit sold out in less than a week, according to the Detroit Free Press. One group attending the showing, which was preceded by a costume party, showed up with a homemade version of the Batmobile and outfits representing nearly every major Batman character.
The film also opened Thursday in Australia and Wednesday in Taiwan. It will be released in Japan on August 9. See when the film is opening around the world
"The Dark Knight" has risen to second place on Fandango.com's all-time list of advance tickets sales, second only to "Star Wars Episode III: Revenge of the Sith." "The Dark Knight" tickets represent 94 percent of Fandango's sales, Medved said.
Don't Miss
Interest is high at IMAX theaters, too, especially because six film sequences were shot with IMAX cameras.
And it's not just the movie business that were looking to cash in on the blockbuster. Corporate America hopes to capitalize on the hype, too, with Dominos offering a Gotham City pizza and Comcast showing behind-the-scenes movie footage and interviews with the cast and filmmakers via its On Demand service.
As fans left the midnight screenings, the hype surrounding the movie has only continued to build. The film is even earning Oscar buzz, thanks to the late Heath Ledger's performance as the Joker.
Moviegoers purchasing tickets on Fandango echoed those sentiments, with 53 percent saying his performance was their main motivation for seeing the film.
Ledger's performance has been hailed as "indelible" (Los Angeles Times' Kenneth Turan), "powerful" (The Washington Post's Stephen Hunter, in an overall mixed review) and "mesmerizing" (CNN.com's Tom Charity); clips of his character have dominated the movie's marketing campaign.

See how Ledger made the joker his own »
His absence was conspicuous Monday at the New York premiere, his co-stars noted.
"He should be here, shouldn't he? Because this is his big moment; because he is the most amazing thing in the picture," said Michael Caine, who plays Bruce Wayne's butler, Alfred. "And it's not because he's dead or something and everyone's concentrating on him. He would have been the most amazing thing in the picture anyway."
Caine also praised the late actor's commitment to immersing himself in a character, something he says is evident from Ledger's opening monologue.
"It's one of the finest close-ups I've ever seen," Caine said.
Other members of the cast praised Ledger for redefining the character brought to life in the past by Mark Hamill ("Batman Beyond: Return of the Joker") and Jack Nicholson ("Batman").

See members of the cast praise Ledger »
Aaron Eckhart, who plays District Attorney Harvey Dent, said it was tragic that Ledger wasn't around to celebrate his achievement.
"It's hard to talk about; this is his. He created the Joker," Eckhart said. "He did it in his own way, and it's sad, but on the other hand, I am proud to be able to honor him tonight."
Director Christopher Nolan also praised the rest of the cast, including Christian Bale as Batman, Gary Oldman as police Lt. Jim Gordon, Maggie Gyllenhaal as Rachel Dawes and Morgan Freeman as tech wizard Lucius Fox.
Nolan, who directed "Batman Begins" three years ago, said he was glad he was able to take a step back and opt for a different approach.

See the cast on the "black carpet" »
"I think we've tried to expand the scope of the story, to tell a grander, more epic tale," he told CNN. "We've tried to really take the character and take it to darker territory by introducing it to the Joker."
Nolan seems to have made believers even out of those who were not die-hard fans of the Batman series, including Gyllenhaal, who said she was "never a superhero movie kind of girl."
"I watched a Batman here, a Batman there, but this is different," she said. "Chris [Nolan] wanted us to play everything for truth. It's about real people in the midst of this wild crazy Batman world. And I became a Batman fan shooting it. I mean, have Batman sweep you up and save you from certain death. It converts a girl, you know?"
The movie was expected to be shown on a record-breaking 9,200 screens in its opening, according to its studio, Warner Bros. (Like CNN, Warner Bros. is a division of Time Warner.)
Hollywood columnist Nikki Finke said that insiders at the studio are being conservative, predicting a weekend opening of between $90 million and $100 million -- strong but not record-breaking.
But box office experts, according to Finke, are saying the movie could make as much as $130 million, which would make it a narrow third for best opening weekend, behind "Spider-Man 3" ($151 million) and "Pirates of the Caribbean: Dead Man's Chest" ($136 million).
Regardless of how much money the movie grosses, by far the biggest anticipation may be whether the Academy Awards agree with those -- including Oldman -- who say Ledger should earn an Oscar.
"I just wish that he was here to talk about his performance," he said. "I really feel that there is at least an Oscar nomination, if not a win for him. He really is that good."
E-mail to a friend

CNN entertainment producer Doug Ganley contributed to this report.
All About Heath Ledger • Academy Awards