By Tom Charity
Special to CNN






(CNN) -- The most consistent production unit in Hollywood just hit another home run.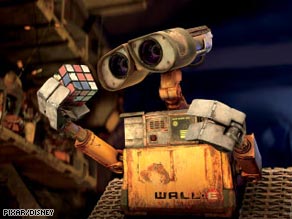 Wall-E ponders a Rubik's Cube in the Pixar film "Wall-E."
Over the last decade, Pixar has become a byword for quality, combining cutting-edge digital animation with depth of character, slapstick comedy and rich, engrossing storytelling that appeals equally to kids and adults. "Wall-E" has all of that and more.
Written and directed by Andrew Stanton ("Finding Nemo"), it's Pixar's most ambitious movie and an instant classic.
Wall-E is a solar-powered garbage drone, the last one still operating on an abandoned toxic planet that looks an awful lot like -- well, is -- Earth. A rusty box sitting on caterpillar tracks, with a retractable binocular-shaped head, he compresses junk into building blocks and then piles them up into towers that are shadow-skyscrapers of waste in the ruins of an unidentified city.
Electronic billboards still plug defunct products and bring us up to speed handily: Having polluted the planet with more waste than it could handle, globo-corporation Buy N Large evacuated its customers on a five-year space cruise ("The final fun-tier," promises the president, played by Fred Willard), leaving the robots to clean up the mess. Only their calculations were a little off. It's been 700 years, and Wall-E is still at work.

Watch the cast talk about the plucky robot »
The opening half-hour is a delectable demonstration of visual storytelling. Although his vocabulary is limited to a bare handful of words, Wall-E, we gather, has developed more than a trace of consciousness. He's a hoarder, curious enough to collect unusual bric-a-brac: a whisk, an electric light bulb, bubble wrap. His most treasured item is a VHS tape of "Hello, Dolly."
His systems are scrambled when he bumps into Eve, a gleaming research pod from the mother ship whose sleek, egg-like design and distinctive start-up chime must be a wink to Pixar (and Apple) boss Steve Jobs.
At any rate, Eve is the apple of Wall-E's eye. He's so smitten, he'd follow her anywhere -- even outer space.
There's something special about Wall-E and his pursuit. Robots have been routinely humanized in sci-fi movies: in "Blade Runner," "A.I." and "Metropolis," for example. And "Wall-E" also isn't alone in implying that human beings are becoming more mechanistic ourselves, though the obese overgrown babies Stanton imagines reclining in hover chairs -- pampered and cocooned from birth -- is a more scathing caricature of consumer over-dependency than we'd expect to find in a Hollywood family film. iReport.com: Share your view on 'Wall-E'
Indeed, Stanton's most obvious touchstones are Stanley Kubrick's 1968 film "2001: A Space Odyssey" (at one point he treats us to a parodic blast of "Also Sprach Zarathustra" to signal a small baby step for man that's also a huge leap for mankind) and Douglas Trumbull's 1972 eco-parable "Silent Running": philosophical sci-fi films made only four years apart at another point of environmental sensitivity.
But the animating spirit here goes back much further, to the sentimental reveries and delightful improvisatory dexterity of Charlie Chaplin. In "Modern Times," made more than 70 years ago, Chaplin made play with the degrading effects of industrialized society. In "Wall-E," Stanton pitches us between a post-industrial wasteland embalmed in smog and the sterile, artificial atmosphere of a giant floating life-support system.
These aren't attractive prospects, but they are transformed by the little lovelorn robot, a lonely soul who seeks companionship anywhere he can get it ... in a cockroach, an old movie and a trigger-happy search robot.
"Wall-E" isn't a perfect movie; some business involving a team of rogue robots is unduly scrappy. But, mostly, this is a film filled with remarkable moments: a pas de deux in front of the Milky Way (with Wall-E propelled by a fire extinguisher), Eve's maternal glow as she carries out her primary directive, the fleeting moment when first-time space traveler Wall-E turns back, sees the Earth and tries to share his joy in the discovery.

Grace, beauty, joy, laughter and love. A wonderful combination for any movie. "Wall-E" is easily the best film of the year so far.
"Wall-E" is rated G and has a running time of 97 minutes. For Entertainment Weekly's take, click here.
E-mail to a friend