By JD Cargill
CNN
LOS ANGELES, California (CNN) -- Pixar's new film, "Wall-E," concerns a robot collecting garbage on an abandoned earth. One of its characters is a cockroach. And -- oh, yeah -- it has no dialogue for its first 30 minutes.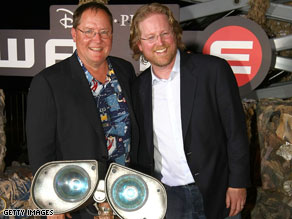 Pixar head John Lasseter and "Wall-E" writer-director Andrew Stanton pose with the title robot.
Sound like a summer blockbuster?
The studio certainly hopes so -- and, given Pixar's track record, you wouldn't want to bet against it. The studio has produced hit after hit, including "Toy Story," "Cars" and last summer's "Ratatouille."
Moreover, "Wall-E" is also a love story with state-of-the-art computer animation. Voice contributors include Sigourney Weaver, Fred Willard, Pixar regular John Ratzenberger and "Star Wars" sound designer and R2-D2 voice Ben Burtt. And it's written and directed by Andrew Stanton, who co-wrote the "Toy Story" movies and directed "Finding Nemo."
CNN's JD Cargill talked to Stanton about the development of "Wall-E," how Pixar creates its classics and the possibilities created by a certain character. The following is an edited version of the interview.

Watch members of the cast talk about the film »
CNN: Talk to me about what you thought about this script and making this movie.
Andrew Stanton: Well, the thing that I've always been proud about Pixar is that we're movie makers. We don't think of it as a genre, animation -- that just happens to be the medium that we use. ... "Toy Story" was driven not so much by wanting to be the first CG movie ever, it wanted to just be a different kind of animated movie and to raise the bar and quality of how you tell a story. And that's pretty much driven us on all the films.
There's no reason we should be repeating ourselves -- and we go to the movies probably more than anyone else does that I know of. We're movie geeks and we never want to see the same thing twice, we want to be shocked and surprised and we want to have as good of a time as the last movie we loved, but in a different way. So we're just trying to respect the audience that we assume is out there, and give you another great movie in a way that you wouldn't expect.
CNN: And what is the difference about "Wall-E"?
Next for Pixar
What's next for Pixar? Let Andrew Stanton tell it:
"Next year is a film called 'Up' that's directed by Pete Docter, who did 'Monsters, Inc.,' who co-directed [it with Bob Peterson, who wrote 'Nemo' with me. It's sort of a senior citizen action film, it's very, very funny. And then 'Toy Story 3' comes out after that ...
"After that is a film called 'Newt' about these two last species of newt, directed by Gary Rydstrom, and then after that is a film called 'The Bear and the Bow' which is sort of a princess tale through sort of a more realistic look at Scottish fairy tales told by Brenda Chapman, she's the director on that."
Stanton: Well, it's a sci-fi genre that you've never really seen with this medium, it's a love story on top of that, and it's told through the eyes of this little machine that doesn't speak the way that you and I speak. From an animation stand point we knew that that's one of the most engaging ways [into the movie]. If you do it right, you're actually not robbing the audience of anything, you're actually gaining a different level of investment than you normally get when you watch one of these kinds of characters. So we actually thought it was pretty special of an idea and ran with it. ...
CNN: I've interviewed [Pixar staffers] several times and they're just, all of you ... You're all cut from the same cloth.
Stanton: We're very proud of Pixar because it's such a special place. We've all worked at other places, we've all worked in different houses, and we know how unique it is and somehow -- knock on wood -- we've managed to make it the same kind of special, unique, nirvana place where we're just making movies for as pure of a reason that you can make a movie as possible.
CNN: Well, what about profit? Did you guys think, wow, a movie where nobody talks, or very little talking happens, could mean [trouble]?
Stanton: Businessmen think like that. We're a group full of artists, and if you want to understand how we think, think about [the fact] that an artist runs the studio and nothing but artists work under him. So we just make it for the pure excitement of the cinema. We want to make sure it does well enough that we can keep working there, so we have a vested interest in survival, but that's about where it ends. We just love movies and we want to make more great movies
CNN: So then for you the success comes ...
Stanton: When it's done. It's already done, I'm already happy with it.
CNN: So why are we even here?
Stanton: I don't know! (laughs)
CNN: This film has several messages, I feel. From the environment, to love, to trying hard ...
Stanton: Yeah, frankly the love one is really all I was pushing. Everything else I was using elements that I knew matched those scenarios of environment and society and things, but I was just trying to go with things that [were] ... true aspects of us that amplified the big point of the story, which was this love story and what is the point of living? What is the real point of living? There's a lot of different ways people can fill their time, but there's really only one reason we're here and it's relationships and loving one another. That's all I was pushing. Everything else was a benefactor of that.
CNN: What is the premise at the very beginning of the film?
Stanton: Basically, we bought so much stuff that we just filled up the world with trash, almost like a blizzard of snow, and there was just no room. It's almost like you filled up your house with so much stuff you had to move out to clean it out.
So everybody had to go on vacation to clean it up and something went wrong and nobody ever came back. And this poor little guy just kept doing his job even though there was no reason to keep doing it.
CNN: And you said that's not the message, it's about love, but that is a very strong environmental message.
Stanton: You know, I just used that to help make him the loneliest guy in the world. That was my only concern.
CNN: Are they going to make the cockroach into an action figure? Because I am so getting in that line.
Stanton: I know, it's sort of funny, we didn't design him any differently than a real cockroach. I think it's more of a mirror on Wall-E because he finds that worthy of being a pet, and I think that reflects well on it.
E-mail to a friend