(CNN) -- Singer and actress Eartha Kitt has died, her publicist, Patty Freedman, told CNN on Thursday.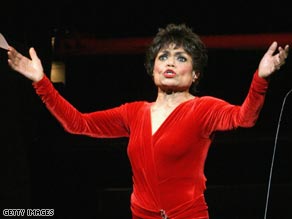 Actress Eartha Kitt, shown at a benefit for the Actors Fund in 2003, performed almost until the end of her life.
Kitt, 81, died in New York, where she was being treated for colon cancer, Freedman said. Her daughter, Kitt Shapiro, was by her side.
She was performing almost until the end, taping a PBS special six weeks ago in Chicago, Illinois. The show is set to air in February.
The ringtone version of her recording of the saucy Christmas song "Santa Baby" was certified gold earlier this month.
Kitt was well known for her distinctive voice and made a name for herself in her portrayal of Catwoman in the television series "Batman." That role produced Kitt's recognizable sultry cat growl.
She worked in film, theater, cabaret, music and on television during her lengthy career. According to Kitt's official Web site, she was nominated for a Tony three times, a Grammy and Emmy twice.
According to the biography on that site, Kitt lived in Connecticut near her daughter and four grandchildren.
Kitt was ostracized at an early age because of her mixed-race heritage, the biography says. At age 8, she was sent from the cotton fields of South Carolina by her mother to live with her aunt in New York City's Harlem neighborhood, the site said.
Don't Miss
As a teen, she auditioned for the famed Katherine Dunham Dance Troupe, was hired as a featured dancer and vocalist, and toured worldwide with the company.
This launched Kitt into a life of roles in the entertainment field.
According to the book "Contemporary Black Biography," she was adored in Europe in the 1950s as a cabaret singer.
In the United States, her dance career led to a critically acclaimed stint on Broadway, including the play "New Faces of 1952," which was later made into a movie.
Broadway stardom landed Kitt a recording deal that led to a string of best-selling records, including "Love for Sale," "I Want to Be Evil," "Santa Baby" and "Folk Tales of the Tribes of Africa." She recorded more than 20 albums, worked in hundreds of television and movie roles, and was invited as a guest to the White House several times.
E-mail to a friend

CNN's David Daniel contributed to this report.