(CNN) -- Kanye West raising the roof. Charlize Theron leading the charge. Gwyneth Paltrow and Edward Norton stumping for the arts.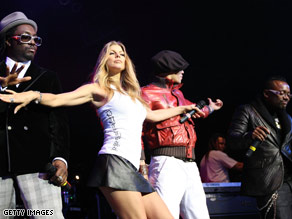 The Black Eyed Peas are scheduled to perform at a Denver show August 27.
The entertainment at the political conventions won't be limited to delegates waving their straw hats and trying to hit the high notes of "The Star-Spangled Banner."
Denver, Colorado, the site of the Democratic convention beginning Monday, will find itself as Hollywood East. The Republicans' Minneapolis-St. Paul, Minnesota, event, which starts Labor Day, will also get a taste of Tinseltown.
At both conventions, the nonpartisan Creative Coalition will lead the way. The organization is devoted to arts advocacy, as well as issues such as health care and affordable housing, and will have a number of celebrities on hand, including Paltrow, Norton, Warren Beatty, Dana Delany and Matthew Modine.
The group will be sponsoring concerts in both cities, with the Black Eyed Peas headlining in Denver on August 27 and the Charlie Daniels Band topping the bill in Minneapolis-St. Paul on September 3. Retail chain Target is co-sponsoring both shows.
According to Washington publication The Hill, other concerts scheduled for Denver include a Monday Rock the Vote show featuring Wyclef Jean; a Tuesday Rock to Win concert starring Melissa Etheridge, Cyndi Lauper and Rufus Wainwright; and a Wednesday show hosted by the ONE campaign -- which supports the fight against AIDS and global poverty -- and the Recording Industry Association of America. That show will be headlined by Kanye West.

Gallery: Who's playing in Denver? »
Daughtry is headlining the ONE/RIAA event in the Twin Cities, according to Politico.com.
The Creative Coalition's events include several film screenings and, in Denver, a luncheon honoring actress Annette Bening and the 14 female senators of the 109th Congress. The senators are the subject of a film, "14 Women," narrated by Bening, that will be shown in both cities.
Don't Miss
Creative Coalition Executive Director Robin Bronk told The Hollywood Reporter that the organization was determined to present some steak with its celebrity sizzle.
"We have a great track record of bringing substance with splash," she said.
But splash is what will probably be in photographers' viewfinders. According to media reports, other stars planning to come to Denver include Susan Sarandon, Scarlett Johansson (who told CNN she "wasn't exactly sure" she'd be going but has made no secret of her support for Barack Obama), Ben Affleck, Matt Damon, Anne Hathaway and Forest Whitaker.
The Republicans can count on the Beach Boys -- who will be headlining a concert of their own September 1 -- Gretchen Wilson, Sammy Hagar and the Governator himself, California's Arnold Schwarzenegger.
Some celebrities affiliated with the Creative Coalition may attend both conventions.
Denver is also the home of John Malone's broadcasting behemoth, Liberty Media, which has interests in Starz, Encore and the Discovery Channel. Starz is planning to host a Starz Green Room, according to The Hollywood Reporter, which will invite industry names to film screenings and panel discussions.
One notable film premiere, set for the Starz Film Center, is "Battle in Seattle," about the riots during the 1999 World Trade Organization talks. The film stars Charlize Theron and is directed by her partner, Stuart Townsend.
Not every event will be sanctioned by the conventions or political parties, of course. Indeed, protesters for (and against) various causes plan to make their voices heard. Rolling Stone reports that Rage Against the Machine has scheduled a free show Wednesday as part of the Tent State Music Fair to End the War in the city's Denver Coliseum. iReport.com: Are you in Denver?
"It is a peaceful protest through music," the event's publicist, Carrie Lombardi, told The Associated Press.
Also playing the Denver show, which is scheduled to start at the un-rock 'n' roll time of 11 a.m.: Wayne Kramer of the '60s band MC5 ("Kick Out the Jams"), who said he's playing "out of a sense of participating in democracy," according to the AP.
Rage is also playing a Minneapolis concert during the RNC, though it's far from free: Tickets are $60 for the show at the Target Center on September 3. Rage guitarist Tom Morello is also teaming with Steve Earle for a union rally on Labor Day.
Though Rage's shows are likely to be well-attended -- the politically active band's albums "Evil Empire" (1996) and "The Battle of Los Angeles" (1999) both hit No. 1, and a free show is a free show -- they may not be welcomed by authorities.
A free concert in Los Angeles during the 2000 Democratic convention, labeled a protest against the two-party system, led to a disturbance, with police using pepper spray and tear gas on the crowd; a recent Rage appearance at Lollapolooza in Chicago included some aggressive gate-crashers, which prompted the band to stop several times to prevent things from getting out of hand, according to Rolling Stone.
There are also several arts-related events in a lower key. According to The New York Times, artists will be converging on Denver and Minneapolis-St. Paul to mount various forms of political theater, from creating a giant ice sculpture of the word "Democracy" (which will be left to melt over the course of the day) to inviting the public to perform karaoke versions of convention speeches. Though some of the exhibits will be politically pointed, organizers are careful to characterize them as nonpartisan -- and expect some unusual discourse.
"You expect people to respond by organizing a protest and throwing their fists in the air, and you also expect people to respond by flying 1,000 American flags," said Sarah Peters of Minneapolis' Walker Art Center, which is taking part in that city's "UnConvention." "And those are two legitimate ways to respond to politics, but there is a whole in-between area that doesn't get talked about."
As any visitor to the convention cities will surely experience -- when they're not craning their necks to look at celebrities.
E-mail to a friend

All About Denver • Minneapolis