By Nicole Saidi
CNN
(CNN) -- Will Smith has made epic blockbusters a Fourth of July tradition, and Denzel Washington is one of the most recognized faces in show business.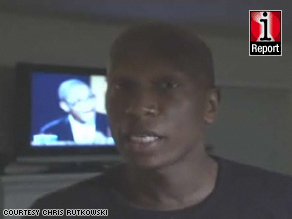 Brad Bailey watched "Black in America" with friends who have been involved in the film industry.
But according to some iReporters who watched CNN's "Black in America," these well-known actors' roles are not typical of how black people are shown on TV and in the movies.
Brad Bailey of Los Angeles, California, was one of the many viewers of the two-part documentary who continued the dialogue on iReport.com. The overwhelming response prompted CNN to initiate deeper explorations into the issues touched during the show.
Bailey held a viewing party at his home with friends who have been involved in acting and film production. He concluded that while he thought the documentary covered about as much ground as a special can, one of the issues remaining to be addressed was the image of blacks projected into theaters and living rooms.
Bailey says there aren't enough black roles on TV and in movies, which deprives people of all races from seeing black people in non-stereotypical roles or having their appearance become a normal, everyday aspect of filmmaking. Actors, too, struggle when they can't fit narrowly prescribed roles. iReport.com: See stories about being black in America
He cites a lack of black screenwriters as contributing to underrepresentation of blacks on television.
"For me, I think it's about who creates these roles," Bailey said. "I've only been successful when it came to roles that were specifically designed for being black."
Bailey himself has been on multiple sides of the same coin. He's auditioned for roles in the past as well as made his own projects. Now, he's moved to a documentary focus.
iReport.com: Watch the discussion that went on at Bailey's viewing party
Don't Miss
Blacks have a harder time fitting into roles than most people in an already-tough acting market, he said.
The Yale and Princeton graduate recalls one occasion when he auditioned for a role as an Ivy League "secret society type." He figured he'd have a good shot since he'd been in a secret society himself. He didn't get the role and noticed that it was given to a blond-haired white man.
"They were looking for the stereotypical version of what Ivy League was 50 years ago," Bailey said.
Still, no one ever came out and said why the choice was made, and he can only assume the reason behind the selection.
"Nobody ever says that directly," Bailey said. "They sort of go around it in coded language in order to say that."
He said he's had trouble auditioning for roles in which he would be dating a white person or married to a white person because directors look to match couples who look alike. People aren't used to interracial couples, but he thinks this image would change if people saw it more often.
"Maybe just seeing those pictures up there, maybe they won't react so strongly to it," he said.
Robyn McGee of Long Beach, California, singled out black women as a misrepresented group in film and television. Female film roles are prone to stereotype, she said.
iReport.com: See how McGee feels about black female stereotypes
She conceded that Smith's appearances in diverse films such as "Independence Day," "Men in Black," "I Am Legend" and "Hancock" were groundbreaking. Notably, Halle Berry won an Oscar in 2002 and Jennifer Hudson did so as well in 2007. But she said these examples of achievement are unique and must be built upon.
"Frequently, black women are still portrayed as loud, bossy or fat," she said. "The Pine Sol lady in commercials is a throwback to this mammy stereotype."
McGee wrote a book about black women's body images in 2005 and says she takes great interest in the subject of their appearances in film and TV.
She sent a photo of herself with her family and asked fellow iReporters, "Why are black women portrayed on TV, the movies, in magazines and online as loud, angry and desperate for love?"
Music videos of the 1990s influenced a new interpretation of women on TV in roles she characterizes as "hypersexual gold diggers."
These images, as well as portrayals of young black men, contribute to an identity crisis for teens in search of role models, says Beto Mario Lopez of Oakland, California.
Lopez said actors like Smith and Washington have carved a niche for themselves, but they don't speak to younger audiences the way TV and hip-hop culture do. Teens may feel like they have to act a certain way to fit in, when they might otherwise prefer a different style, he said.
"Kids are growing up today thinking you have to be hip-hop," Lopez said. "You've got regular 16-year-olds ... they're taking it too far with what you see on television."
He wishes more diverse filmmaking was available and said Spike Lee's comments in the special struck a chord. During his appearance in "Black in America," Lee said he has an easier time obtaining funding for projects including black stereotypes than for films that tackle more nuanced subject matter.
iReport.com: Watch Lopez talk about Spike Lee's interview and the perils of filmmaking
Young black males need to look at the media and see something with which they can identify, he said. Instead, he feels black men are portrayed in a negative light.
"You think, 'Oh look, there's another stereotype of a black going through problems.' "
Bailey said the importance of film imagery can't be ignored. He feels people are used to seeing black people as policemen, for example, but not necessarily in other capacities.
Everyone needs to see diverse representation in films for their own education, he said, and this need spreads beyond the United States.
"Hollywood starts these trends, but in these instances popular culture reacts to them," Bailey said. "Those images that are projected on screen are projected to the rest of the world."
E-mail to a friend