By Hilary Whiteman
CNN
LONDON, England (CNN) -- "We have our characters landing, or they have to land. It's an emergency; they make it in the last moment. And they're very happy they're still alive. So the next moment, they realize there are hundreds of airplanes all around. So, wow, there is something bigger going on ..."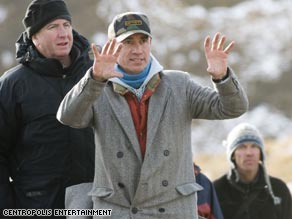 Roland Emmerich gives his actors direction while filming on location for his latest film, "10,000 BC."
There's always something bigger going on in a Roland Emmerich film.
From an alien invasion ("Independence Day") to tidal waves crashing over New York ("The Day After Tomorrow"), the German director is the architect of the type of classic catastrophe scenes that pull audiences to the edge of their seats.
He's now working on the storyline of his next film, an as yet untitled epic that appears, so far, to contain all the hallmarks of an Emmerich special-effects extravaganza.
Roland is getting excited: "We see in the background, there are huge things going on with helicopters leaving... and the next moment, they're surrounded by military. Chinese military, right?"
Emmerich directs this question to his old friend and new writing partner Harald Kloser.
They're sitting at a long wooden table in Emmerich's Los Angeles home, a pile of index cards describing story scenes before them. Only a handful are laid out on the table; planning for this film is clearly at a very early stage.

watch Roland and Harald working on their new film »
"We're kind of doing it the same way as we worked on '10,000 BC,'" Harald explains, "because it kind of worked there."
"10,000 BC" is Roland Emmerich's latest big picture release. It premiered worldwide at the end of February 2008.

photos of the "10,000 BC" Berlin premiere »
As the title suggests, Emmerich leaves the present day to follow the quest of a young hunter (Steven Strait) who battles mammoths, saber-tooth tigers and other prehistoric predators to rescue his young love (Camilla Belle) from the clutches of a gang of mysterious warlords. Steven Strait on working with Roland Emmerich

"I didn't want to make a history lesson or a documentary," he says. "I wanted to make something really original in a way which encompasses a lot."
It's a theme that permeates his career: Original scripts based on an outlandish premise that attempt to convey a very real message to the audience.
"In every movie I say: How can I slip something in?"
Roland Emmerich's film career started while he was still a student of the University of Television and Film Munich.
His final thesis was meant to be a short film, but in true Emmerich style, Roland went one further and wrote a longer script, raised extra money to finance it and then watched as The Noah's Ark Principle opened the 1984 Berlin Film Festival.
"It ended up being the most expensive student film ever."
It also gave a glimpse of what was to come. Set in 1997, the film followed rising tensions between East and West and the battle to control a space station capable of manipulating the weather at any place on the planet.
Emmerich made three more films in Germany before 'bad reviews' drove him out.
"I always say this to everybody: I was driven out by bad reviews, or evil critics, to come to Hollywood. It was just getting boring to hear the same criticism again and again."
Now, he reflects, "they're kind of impressed."
"It's weird. It's really weird."
Of all his films, "Independence Day" is perhaps the most impressive. Released in 1996, it was the highest grossing film of the year, taking in more than $800 million worldwide. Roland Emmerich talks about making "Independence Day"

For actor Will Smith, it marked a turning point.
"I remember standing in my hotel room in New York City the Friday night 'Independence Day' opened. From my hotel room I could see the movie theater, and the line came out of the theater, went down, came around the block, came around another block, came back, and the back of the line was in front of the theatre."
"That next morning... I walked out the door and the doorman said: 'Good morning, Mr. Smith, uh congratulations.' I was Will before 'Independence Day', and I was Mr. Smith after." Will Smith talks about Roland Emmerich

"Independence Day" was finished in record time for a director with an almost obsessive attention to detail and a predilection for lavish, time-consuming special effects.
"From conceiving to finishing was like ten months. And it was this huge hit. It was like one of these things that just happen," Emmerich says.
"I had an inkling that it'd be really successful in the test screening. When the title came up, the whole audience stood up and applauded. I said, hopefully they'll still applaud after they've seen the movie. But they liked it, luckily. Certain movies are the zeitgeist."
Emmerich is hoping the zeitgeist will be with him when "10,000 BC" hits cinema screens around the world.
"I hope it's a success, but I'm not kind of obsessing [about it] every day. I just put it out of my mind and go onto other things," he says, adding, "and argue with Harald about some character."
Rewind to his latest story boarding session; the crash landing, swarms of planes and helicopters, the Chinese military...
Roland continues, "The earth's crust is everywhere. It's a global event."
Harald joins in, describing a scene under construction, a character who refuses to leave.
"It could be very emotional when she just stands there. Or she would have to say something along the lines... 'If you want to play God, I can't stop you, but I'm staying with my people.'"
Roland: "Exactly. Exactly."
Harald: "Maybe we should write that up? Should we write that up?"
Roland: "Yeah that's a good piece to write."
E-mail to a friend