(CNN) -- Gov. Rod Blagojevich's pick of a prominent African-American to succeed Barack Obama in the Senate has led to suggestions that the move is calculated, but the governor says he's just doing his job.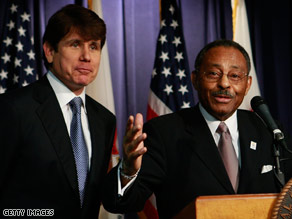 Gov. Rod Blagojevich announced Roland Burris as his pick for Illinois' open Senate seat on Tuesday.
Blagojevich on Tuesday announced he'd appointed former Illinois Attorney General Roland Burris to replace Obama in the Senate, ignoring warnings from Senate Democrats who say they will block anyone he appoints.
Obama said Tuesday that he agrees with the Senate Democrats' decision to block an appointment by Blagojevich, but it's unclear if the Senate has the right to do so.
FBI agents arrested the governor on December 9 after federal prosecutors alleged, among other things, that he had tried to sell Obama's former Senate seat. Blagojevich denies wrongdoing and has ignored calls to resign.
Blagojevich's announcement left observers asking -- whether the governor was playing a game of racial "chicken," daring Senate Democrats to snub a respected African-American.
Conservative radio host Larry Elder said race was clearly a part of Blagojevich's plan.
"What he has done is this: He's chosen a black person and dared the Democratic Senate not to seat him because there would then be no black senators in the Senate whatsoever.
"I'm not saying that the former attorney general isn't a man of integrity and wouldn't otherwise, in his own right, be able to serve competently as a senator.
"But you don't have to be a cynic to understand that race was part of Blagojevich was doing right here," he said.
Burris was the first African-American to be elected to statewide office in Illinois, winning the first of three terms as comptroller in 1978. Twelve years later, Burris was elected state attorney general, the second African-American in the country to reach that position.

Watch what Burris says about replacing Obama »
Illinois Rep. Bobby Rush, who appeared at the Tuesday news conference, warned senators about blocking Burris.
"There are no African-Americans in the U.S. Senate. And I don't think any U.S. senator who's sitting in the Senate right now wants to go on record to deny one African-American from being seated in the U.S. Senate," he said.
"I would ask you to not hang or lynch the appointee as you try to castigate the appointer and separate the appointee from the appointer," Rush said.
Jeffrey Toobin, CNN's senior legal analyst, called Rush's statement "inflammatory."
"It was outrageous to talk about lynching. That means, if you're oppose Burris, you're in favor of lynching? Barack Obama is in favor of lynching? Come on. That is an outrageous, inflammatory remark," he said, calling the news conference a "surreal moment in political history."
But CNN contributor Roland Martin said that Rush was trying to "make it very clear that he's not going to sit back and watch any attacks on the character of Roland Burris."
Martin put the blame on lawmakers for letting it get to this point.
"The General Assembly, they could have taken this out of his hands. They chose not to. Senate Democrats did not want a special election. They also failed here. We can sit here and dog Blagojevich all day, but there was an opportunity to remove the decision from his hands. The General Assembly chose not to do it," he said.
Rush defended his support for the appointment of Burris on CNN's "Larry King Live" Tuesday.

Watch Rush say 'Burris is worthy' »
"This is indeed about the fact that a U.S. Senate does not have one African-American in it," he said. "The fact that we have no African-Americans should be -- should make most fair-minded Americans very, very angry."
Many in the Senate maintained that concerns over the appointment had nothing to do with race or Burris' qualifications.
"This is not about Roland Burris. This is about Gov. Rod Blagojevich, who, let's remember, was accused of trying to sell the Senate seat, who is undergoing right now impeachment hearings in the Illinois Legislature, who has been charged by the U.S. attorney, and who the United States Senate, all the Democrats said should not make the appointment," Rep. Jan Schakowsky, D-Illinois, told CNN.
While Toobin said the Democrats deserve credit for not accepting any appointments by the governor, Martin said that move was "outrageous, because you should be judging a person who they're sending to the Senate, not the guy who picked him."
Jamal Simmons, a Democratic strategist and CNN contributor, suggested that Blagojevich knows exactly what he's doing.
"This guy has really figured out how to change the story about what's going on in Chicago right now. He created a big mess that he put in [Senate Majority Leader] Harry Reid's lap.

"And he's won some friends in the African-American community in Illinois, where he doesn't have a lot of friends right now," he said.
"Now, was it a circus? Oh, yes. That press conference was a pretty wild press conference. But for Blagojevich's politics, it really was a brilliant stroke," he said.
Regardless of the racial politics swirling around the nomination, it's unclear whether the Senate Democrats -- who have vowed to block any Blagojevich appointment -- have the power to do anything about it.
As sitting Illinois governor, Blagojevich has the sole power to name Obama's replacement.
The Constitution says the Senate can control its membership, but there's a Supreme Court case that suggests otherwise.
In the late '60s, the House of Representatives tried to keep Adam Clayton Powell out of the House because of corruption allegations, but the Supreme Court said it didn't have the right to do it.
"So the question of whether the Senate can keep Burris out is very much an open one. And we could be looking at several months of litigation about this," Toobin said.
E-mail to a friend

All About Rod Blagojevich • Barack Obama