CHICAGO, Illinois (CNN) -- Roland Burris, the man embattled Gov. Rod Blagojevich has appointed to fill President-elect Barack Obama's seat in the U.S. Senate, is asking the Illinois Supreme Court to confirm that nomination.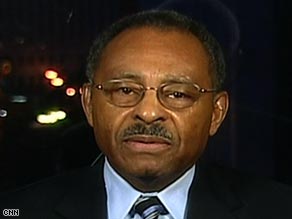 Roland Burris said Illinois Gov. Rod Blagojevich is innocent until proved guilty.
The move comes after Illinois Secretary of State Jesse White, a Democrat along with Blagojevich and Burris, refused to sign off on the appointment, which was announced Tuesday.
Documents filed Wednesday by lawyers for Burris ask the court to require White "to certify Governor Blagojevich's appointment of Mr. Burris to the office of United States Senator from the state of Illinois and do all other acts required to confirm such appointment."
Blagojevich is facing criminal corruption charges in Illinois. The allegations against him included charges that he planned to "sell" Obama's seat.
Democratic leaders, including Senate Majority Leader Harry Reid, have said they would not accept Burris, 71, as a member of their caucus.
Aides say they have been working on a plan to block his appointment, preventing Blagojevich from deciding who fills the seat.

Watch what's next for Burris »
They argue anyone appointed by Blagojevich while corruption charges swirl around him will not be able to be an effective leader.
Obama, while commending Burris' career as a public servant, also has said he does not think the former state attorney general should be seated.

Watch Anderson Cooper and his panel discuss the appointment »
A copy of the official certificate declaring Burris' appointment shows Blagojevich's signature, but the line for White's signature is blank. Whether his signature is required to make the appointment official remains in dispute.
Don't Miss
Burris' complaint to the court argues that, while suspicion surrounds Blagojevich, he has not stepped down as governor and hasn't been convicted of a crime, meaning it is still his duty to appoint Obama's successor.
It argues that state law makes the governor's appointment effective immediately and that White is required "to sign and affix the seal of the state to all commissions required by law to be issued by the governor."
Burris said Wednesday that despite the legal cloud hanging over Blagojevich, he intends to serve the people of Illinois.
"Roland Burris has been legally appointed to the United States Senate. I am currently the junior senator from our state. And based on that, the problem for the governor should in no way ... tainting my appointment. There's no illegality in him appointing me," Burris said on CNN's "The Situation Room."

Watch Blagojevich appoint Burris »
Burris said he has had problems with "some of the actions and behaviors of the governor" but that has "absolutely nothing to do with him exercising his power."
Burris said Blagojevich is innocent until proved guilty, even though his behavior "is reprehensible."
"I don't look upon the governor's problems as my problems. I look at the governor's problems as his problems," Burris said.
He also appeared to support Illinois Attorney General Lisa Madigan's efforts to remove Blagojevich from office.
"I certainly applaud her actions," he said of Madigan in a December 13 news conference, according to WBBM. "Illinois is too important to its 18 million citizens to have a chief executive who is now incapacitated."
Asked whether he thinks Blagojevich should resign, Burris told CNN that he has "no opinion on the governor's problems."

Watch Burris accept the Senate appointment »
Burris was Illinois' first black attorney general and became its first African-American elected to statewide office when he was elected state comptroller.
He unsuccessfully ran against Blagojevich for the Democratic nomination for governor and has run unsuccessfully for the mayor's job in Chicago.

Read more about Burris' personal and political life »
Despite the pressure to step aside, Blagojevich said he was required by law to fill the Senate seat.
Although Blagojevich, 52, has not commented publicly on the charges, his lawyer Ed Genson said the governor has done nothing wrong and does not intend to step down. It is the sole authority of the Illinois governor to name a successor to serve the remaining two years of Obama's term.
E-mail to a friend

CNN's Ed Hornick, Kristi Keck and Brianna Keilar contributed to this report.
All About Rod Blagojevich • U.S. Senate • Barack Obama