(CNN) -- From an historic presidential election to a wealth of political scandals, 2008 has been nothing short of extraordinary.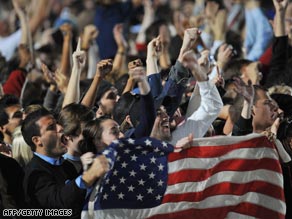 Barack Obama's campaign inspired a huge grassroots movement and broke fundraising records.
Here's a look back at some of the top political stories of the year.
Obama-mania
From a junior senator from Illinois to the next president of the United States, Barack Obama broke down barriers and inspired an unprecedented grassroots movement in 2008.
He defeated one of the most powerful families in politics to get the Democratic nomination, and easily took down long-time Sen. John McCain in the general election.
Obama's campaign was marked by his eloquent speeches, passionate supporters and worldwide fanfare for the Democratic candidate. Look back: Obama defeats McCain
The Democrat's ground team helped him smash fundraising records and sail into the White House, making him the first African American to win the presidency.

Watch the big moments from Election Day »
Palin power
Tim Pawlenty, Mitt Romney, Bobby Jindal, Joe Lieberman -- they were considered the front-runners for the No. 2 spot on the Republican ticket. But, in one of the biggest surprises of the year, John McCain picked Alaska Gov. Sarah Palin as his running mate.

Watch McCain announce his pick »
The first-term governor went from obscurity to superstar fame overnight. She energized the Republican base and brought record crowds to McCain's campaign events.
Coming Thursday
CNN analysts and contributors make their predictions for 2009.

Along with her good looks and sharp tongue, she also brought a fair share of controversy to the campaign trail. Some of the more notable ones include the $180,000 fashion bill for a mere nine-week stint on the GOP ticket; the investigation into her firing of a state trooper; and of course, her botched media interviews that helped "Saturday Night Live" rake in its best ratings in 14 years thanks to Tina Fey's spot-on impersonations.

With all eyes on Palin for 2012, it's likely that this self-declared hockey mom will stay in the news long after the election season.

Huckabee's rise, Giuliani's fall

Ex-New York mayor Rudy Giuliani messed up. The former frontrunner for the GOP nomination put all his eggs in one basket, Florida. He focused on the Sunshine State and paid little attention to the early contests in Iowa, Wyoming, New Hampshire, Michigan, Nevada and South Carolina.

Giuliani ended up finishing third in Florida. He dropped out the next day and endorsed McCain.

Watch what went wrong for Giuliani »
Don't Miss
Former Arkansas Gov. Mike Huckabee, however, lasted much longer than the pundits predicted. He surprised his competitors by winning the first-in-the-nation Iowa caucuses. He went on to win seven more primary contests before giving up his bid for the GOP presidential nomination and backing McCain in March.
Super Tuesday solves nothing
Super Tuesday was supposed to be the "big decider." While McCain's wins helped him solidify his lead on the Republican side, little changed for the Democrats.
Hillary Clinton won the big, delegate-rich states -- such as California, New York and New Jersey -- but Obama won more states. After Super Tuesday's nearly two dozen contests, the Democrats came out in a tie.
Romney's big surprise
After a disappointing finish in the Super Tuesday contests, former Massachusetts Gov. Mitt Romney assured his supporters that he would "keep on battling ... all the way to the convention."
So it came as a big surprise when, just two days later, Romney suspended his campaign in address before the Conservative Political Action Conference. Look back: Romney suspends presidential campaign
Romney entered the race in early 2007 after finishing his single term as governor with the support of much of the GOP's conservative establishment.
Despite pouring millions of his own fortune into the campaign, Romney struggled after Huckabee upset him in the Iowa caucuses and McCain came from behind to beat him in New Hampshire.
Obama and Clinton's love-hate relationship
Obama and Hillary Clinton are perhaps the best example of "frenemies."
The two competed in the longest primary season in modern history and fought a bruising battle until the end.
After Clinton ended her campaign, she called on her supporters to rally behind Obama, but going into the Democratic convention, there were still doubts about whether the party would unite.
In what was touted as a bid to heal the wounds of the bitter primary season, Clinton's name was placed in nomination at the convention. She and her husband endorsed Obama in their prime-time speeches, and both campaigned for Obama as the election season drew to a close.

Watch Clinton declare her support for Obama »
In a final sign that the former rivals were letting bygones be bygones, Obama picked Clinton to be his secretary of state, calling her an "American of tremendous stature who will have my complete confidence."
The fundamentals of the economy are ... strong?
In the months before the primary season, Americans said Iraq was the most important issue for them. But shortly before the first contest, the economy became the top concern. As fears of a recession grew, President George W. Bush signed a $152 billion economic stimulus bill.
But as the economy tanked, so did McCain's chances of winning the White House. In mid-September, as Wall Street teetered on the verge of a meltdown, the Arizona senator declared, "The fundamentals of our economy are strong."
The Obama campaign used those words to bolster their argument that McCain was out of touch with the challenges facing Americans.
One week later, McCain suspended his campaign and returned to Washington to try to rescue a federal bailout package for the financial industry, but his own party killed the deal.
Rev. Wright's wrongs
Obama's ex-pastor, Rev. Jeremiah Wright, found himself at the center of the campaign for the Democratic nomination after questionable clips of his sermons were circulated on the Internet.
Obama gave a speech on race relations during the height of the controversy with Wright and said he rejected Wright's racially charged comments but could not repudiate the man himself.
Wright later appeared before the the National Press Club and said that Obama had "distanced" himself from him for political reasons.
After that speech, Obama said Wright's remarks were "antithetical to our campaign; it was antithetical to what we're about."
Obama said his relationship with Wright may have suffered irreparable harm. "There's been great damage," he said. "It may have been unintentional on his part, but I do not see that relationship being the same after this."
Obama later resigned from Trinity United Church of Christ in Chicago, Illinois.
The many lives of the McCain campaign
The summer before the primary season, McCain's campaign was strapped for cash and written off by the pundits.
Just weeks before the first Republican contest, CNN's polling showed McCain in fourth place among the GOP contenders. McCain went on to win the first primary contest in New Hampshire and told his supporters, "we sure showed them what a comeback looks like."
McCain emerged as the frontrunner for the Republican ticket and locked up his party's nomination in March. McCain trailed Obama through most of the general election season until he passed Obama in the polls on September 9. Look back: McCain takes the lead
McCain dropped behind about a week later, and as the economic situation got worse, so did his chances of winning the White House.
In the end, Obama won with 365 electoral votes to McCain's 173.

Watch McCain concede defeat »
Political scandals
2008 was no stranger to political scandals.
Most recently, Illinois Gov. Rod Blagojevich has been in the spotlight for allegedly scheming to sell Obama's vacant Senate seat, among other things. Just one day before he was arrested on federal corruption charges, he proclaimed, "There's nothing but sunshine hanging over me."
Another governor who got in trouble this year was New York's Eliot Spitzer. "Client No. 9" had to resign because of his involvement with a high-priced call-girl service.

Watch Spitzer apologize »
Former Detroit Mayor Kwame Kilpatrick also resigned amid a sex and perjury scandal.
And after months of brushing off what he called "tabloid trash," former presidential candidate John Edwards confessed to having an extramarital affair.
Florida also saw a sex scandal this year when Rep. Tim Mahoney confessed to "multiple affairs." In 2006, he defeated Florida Rep. Mark Foley after it was revealed that Foley had sent sexually suggestive messages to congressional pages. Mahoney lost his bid for re-election.
Alaska Sen. Ted Stevens and nine-term Democratic Rep. William Jefferson also lost their re-election bids.
Stevens, the longest serving Republican senator in history, was convicted on seven felony charges of corruption for failing to disclose hundreds of thousands of dollars worth of gifts and free services.
Jefferson has been battling scandals and a federal indictment for the past three years. In 2005, Jefferson's private homes in Washington and New Orleans were raided, and FBI agents said they found $90,000 stashed in one of his freezers.
What do you think were the top political stories? Weigh in below.
E-mail to a friend

All About Barack Obama • John McCain • U.S. Presidential Election