From Chris Welch
CNN
ST. PAUL, Minnesota (CNN) -- Democrat Al Franken maintained his slim lead of 50 votes Tuesday in the race for a Minnesota Senate seat.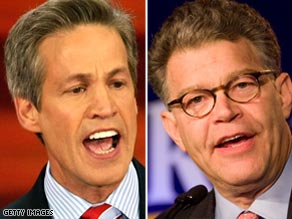 GOP Sen. Norm Coleman, left, and Democrat Al Franken are in a battle for Minnesota's Senate seat.
Minnesota Secretary of State Mark Ritchie and the state canvassing board allocated the remainder of about 6,000 ballots that had, at one point or another, been challenged by both campaigns.
"If there are any nits to be picked, they've been picked," board member and Minnesota Supreme Court Chief Justice Eric Magnuson said as the board adjourned.
In a statement, Franken said, "As it appears that we're on track to win, I want Minnesotans to know that I'm ready to get to work for them in Washington on day one."
Tony Trimble, campaign attorney for Republican incumbent Sen. Norm Coleman, called Franken's lead "artificial."
The process is far from over. The battle over which absentee ballots should be included in the mix has the makings of a brutal fight.
As outlined by the state Supreme Court, both campaigns and local election officials must agree on the ballots that were improperly rejected before the canvassing board can open and count them. Ballots that are rejected improperly are typically so because of a clerical error or something similar.
Local elections officials have come up with a list of about 1,350 ballots that they say were accidentally rejected. Franken campaign representatives have said that all of those should be counted.
Coleman representatives say that only about half of those should be considered, but they've also identified about 600 more ballots that they say were not tagged by local officials but were also rejected in error.
Trimble admitted that many of those 600 are from pro-Coleman areas but said that was coincidence.
Based on the court's ruling, the campaigns must agree before anything can be counted, or sanctions would be levied. Exactly what those sanctions may be remains to be seen.
The deadline to hand those envelopes over to the board is Friday, but there is some doubt over whether that will happen.
The secretary of state said he hopes a result can be certified in a "timely" fashion. If his estimation holds, a result could be certified as early as Monday evening; however, the board has also reserved time January 6 to review the rejected ballots.
January 6 is the day the new Congress is to be sworn in.
Another issue the Coleman campaign is focusing on is whether approximately 150 ballots were accidentally double-counted. Trimble has said for weeks that wrongly handled duplicate ballots exist. The canvassing board decided the issue was not one that it as a body should consider.
The state Supreme Court heard the Coleman arguments and decided against the campaign. But the issue could come up in court again once the canvassing board's process is complete.
E-mail to a friend

All About Al Franken • Minnesota • Norm Coleman • U.S. Senate