CHICAGO, Illinois (CNN) -- President-elect Barack Obama said Tuesday it is disappointing that Illinois Gov. Rod Blagojevich ignored warnings from Senate Democrats about appointing a successor to his Senate seat.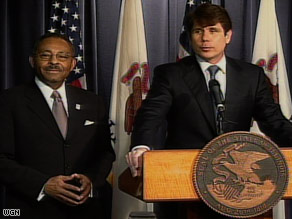 Illinois Gov. Rod Blagojevich, right, names Roland Burris to fill President-elect Barack Obama's Senate seat.
On Tuesday, Blagojevich, a Democrat, named former Illinois Attorney General Roland Burris to serve the last two years of Obama's Senate term.
Senate Democratic leaders have said they will block the appointment and are urging the governor to step down after his arrest on corruption charges -- a move Obama endorsed.
"Roland Burris is a good man and a fine public servant, but the Senate Democrats made it clear weeks ago that they cannot accept an appointment made by a governor who is accused of selling this very Senate seat," Obama said in a statement.
"I agree with their decision, and it is extremely disappointing that Gov. Blagojevich has chosen to ignore it."
FBI agents arrested Blagojevich on December 9 after federal prosecutors alleged, among other things, that he had tried to sell Obama's former Senate seat. Blagojevich denies wrongdoing and has ignored calls to resign.

Watch Blagojevich appoint Burris »
Obama added that the best resolution would be for Blagojevich to resign office and "allow a lawful and appropriate process of succession to take place."
Don't Miss
Burris, 71, also a Democrat, served Illinois from 1979 to 1992, first as state comptroller and later as attorney general. Earlier in December, he said that despite the scandal associated with the seat, he wanted the job.

Read more about Burris' personal and political life »
He also appeared to support Illinois Attorney General Lisa Madigan's efforts to remove Blagojevich from office, calling his alleged actions "reprehensible."
"I certainly applaud her actions," he said of Madigan in a December 13 press conference, according to WBBM. "Illinois is too important to its 18 million citizens to have a chief executive who is now incapacitated.
"The evidence that's been presented is pretty appalling, should that come out to be the case of what our governor is attempting to do," he said, according to WBBM.
After Blagojevich's announcement, Burris asked to be judged on his own merits.
"I have nothing to do with the governor's problems," he told CNN. "I am not tainted by this appointment."

Watch Burris defend himself on CNN's "No Bias, No Bull" »
Asked whether he thinks Blagojevich should resign, Burris said he has "no opinion on the governor's problems."
In a statement released Tuesday, Senate Majority Leader Harry Reid, D-Nevada, urged Blagojevich to not make this appointment.
"The governor must put the interests of the people of Illinois and all Americans first by stepping aside now and letting his successor appoint someone who we will seat," Reid said.
Also, Illinois Secretary of State Jesse White said Tuesday that Burris' appointment will not be certified by his office.
But Blagojevich said at a news conference Tuesday that he is confident the U.S. Senate will seat his appointment and asked the media not to visit any of his political troubles on Burris.

Watch Anderson Cooper and his panel discuss the appointment »
"This is about Roland Burris, not about the man who appoints him," he said after announcing his choice. "Please don't let the allegations against me taint this good and honest man."
Burris does not have to be formally approved by the Senate. But if there is a question about the appointment, the Senate could reject the appointment and immediately vacate the seat, or vote to seat the senator pending an investigation by the Rules Committee or another body, associate Senate Historian Don Ritchie said.
Rep. Bobby Rush, D-Illinois, who appeared at the afternoon news conference, warned senators about blocking Burris from being seated.
"There are no African-Americans in the U.S. Senate. And I don't think any U.S. senator who's sitting in the Senate right now wants to go on record to deny one African-American from being seated in the U.S. Senate," he said.
"I would ask you to not hang or lynch the appointee as you try to castigate the appointer and separate the appointee from the appointer," Rush said."

Watch Rush comment on the appointment »
Rush said he will take that argument to the Congressional Black Caucus as well as U.S. senators -- including Dick Durbin, a Democrat and Illinois' senior senator.
Burris downplayed the importance of race in his appointment.
"I think that certainly is not a major issue," Burris said regarding race. "Why those persons will not seat me is a question that they're going to have to answer, because I have done no wrong."
Many in the Senate maintained that concerns over the appointment had nothing to do with race or Burris' qualifications.
"The problem is the appointer, not the appointee," Rep. Jan Schakowsky, D-Illinois, said Tuesday. "The governor in this act of defiance is doing more harm than good."
Burris, a principal at Burris & Lebed Consulting in Chicago, would serve the remaining two years of Obama's Senate term. Burris previously ran and lost bids for the U.S. Senate and governor, losing the gubernatorial nomination once to Blagojevich.
Also Tuesday, Burris responded to questions about Blagojevich's legal troubles.

Watch Burris accept the Senate appointment »
"I have no comment on what the governor's circumstance is," he said. "As a former attorney general of the state, I know ... that in this legal process, you're innocent until you're proven guilty."
Despite the pressure for him to step aside, Blagojevich said he was required by law to fill the Senate seat.
"The people of Illinois are entitled to have two United States senators represent them in Washington, D.C. As governor, I am required to make this appointment. If I don't make this appointment, then the people of Illinois will be deprived of their appropriate voice and vote in the United States Senate," he said.
A spokesman for U.S. Attorney Patrick Fitzgerald said "no comment" when asked for reaction to the Burris announcement.
Although Blagojevich, 52, has not commented publicly on the charges, his lawyer Ed Genson said the governor has done nothing wrong and does not intend to step down. It is the sole authority of the Illinois governor to name a successor to serve the remaining two years of Obama's term.
E-mail to a friend

CNN's Ed Hornick contributed to this report.
All About Rod Blagojevich • U.S. Senate