WASHINGTON (CNN) -- Top congressional Republicans cautioned Democrats not to rush through a massive stimulus package that lawmakers hope to send to President-elect Barack Obama shortly after he takes office next month.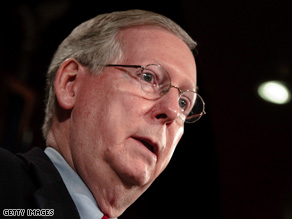 Senate Minority Leader Mitch McConnell wants Congress to holds hearings on the stimulus package.
A House Democratic leadership aide told CNN on Tuesday that Congress will likely take up a stimulus bill the second week of January.
Senate Minority Leader Mitch McConnell, R-Kentucky, said the Congress must prove to taxpayers that the stimulus bill, which some economists suggest could amount to $1 trillion, "is not wasting their money."
"We should have a simple test: will the yet-unwritten, reportedly trillion-dollar spending bill really create jobs and grow the economy -- or will it simply create more government spending, more bureaucrats and deeper deficits?" McConnell said in a statement Monday.
McConnell's $1 trillion figure for the stimulus bill may be an overestimate, however.
A top Obama adviser, David Axelrod, told CBS News on Sunday that the Democrats have talked about a stimulus package of $675 billion to $775 billion, but "those numbers are not fixed," he said.
And the Democratic aide said House Democrats were still discussing a stimulus package of $500 billion to $600 billion, but said, "You don't build a package from the top down -- you see what is needed and then decide on the appropriate number."

Watch why the economy is the voters' top concern »
McConnell also called on the Democrats to craft the stimulus package in a bipartisan fashion.
"We need to find the right mix of tax relief and other measures to grow the economy. This will require the consideration of alternative ideas, public Congressional hearings and transparency -- not a rushed, partisan take-it-or-leave-it approach," he said.
The House aide, however, said that it may be difficult for lawmakers to hold hearings on the stimulus package because Congress will still be in the process of organizing its committees in January.
The aide also noted that the stimulus package will, in large part, be a much bigger version of a stimulus package that passed the House in September, including "aid to the states, infrastructure spending, emergency food assistance -- and we've had numerous hearings" on those components.
While saying the GOP was ready to work with congressional Democrats and the incoming Obama administration, the top Republican in the House, Rep. John Boehner, R-Ohio, also warned Democrats against loading the stimulus bill with earmarks.
"The American people are facing tough economic times, and they expect Washington to act -- but we must act in a responsible way that helps get our economy moving again, not with more pork-barrel spending that does nothing but give taxpayers' money to special interests and campaign contributors," he said in a statement released Monday.
Citing fears that unjustifiable projects will receive funding in the stimulus bill, Republicans point to an 800-page report that the U.S. Conference of Mayors sent to Capitol Hill this month that seeks more than $73 billion for projects across the country, including a $4.8 million polar bear exhibit in Rhode Island and a $1.5 million water park ride in Miami, Florida.
But, as the legislation is still being drafted, none of the projects proposed by the conference has been officially included in the stimulus package.
Boehner joined McConnell in demanding that Democrats hold hearings on the stimulus package and said the text of the bill should be posted online before lawmakers vote on the measure. "Such a massive piece of legislation should be debated in a fair, honest, and open way," he said.
In place of the Democrats' plan to spend billions on roads, bridges and other infrastructure projects to spur the economy, Boehner pushed a plan that would increase the child tax credit for families and cut capital gains, small business, and corporate taxes to spark economic growth.
But, with fewer Republicans in the next Congress, Boehner will have little ability to slow down or stop the Democrats if they want to quickly pass a stimulus bill through the House.
Any influence Republicans will have over the stimulus will be in the Senate, where Republicans will still control enough seats in the next Congress to filibuster any legislation the Democrats put forward.
E-mail to a friend

CNN's Deirdre Walsh and Scott J. Anderson contributed to this report.
All About Mitch McConnell • John Boehner • U.S. Senate