By James Carville
CNN Contributor
James Carville is a Democratic strategist who helped get Bill Clinton elected to the White House in 1992. He also served as a senior political adviser to the former president. Carville remains active in Democratic politics and is a party fundraiser.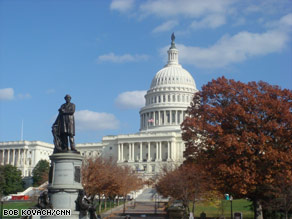 Simple math says Democrats are more likely to get caught up in scandal now than are Republicans, Carville says.
WASHINGTON (CNN) -- You know, people will insist that 2008 had 366 days. I don't believe it. I think it had 36,066 days.
It certainly felt much longer than any year that I've ever experienced. Only time will tell what's in store for us in 2009, but first I have a few predictions.
Internationally, I believe there will be a peace agreement between Israel and Syria in the next 18 months. It is something that will be a priority for the incoming Obama administration.
In domestic politics, my first prediction is one that pains me to make, but I'll make it anyway.
The Democratic Party has had a recent run of corruption and sex scandals. Mathematicians say that there are no such things as streaks and that the last event has nothing to do with the next. The only people who disagree are crapshooters and political operatives. Since I am both, I firmly believe that there are streaks and that political scandals happen in clusters.
The Republican Party had its fair share of scandal and charges of deeply imbedded corruption preceding the 2006 election and leading up to the 2008 elections. More: Politicians who fell from grace
It doesn't hurt to point out that these types of things are also more likely to harm the party in the majority -- Republicans had more elected politicians (315 Republican officeholders in House, Senate, and state governorships) leading up to 2006.
With two big Democratic elections in a row, Democrats now hold a larger majority -- 340 U.S. representatives, senators and governors. Simple math and history point to the fact that the more elected officials a party has in office, the more likely its politicians will get caught up in some sort of scandal.
The current streak, however removed from President-elect Barack Obama, doesn't bode well for Democrats in 2009. Read more predictions from CNN's analysts and contributors
Secondly, 2009 will be a year in which the Republican Party will be confronted with a near catastrophic ideological rift. There is no obvious Republican leader on the horizon, and the party is caught between its Southern/talk-radio base and the rest of the country on whether they should oppose or cooperate with Obama's administration.
The combination of the lack of an obvious leader and the general political combustibility of the Republican Party will lead to a dangerous fissure that will plague it until the 2012 election cycle.
The opinions expressed in this commentary are solely those of James Carville.
E-mail to a friend

All About Democratic Party • Republican Party