CHICAGO, Illinois (CNN) -- Illinois Gov. Rod Blagojevich's pick to fill Barack Obama's U.S. Senate seat was the first African-American to be elected to statewide office in Illinois, winning the first of three terms as comptroller in 1978.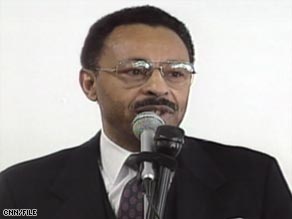 Roland Burris has been nominated to fill the Senate seat vacated by President-elect Barack Obama.
Twelve years later, Roland Burris was elected state attorney general, the second African-American in the country to reach that position.
Burris, 71, first let it be known he was interested in the spot shortly after the November 4 election that saw Obama win the presidency, the Chicago Tribune reported, saying he "was never seriously considered."
But he renewed his efforts to gain the position after Blagojevich's December 9 arrest on charges that he tried to sell the seat, the paper said.
He also appeared to support Illinois Attorney General Lisa Madigan's efforts to remove Blagojevich from office, calling his alleged wrongdoing "reprehensible."
"I certainly applaud her actions," he said of Madigan in a press conference on December 13, according to WBBM. "Illinois is too important to its 18 million citizens to have a chief executive who is now incapacitated.
"The evidence that's been presented is pretty appalling, should that come out to be the case of what our governor is attempting to do," he said, according to WBBM.
Don't Miss
Burris has been a supporter of Blagojevich's since 2002. He and his wife have given the governor's campaign committee $4,500 over the years, according to the Illinois State Board of Elections, and his consulting firm, Burris & Lebed, has given the committee $9,000 in cash and another almost $1,800 in in-kind donations for postage, printing, cleaning and meals.
Burris ran for governor in 2002, finishing third in the Democratic primary won by Blagojevich.

Learn more about Roland Burris »
He also ran for mayor of Chicago in 1995, losing to incumbent Richard Daley.
Burris was a graduate of Southern Illinois University Carbondale and studied law as an exchange student at the University of Hamburg in Germany. He earned a Juris Doctor degree from Howard University in 1963.
Out of law school, Burris worked for the U.S. Treasury Department as a bank examiner and then as vice president of Continental Illinois National Bank. Then-Illinois Gov. Daniel Walker named him to head the Illinois Department of General Services in 1973, where he remained until his election as comptroller.
Burris serves on numerous boards and councils in Illinois and was named one of Ebony magazine's 100 Most Influential Black Americans every year from 1979 to 1995.
He is married to Berlean Burris, and the couple have adult children and a grandson.
E-mail to a friend

All About Rod Blagojevich • Barack Obama • Illinois