By Rebecca Sinderbrand
CNN
(CNN) -- Republican Party reaction is divided over the decision of a candidate for party chairman to distribute a CD that features the parody tune "Barack the Magic Negro," with the majority of Chip Saltsman's political rivals criticizing the move.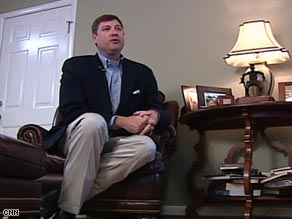 Chip Saltsman has been criticized by some of his rivals for the RNC chairmanship.
Republican National Committee Chairman Mike Duncan -- battling to keep his job as head of the party -- was the first prominent member of the GOP to criticize Saltsman for sending committee members the song.
"The 2008 election was a wake-up call for Republicans to reach out and bring more people into our party," Duncan said in a Saturday statement. "I am shocked and appalled that anyone would think this is appropriate, as it clearly does not move us in the right direction."
He is one of several candidates running to replace Duncan in the closely contested race to lead the Republican Party.
Michigan party chairman Saul Anuzis also questioned Saltsman's judgment.
"In my opinion, this isn't funny and it's in bad taste," he said in a statement. "Just as important, anything that paints the GOP as being motivated in our criticism of President-elect Obama by anything other than a difference in philosophy does a disservice to our party."

Watch more about the controversy over the song »
Republican Party of Florida Chairman Jim Greer -- who has reportedly been weighing a run for the party's top spot, but has not officially announced a bid -- released a Monday morning statement praising candidates who have weighed in against the "racially insulting song."
"As the GOP Chairman in one of our nation's most ethnically and culturally diverse states, I am especially disappointed by the inappropriate words and actions we've seen over the past few days," he said. "I am proud of those party leaders who have stood up in firm opposition to this type of behavior."
"Actions such as the distribution of this CD, regardless of intent, only serves to promote divisiveness and distracts us from our common goal of building our party."
For Christmas, Saltsman sent RNC members the parody CD "We Hate the USA," which includes the controversial tune. He defended his decision Friday, telling CNN the song was clearly intended as a joke.
"I think most people recognize political satire when they see it," Saltsman told CNN. "I think RNC members understand that."
Saltsman, a former chair of the Tennessee Republican Party, was a top adviser to former Senate Majority Leader Bill Frist and managed former Arkansas Gov. Mike Huckabee's presidential campaign.
The song, set to the tune of the 1960s folk song "Puff the Magic Dragon," was first played on Rush Limbaugh's radio show in 2007. Its title was drawn from a Los Angeles Times column that suggested Obama appealed to those who feel guilty about the nation's history of mistreatment of African-Americans.
Saltsman said the song, penned by longtime friend Paul Shanklin, should be easily recognized as satire directed at the Times.
The CD includes parody songs referencing former Democratic presidential candidate John Edwards and the Rev. Jeremiah Wright, among other targets.
Ken Blackwell -- one of two African-American candidates for party chairman -- agreed with Saltsman's assessment, defending him in a weekend statement.
"Unfortunately, there is hypersensitivity in the press regarding matters of race," said Blackwell -- who, if elected, would be the first black chairman of the RNC. "This is in large measure due to President-elect Obama being the first African-American elected president.
"I don't think any of the concerns that have been expressed in the media about any of the other candidates for RNC chairman should disqualify them. When looked at in the proper context, these concerns are minimal. All of my competitors for this leadership post are fine people."
But some younger members of the party were less understanding, as the debate over the satire spread through conservative circles. iReport.com: Sound off on the controversy
James Richardson, the RNC's online communication manager for the 2008 election cycle, called Saltsman's move "quite the revealing faux pas."
"Granted, he didn't pull a George Allen and personally call Obama a 'magic Negro,' but sending a CD with those lyrics shortly after electing the first African-American president -- one supported by nearly 97 percent of the African-American community -- shows a serious lack of judgment, tact and the necessary level of racial sensitivity expected of public officials," wrote Richardson, a Red State contributor, on conservative blog The Skepticians.
"And while I'm sure Saltsman doesn't espouse racist sentiments, this will undoubtedly be spun as an angry, white Southerner stoking the flames of racial tensions after losing to a minority candidate," Richardson wrote. "Hell, why don't we go ahead and give 'em the other 3 percent, too, Chip?"
Most of the candidates for RNC chairman -- including Saltsman, Anuzis, Blackwell and Greer -- will face off in one week in Washington in a public debate sponsored by Americans for Tax Reform. Duncan, who has been invited, has not yet confirmed his attendance.
E-mail to a friend

All About Republican National Committee • Barack Obama • Republican Party