By Lisa Desjardins
CNN Radio

WASHINGTON (CNN) -- Just weeks after opening shop, the Obama transition team has been flooded by what looks like an unprecedented wave of hundreds of thousands of resumes from people who want positions in the new president's administration.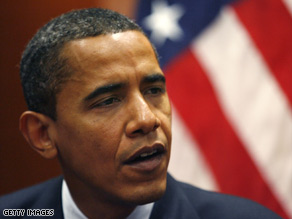 Hundreds of thousands of applicants want to work for President-elect Barack Obama.
"We've actually had more than 300,000 expressions of interest," Obama transition spokesman Nick Shapiro told CNN Radio.
That is roughly equivalent to the entire population of Iceland.
It dwarfs the 44,000 applicants reported by a Bush transition spokeswoman to the San Francisco Chronicle just days before George W. Bush was inaugurated in January 2001. The Clinton transition team in 1993 put its number of applicants near Inauguration Day at approximately 100,000. And the Obama boom has another month to build.
Meanwhile, it's creating a sort of business boom for job-search companies in and out of Washington.
In Macon, Georgia, CareerPro Global, a national and international resume-writing company, has seen a surge.
"We have a tremendous amount of interest," said Scott Kirk, who manages the company. "High-level people in private industry want to go all of a sudden into federal government and be part of this administration."
Kirk describes a group drawn from a wide range of locations and industries, from security and defense to nonprofit. He said many of them are willing to trade high-paying salaries and years of building job security in a single industry.
"A lot have had to dust off their resumes," he said. "I'm talking people that have been in their professions 10, 20 years. So [Obama] has definitely stimulated something."
In Washington, heavyweight job recruiter Nels Olson of Korn/Ferry International is feeling the wave as well.
"I think this is one of the most active transitions in the modern presidency in terms of the sheer volume," he said.
The bad news for Obama hopefuls is that there are fewer than 8,000 presidentially appointed jobs for the 300,000 (and growing) applicants.
For transition directors, that means a more selective and extensive search of candidates.
Applications arrive, Obama-style, through the transition's Web site: http://change.gov/page/s/application
Anyone interested can fill out a two-part online application and then the information shoots into a massive database.
Shapiro explains that staffers can comb through the army of candidates by variables such as qualifications, experience and expertise.
Even the Obama team finds the response eye-popping. iReport.com: What should Obama do first?
"It's definitely a challenge," said Shapiro. "I don't think any transition has seen anything like this."
E-mail to a friend

All About Barack Obama