By Ed Henry
CNN Senior White House Correspondent

(CNN) -- Vice President-elect Joe Biden will chair a meeting of the presidential transition team's top economic advisers on Tuesday, as the incoming administration tries to craft and sell an expected $775 billion economic recovery package to Congress, CNN learned.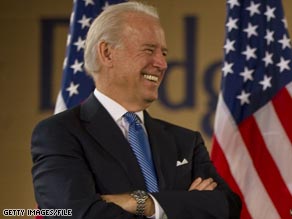 Vice President-elect Joe Biden will chair an economic transition team meeting on Tuesday.
Two Democratic officials told CNN the meeting at the Washington transition headquarters will include Lawrence Summers, President-elect Barack Obama's pick to chair the National Economic Council -- a key policymaking arm within the White House that will formulate the new administration's financial crisis response.
Biden's prominent position as chair suggests he will take a leading role in trying to pass the stimulus package. His low profile in recent days had sparked speculation he would be sidelined in the new administration, especially since his strongest asset -- foreign policy -- will be largely handled by Secretary of State-designate Hillary Clinton.
During the presidential campaign, Biden said he was not seeking any specific task, and would not cut as wide a swath as Vice President Dick Cheney. During a debate, Biden said he would focus as vice president on using his four decades of U.S. Senate experience to help Obama move legislation through Congress.

Watch Biden talk about his role in the administration »
Biden on 'Larry King'
Joe Biden tells CNN's Larry King how he wants to change the role of vice president
Tonight, 9 ET

"I have a history of getting things done in the United States Senate," Biden said during his one debate with Republican Gov. Sarah Palin. "John McCain would acknowledge that. My record shows that, on controversial issues. I would be the point person for the legislative initiatives in the United States Congress for our administration."
Don't Miss
After being conspicuously quiet in the early weeks of the transition, Biden is suddenly raising his profile in the effort to sell an expensive economic plan to lawmakers suffering from sticker shock in the wake of one government bailout after another. He appeared on his first Sunday talk show as vice president-elect this weekend. On ABC's "This Week" he said bolder action is needed now to prevent the economy from "absolutely tanking."
The Biden tour continues Monday night on CNN's "Larry King Live," where he will again declare he's planning to be "counselor in chief" rather than having overarching power on any specific issue.
E-mail to a friend

All About Joseph Biden • Barack Obama