By Ruben Navarrette Jr.
Special to CNN
Ruben Navarrette is a member of the editorial board of the San Diego Union-Tribune and a nationally syndicated columnist. Read his column here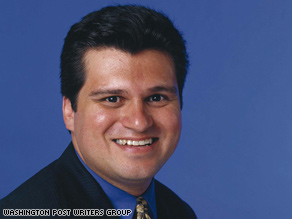 Ruben Navarrette says Warren's selection is about Americans learning to disagree in a civil fashion.
SAN DIEGO, Calif. (CNN) -- If controversies were sitcoms, the ruckus over Barack Obama's decision to have the invocation at his inaugural ceremony given by Rick Warren -- bestselling author and pastor of the 20,000-member Saddleback Church in Southern California -- would be the "Seinfeld" of the bunch. After all, it's about nothing.
Don't misunderstand. I don't mean that the concerns of those liberal groups, pro-choice activists and gay rights proponents who are upset with Warren's selection are nothing. I admire their passion. In fact, I suspect, my worldview isn't so different from theirs.
I support a woman's right to choose and civil rights for gays and lesbians. And when I have flashes of intolerance, it's often an intolerance of those who seem intent on taking away the rights of others. iReport.com: Your thoughts on Rick Warren
And unlike Warren, who is an outspoken supporter of Proposition 8 -- the divisive ballot measure that amended the California constitution to ban gay marriage -- I opposed the initiative. For many on my side of the issue, this was bigotry on full display; for me, it was bullying.
One minute, gay couples in my state had to the right to marry; the next, they didn't. The privilege was stripped away by brute force just because a slim majority had the votes to do it. That's cruel, arrogant and wrong.
Don't Miss
But the Warren controversy doesn't have anything to do with all that. This is about a president-elect, who just came off a bruising 21-month campaign, exercising his prerogative to choose whoever he wants to deliver the blessing at his inauguration. It's about -- as President-elect Obama noted this week -- Americans learning to agree to disagree without becoming disagreeable.
It's about those on the left knowing how to win and how to savor victory without giving into the impulse to attack each other. And, finally, it's about recognizing that -- for those who feel like protesting Warren's appearance -- there is an ocean's worth of bigger fish to fry.
It's interesting. Many of those raising a fuss are talking about respect, demanding respect, insisting they're not given respect, etc. Well, that works both ways. If they want respect, they have to give it. They can start by respecting the wishes of the president-elect to plan his inauguration as he sees fit.
The anti-Warren protestors are looking at the big picture and insisting that the selection of the megachurch pastor is a dead giveaway that Obama isn't interested in advancing gay rights or preserving abortion rights. They say that he just used those groups to get elected and has now thrown them overboard.
That's absurd. And it's an awful lot to glean from the simple act of asking someone to deliver an invocation. Why not let Obama get sworn in and have a chance to govern before we assess whether he'll remain loyal to the base?
The tale gets more curious. Even as Obama takes fire from liberal friends on the left, Warren is taking his share of criticism from conservative supporters on the right who can't believe he is even associating with Obama, let alone appearing at his inauguration.
But what did either camp expect anyway? Those familiar with the evangelical movement in America should already know that Warren falls on the moderate portion of the spectrum. And, if gay rights activists are surprised that Obama would share the spotlight with an opponent of gay marriage, they need to do more research.
Obama himself has stated that he believes marriage is between a man and a woman, a view that also happens to be shared by Vice President-elect Joe Biden.
That didn't stop many on the left from helping to elect Obama and Biden. Nor should it disqualify a certain pastor from blessing their inauguration.
Now that will be something.
The opinions expressed in this commentary are solely those of Ruben Navarrette.
E-mail to a friend

All About Same-Sex Marriage • Rick Warren • Barack Obama