WASHINGTON (CNN) -- The White House consulted with President-elect Barack Obama on the $13.4 billion loan package for automakers that President Bush announced Friday, both sides said.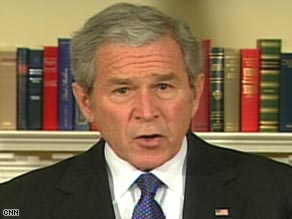 President Bush said Friday that automakers must show they can be profitable businesses by March 31.
The Bush administration briefed Obama's transition team over the last several days about options under consideration, according to a transition aide not authorized to speak publicly, though the administration did not ask for Obama or his staff's approval or opinion on the package or any of its specifics.
White House spokesman Joel Kaplan confirmed that there had been "consultations ongoing" between the two sides but he declined to go into specifics.
Bush said Friday the federal government would provide loans almost immediately to General Motors Corp. and Chrysler to prevent "an unacceptably painful blow" should the Detroit giants fail.
Bush said in normal economic circumstances he would not intervene to save the automakers but "in the midst of a financial crisis and a recession, allowing the U.S. auto industry to collapse is not a responsible course of action."
Federal intervention is necessary, he said, to give auto buyers faith in their purchases of domestic vehicles.
"If you hear that a car company is suddenly going into bankruptcy, you worry that parts and servicing will not be available, and you question the value of your warranty," Bush said.
"With consumers hesitant to buy new cars from struggling automakers, it would be more difficult for auto companies to recover."

Watch Bush announce help for GM, Chrysler »
Bush had expressed skepticism to Obama in their November 10 Oval Office meeting about a bailout of the car companies on the heels of bailouts of other industries, the Obama aide said.
Obama had urged Bush in the meeting to grant a short-term loan to the auto industry on the condition that significant changes were made toward long-term viability, the aide said.
The loans are designed to stabilize the two automakers through March, at which time they must show they are financially viable.
"If the firms have not attained viability by March 31, 2009, the loan will be called and all funds returned to the Treasury," a White House statement said.
In a statement after Bush's announcement, Obama said that allowing a collapse in the auto industry would have had "devastating consequences" for the economy.
"The auto companies must not squander this chance to reform bad management practices and begin the long-term restructuring that is absolutely required to save this critical industry and the millions of American jobs that depend on it," Obama's statement said.
A senior Bush administration official briefing reporters said he expected that GM and Chrysler officials will be signing the loan papers to access the cash later Friday.
Ford Motor Co. is in a better financial position than GM and Chrysler and is not included in the loan plan. iReport.com: How does the auto bailout affect you?
An additional $4 billion may be available in February, the Bush administration said.
GM has warned it will fall below the minimum amount of cash it needs to continue to operate without $4 billion in federal loans before the end of the month. Privately held Chrysler said it will need $4 billion or it also will run out of cash early next year.
Financing will be drawn from the $700 billion Troubled Asset Relief Program, the fund set aside in October to bail out Wall Street firms and banks, according to the White House.
The president said Friday the plan will give the automakers a chance to show they can be viable outside a "disorderly bankruptcy," which he said would drive the U.S. into a deeper recession with effects "far beyond the auto industry."
The government will put other conditions on the loans, Bush said, including making pay competitive with foreign automakers with large U.S. operations such as Toyota and Honda. Employees of foreign automakers generally make less than those in U.S.-owned plants.
The plan also puts limits on executive compensation and perks such as corporate jets and requires the automakers to adhere to fuel efficiency and emission standards and to open books to government scrutiny.
Treasury Secretary Henry Paulson said the conditions were included to "protect the taxpayers to the maximum extent possible."
Chrysler Chairman and CEO Bob Nardelli thanked the administration for the loan.
"A letter of intent was signed which outlines the specific requirements that must be achieved," Nardelli said in a statement. "These requirements will require consideration from all constituents, requiring commitment first in principal, leading to implementation this coming year. Chrysler is committed to meeting these requirements."
Ford President and CEO Alan Mulally issued a statement Friday saying the loans for its competitors were welcome.
"The U.S. auto industry is highly interdependent, and a failure of one of our competitors would have a ripple effect that could jeopardize millions of jobs and further damage the already weakened U.S. economy," Mulally said.
Sen. George Voinovich, R-Ohio, co-chairman of the Senate Auto Caucus, thanked Bush for acting.
"I am grateful the president stepped in to help thwart a disaster that would have sent our state over the cliff," Voinovich said. "There are millions of hard-working Americans today who can breathe easier this holiday season."
Opponents of federal help for the automakers were not swayed Friday.
"It is deeply disappointing that the administration has chosen to use taxpayer dollars to delay the inevitable need to fundamentally restructure these companies," Rep. Tom Price, R-Georgia, said in a statement. "By bailing out automakers without real reform or long-term solutions, we are only protracting uncertainty and putting billions of tax dollars at grave risk."
Rep. John Dingell, D-Michigan, said he was pleased Bush approved the loans but not happy with one of the conditions.
"It is irresponsible during a time of economic crisis for the White House to insist that workers take further wage cuts on top of the historic concessions they have already made," Dingell said.
U.S. auto sales plunged to 26-year lows last month as tight credit, rising job losses and weak consumer confidence have led to a virtual collapse in the auto market.
All the major automakers, including Asian firms such as Toyota, are cutting back production. But the situation is particularly severe at GM and Chrysler.
In the last week, those two automakers announced shutdowns of assembly lines for at least a month, several weeks longer than the typical shutdowns during the December holiday season.

Lengthy shutdown is a worry for workers »
E-mail to a friend

All About General Motors Corporation • Chrysler Holding LLC