CHICAGO, Illinois (CNN) -- President-elect Barack Obama, citing the need for tighter oversight of the nation's financial markets, on Thursday named veteran regulator Mary Schapiro as his choice to head the Securities and Exchange Commission.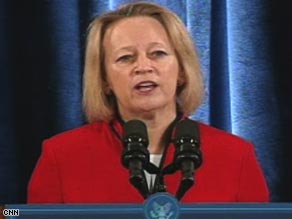 Mary Schapiro speaks Thursday after President-elect Obama nominated her to head up the SEC.
And Obama has selected California Rep. Hilda Solis to serve as secretary of labor, a Washington-based labor official for a major union told CNN.
Solis is currently serving her fourth term in the House, representing a district that includes part of East Los Angeles. She serves on the Energy and Commerce, Natural Resources, and Energy Independence and Global Warming committees.
Obama, speaking at a news conference, also announced the nomination of Gary Gensler to serve on the U.S. Commodity Futures Trading Commission and Dan Tarullo to fill one of the vacancies on the Federal Reserve Board.
"Financial regulatory reform will be one of the top legislative priorities of my administration," Obama said. "And if the financial crisis has taught us anything, it's that this failure of oversight and accountability doesn't just harm the individuals involved, it has the potential to devastate our entire economy. That's a failure we cannot afford."
Schapiro, who will be the first woman to chair the SEC if confirmed by the Senate, is currently chief executive of the Financial Industry Regulatory Authority, the largest non-government regulator for securities firms that do business with the U.S. public.

Watch Obama call Schapiro "smart and tough" »
She would replace Christopher Cox as chair of the SEC, the nation's main watchdog over publicly traded companies.
Schapiro is a former SEC commissioner who briefly served as the agency's acting chair in 1993. She also was chair of the Commodity Futures Trading Commission in 1994, during the Clinton administration.
Obama's announcement comes amid criticism of the current SEC chairman for the agency's apparent failure to act on information that could have prevented one of the largest investment fraud cases in Wall Street history.
Don't Miss
Cox said Wednesday that "credible information" had been brought to the SEC's attention over a period of nearly 10 years about the activities of Bernard Madoff, who has been charged by federal prosecutors with leading a $50 billion Ponzi scheme. No formal investigation was done.
Obama pointed to the Madoff scandal in saying tighter regulation is needed.
"Charities that invested in Madoff could end up losing savings on which millions depend -- a massive fraud that was made possible in part because the regulators who were assigned to oversee Wall Street dropped the ball," the president-elect said.
Earlier this year, Treasury Secretary Henry Paulson put forward a plan that would have combined the nation's various financial regulatory offices, including the SEC. However, it remains to be seen if such steps will be implemented in the next administration.
Gensler served in the Treasury Department under President Clinton from 1997 to 2001. Tarullo, one of Obama's top economic policy advisers, is a professor at Georgetown Law School.
"These individuals will help put in place new, common-sense rules of the road that will protect investors, consumers, and our entire economy from fraud and manipulation by an irresponsible few," Obama said.
"These rules will reward the industriousness and entrepreneurial spirit that's always been the engine of our prosperity, and crack down on the culture of greed and scheming that has led us to this day of reckoning. ... Instead of appointing people with disdain for regulation, I will ensure that our regulatory agencies are led by individuals who are ready and willing to enforce the law."
A senior Democratic official said Obama will announce Illinois Republican Rep. Ray LaHood on Friday as his choice for transportation secretary.
Two sources told CNN earlier that LaHood would be Obama's nominee for the transportation post.
Fellow Illinois Republican Rep. Tim Johnson welcomed the selection of LaHood, whom he calls one of his closest friends in Congress.
"I think Ray has the ability to work both sides of the aisle well," Johnson said. "He's an extraordinarily talented legislator and (is) from Illinois so, from a provincial standpoint, this would meet our needs well."
A Democratic House colleague from Illinois, Rep. Jan Schakowsky, also praised LaHood's selection.
"He's a bipartisan guy," she told CNN. "He's well-liked and respected."
On Wednesday, Obama tapped former Iowa Gov. Tom Vilsack as the next agriculture secretary and Colorado Sen. Ken Salazar as the next interior secretary.
Vilsack was a high-profile supporter of Sen. Hillary Clinton during the presidential primaries after he briefly sought the Democratic presidential nomination.
Salazar, Colorado's former state attorney general, is a member of the Senate Committee on Energy and Natural Resources, and has developed a reputation as a strong advocate of reducing the country's dependence on foreign oil.

Watch how some say Salazar isn't "all green" »
Also on Wednesday, White House spokeswoman Dana Perino announced that Obama will meet for a second time with President Bush. The meeting also will include the three living former presidents.
Bush will host a lunch with Obama and former Presidents Jimmy Carter, George H.W. Bush and Bill Clinton on January 7, Perino said.
E-mail to a friend

CNN's John King, Ed Henry, Brianna Keilar, Deirdre Walsh and Jessica Yellin contributed to this report.
All About Barack Obama