(CNN) -- Labor unions Thursday praised President-elect Barack Obama's selection to head the Labor Department, Rep. Hilda Solis.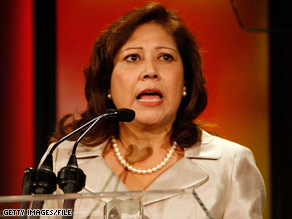 Rep. Hilda Solis is viewed as a strong advocate for working men and women by organized labor.
A Washington-based labor official for a major union told CNN's John King that the California Democrat was Obama's choice for labor secretary.
Obama is expected to officially announce his nomination of Solis during a press conference on Friday. Obama is also expected to name Illinois Rep. Ray LaHood as his choice for secretary of transportation.
Obama has enjoyed the support of organized labor since the campaign season, when the AFL-CIO, the nation's largest labor organization, endorsed him for president, calling him "a champion for working families."
As a senator, Obama co-sponsored the Employee Free-Choice Act, which was designed to make it easier to create unions in the workplace. Supporters of the plan, including the AFL-CIO, said it would increase the number of union members in the United States and lead to better wages and benefits for workers.
If confirmed, Solis would be the third Hispanic to serve in Obama's Cabinet, along with New Mexico Gov. Bill Richardson, who is Obama's choice for secretary of commerce, and Colorado Sen. Ken Salazar, who Obama tapped to be secretary of the interior.
Don't Miss
Obama had been criticized by some Latino groups, who said Hispanics were not being picked for key Cabinet positions after Richardson was passed over for secretary of state. Instead, Obama picked his former rival, Sen. Hillary Clinton, to be his top diplomat.
Solis, a four-term congresswoman from Los Angeles, is considered to be one of the most liberal members of the House.
Solis served eight years in the California legislature and also worked in former President Jimmy Carter's administration. Solis unseated former Rep. Matthew Martinez in a bitter Democratic primary in 2000.
Shortly after news broke that Solis would be joining Obama's team, labor leaders issued press releases praising the president-elect's choice.
"The daughter of two immigrant workers and union members ... she will be a secretary of labor working men and women can finally count on to stand up and fight for them," said Andy Stern, president of the Service Employees International Union.
"For Rep. Solis, serving as secretary of labor will not just be a job, but the culmination of a lifetime of action serving as a voice for people who work," Stern said.
AFL-CIO President John Sweeney said the nation's largest organized labor organization was "thrilled" that Solis would be the next labor secretary.
"We're confident that she will return to the labor department one of its core missions -- to defend workers' basic rights in our nation's workplaces," Sweeney said.
On Friday, Obama is expected to fulfill a promise to include Republicans in his administration by naming LaHood as his choice to head the Transportation Department. Obama has also decided to keep President Bush's secretary of defense, Robert Gates.

Watch reaction to LaHood joining Obama's Cabinet »
LaHood, a seven-term congressman from Peoria, is respected on Capitol Hill, and his appointment as transportation secretary was hailed by both sides of the aisle.
Fellow Illinois Republican Rep. Tim Johnson welcomed the selection of LaHood, whom he calls one of his closest friends in Congress.
"I think Ray has the ability to work both sides of the aisle well," Johnson said. "He's an extraordinarily talented legislator."
A Democratic House colleague from Illinois, Rep. Jan Schakowsky, also praised the selection.
"He's a bipartisan guy," she said. "He's well-liked and respected."
Schakowsky described LaHood as "easygoing and congenial" and said he has a record of working with Democrats in the Illinois delegation on a range of issues.
LaHood, 63, represents the Illinois district that includes the counties represented by Abraham Lincoln when he was a representative from 1847 to 1849. He is a member of the influential House Appropriations Committee.
E-mail to a friend

All About Barack Obama • Ray LaHood • U.S. Department of Labor