From Larry Shaughnessy
CNN Pentagon Producer





FORT MYER, Virginia (CNN) -- The Army is making sure it impresses its next commander-in-chief when he is sworn in next month. It is planning to honor President-elect Barack Obama with the biggest fife and drum corps that the Army has ever put together.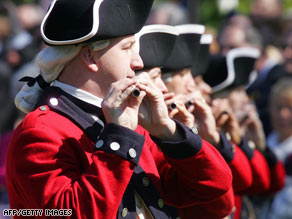 The Old Guard's Fife and Drum Corps is known for its red coats and tricorn hats.
The Army's Old Guard Fife and Drum Corps marches with surgical precision, and its bass drums boom loud enough to set off car alarms 10 yards away. On January 20, it will march near the start of the procession from the Capitol to the White House.
The corps is part of the Third Infantry Regiment, the oldest active infantry unit in the U.S. Army.
The ensemble normally numbers fewer than 40 musicians, but on Inauguration Day, 56 fifers, drummers and buglers will march down Pennsylvania Avenue. The corps has more musicians than usual, so the commanders want to put as many as possible in the parade.
The fife and drum unit will perhaps be the most distinct unit in the procession. Musicians wear bright red uniforms reminiscent of Colonial days, tricorn hats, white wigs and white, full-length trousers.

Watch the fife and drum corps practice »
"A lot of people think of knickers from the 18th century. General Washington had actually requested full-length trousers because they would protect the leg better, so that's what we wear," said Master Sgt. William White.
On Tuesday, Fife and Drum Corps musicians were wearing their modern Army uniforms as they marched through a cold rain to perfect their historic routine for the nation's biggest official ceremony.
"We could go out and do it tomorrow morning and we would put on the standard performance that we would like to put on," Master Sgt. White, the fife group leader, told CNN. "But the job that we do demands that we're always trying to improve on the tiny little things that maybe even we're the only ones that know what's going wrong."
An important part of the practice in the rain was dealing with gloves. Normally, it's easier to play fifes and drums with bare hands, but because Inauguration Day weather can be frigid, the unit had to be ready for the worst.
Don't Miss
"We'll practice with the gloves on, it might not be as comfortable as we might like, and maybe we'll get a nice warm day on Inauguration Day and they'll come off and we'll be happy.
"But if not, we have to be prepared," said Master Sgt. Joshua Dukes, who will play the fife. He marched in the 2004 parade when it was rainy and just 35 degrees, so he knows the importance of being prepared for inclement weather.
White will be marching in his fourth inauguration parade, but his love for fife and drum corps started long before he joined the Army. He grew up in Williamsburg, Virginia's Colonial capital, and has been playing in fife and drum corps since he was 7 years old.
"My father was part of the Williamsburg fife and drum corps as a child and then a director of the corps as an adult, so I followed in his footsteps, and I've continued to do it as part of my adult life as well." White said.
The corps has participated in every Inauguration since President John F. Kennedy was sworn in.
But the unit's legacy dates back to the days of the Revolutionary War when the fife and drums were the equivalent of a military commander's tactical radio.
The high-pitched wooden flutes and the deep bass drums were the officers' best way to communicate with their troops over the din of battle.
Each tune was really an order for soldiers to move one way or another as the battle progressed. Now the unit's main mission is ceremonial.

Although every inauguration is historic, some see the inauguration of America's first black president as something special.
Master Sgt. Dukes, who is African-America, said every inauguration is a proud moment for him, but "I think personally as an African-American, it's a very proud moment for me, but I don't support him any less than any other president."
E-mail to a friend

All About Barack Obama • U.S. Army • U.S. Presidential Inauguration