CHICAGO, Illinois (CNN) -- President-elect Barack Obama on Wednesday will announce former Iowa Gov. Tom Vilsack as his choice for agriculture secretary and Colorado Sen. Ken Salazar as his choice for secretary of the interior, an aide on Obama's transition team and a separate Democratic source said.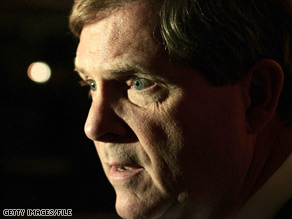 Tom Vilsack is expected to be named Barack Obama's choice for agriculture secretary Wednesday.
Vilsack was a high-profile supporter of Sen. Hillary Clinton during the presidential primaries after he briefly sought the Democratic presidential nomination.
Obama on Tuesday nominated Arne Duncan, the head of the Chicago public schools, to serve as his administration's secretary of education.
"When it comes to school reform, Arne is the most hands-on of hands-on practitioners," Obama said at a news conference at Chicago's Dodge Renaissance Academy, a school that Duncan helped to overhaul.
"For Arne, school reform isn't just a theory in a book -- it's the cause of his life. When faced with tough decisions, Arne doesn't blink. He's not beholden to any one ideology -- and he doesn't hesitate for one minute to do what needs to be done."
Duncan has headed the Chicago public school system -- the third-largest in the nation -- since 2001. Like Obama, he is a graduate of Harvard University.
Duncan also worked for six years with the Ariel Education Initiative, which tried to create educational opportunities for inner-city students on Chicago's South Side.
Don't Miss
"Whether it's fighting poverty, strengthening the economy or promoting opportunity, education is the common thread," Duncan said in brief remarks after Obama's announcement. "While there are no simple answers, I know from experience that when you focus on basics like reading and math, when you embrace innovative new approaches to learning, and when you create a professional climate that attracts great teachers -- you can make a difference for children."
The president-elect said it's time for some real change in the country's education system.
"[We are] stuck in the same tired debates that have stymied our progress and left schools and parents to fend for themselves: Democrat versus Republican; vouchers versus the status quo; more money versus more reform -- all along failing to acknowledge that both sides have good ideas and good intentions," Obama argued. "We cannot continue on like this."

Watch Obama explain why Duncan is his choice »
During the campaign, Obama promised to support $18 billion in new education funding, including an additional $10 billion for early childhood education. He also pledged to support an increase in funding for charter schools and recruit an "army of new teachers."
The Dodge Renaissance Academy is known in part for encouraging candidates pursuing higher educational degrees to work in classrooms. Obama has praised the school for its teacher training programs.
Obama and Duncan often play basketball together, and Duncan was one of those who played with the president-elect in a game on Election Day.
Also Tuesday, the president-elect planned to meet with key members of his economic team.
Asked at a news conference Monday when he thinks the country's economic situation will start to improve, Obama said he was confident that his economic recovery plan immediately would lead to job creation.
"I want to be completely honest with the American people. I don't have a crystal ball," he said.
"But my hope, more importantly, is not only are we creating jobs through this economic recovery process, what I'm also looking for is the private sector, the financial system to regain confidence and that, through our actions, we're able to jump-start an era of innovation that leads to competitiveness in the world economy over the long term."
Obama is expected to announce Salazar Wednesday as his pick for secretary of the interior, two transition officials confirm. Salazar has focused on public land and energy resource issues as a first-term senator from Colorado.
His appointment would not jeopardize the balance of power in the Senate. Colorado Gov. Bill Ritter, a fellow Democrat, would name his replacement.
The announcement will round out Obama's environment and energy team. iReport.com: What do you think of Obama's Cabinet picks?
Obama on Monday announced physicist Steven Chu as his selection for energy secretary, along with his choices for other energy positions.
Obama called Chu "uniquely suited to be our next secretary of energy" for his work on new and cleaner forms of energy.
Chu, who runs the Lawrence Berkeley National Laboratory in California, won the 1997 Nobel Prize in physics and is highly respected in energy circles.
Obama also named Carol Browner, administrator of the Environmental Protection Agency in the Clinton administration, as the newly created "climate czar" inside the White House. The position will oversee policies on energy, the environment and climate.
Lisa Jackson, former head of New Jersey's environmental agency, was tapped to serve as Obama's Environmental Protection Agency administrator, and Nancy Sutley, the Los Angeles, California, deputy mayor for energy and environment, was picked to lead the White House Council on Environmental Quality.
E-mail to a friend

All About Barack Obama