By Kristi Keck
CNN
(CNN) -- With Sen. Hillary Clinton's expected appointment as secretary of state, women are at risk of seeing a decrease in their representation in the Senate -- and some are putting pressure on New York Gov. David Paterson to make sure that does not happen.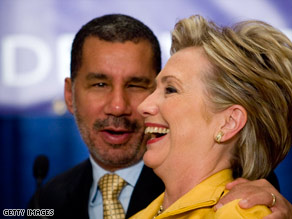 New York Gov. David Paterson must pick someone to fill Hillary Clinton's Senate seat.
Caroline Kennedy, the 51-year-old daughter of President Kennedy, is the most prominent female contender who has expressed interest in becoming the junior senator from New York.
Tuesday, Senate Majority Leader Harry Reid threw his support behind Kennedy.
Reid told Nevada political analyst Jon Ralston on Tuesday that he personally called Paterson, urging him to appoint Kennedy to the seat.
Reid said in an interview on Ralston's Nevada-based television show "Face-to-Face," "I've spoken to her. She was part of a vetting process for vice presidential choices for Obama. She's lived in government and politics her whole life. I think it would be a tremendous thing. ... We have a lot of stars from New York. Bobby Kennedy. Hillary Clinton. I think Caroline Kennedy would be perfect. "
Asked by Ralston if he planned on calling the governor, Reid answered, "I already have."
A Reid spokesman confirmed to CNN that he called Paterson last week expressing his support for Kennedy.
Don't Miss
Kennedy is not the only woman interested in succeeding Clinton. Also eyeing the seat are Reps. Carolyn Maloney and Kirsten Gillibrand, New York City teachers union President Randi Weingarten and actress Fran Drescher, best known for her starring role on "The Nanny."
Women's advocacy groups are calling on Paterson to turn to what they see as an abundance of qualified women when it comes time for him to make his pick. Paterson has the power to appoint a replacement, who then will face a special election in 2010 to fill out Clinton's term. The candidate would have to run again in 2012 for a full six-year term.
The Eleanor Roosevelt Legacy Committee, an organization dedicated to "building a new generation of Democratic women candidates, informed voters, and political activists in New York state," has not endorsed a candidate, but said any contender must have experience in government as well as statewide appeal.

Watch report from CNN's Bill Schneider »
"I think there are a lot of women who can fit that bill, and it's really important to us that we don't lose another seat in the U.S. Senate," said Cathy Lasry, president of the organization.
"I think that we've proven that once we are in there, obviously we can govern. ... We just need that extra push and some help in getting in there."
Women would have held a record 17 Senate seats come January, but with Clinton's expected departure, that number drops to 16.
Women have not seen a decrease in their numbers in the Senate in three decades.
"Women are dramatically underrepresented at every level of government," said Kim Gandy, president of the National Organization for Women. "We need more representation of women. We need more women's voices at the table."
NOW, along with the Eleanor Roosevelt Legacy Committee, has been urging people to call Paterson to voice their support for a female senator.
NOW's political action committee has endorsed Maloney for the appointment, saying, "Sen. Hillary Clinton leaves big shoes to fill, and Carolyn Maloney has what it takes."
But a recent Marist poll puts Kennedy tied with New York Attorney General Andrew Cuomo as among the top picks to replace Clinton.
Cuomo, the ex-husband of Kennedy's cousin Kerry Kennedy, was the secretary of housing and urban development under President Clinton. His father, Mario Cuomo, was governor of New York from 1983 to 1994.
The Marist poll showed Caroline Kennedy and Andrew Cuomo each with 25 percent support of those polled, while 26 percent of respondents said they are unsure. No other contender got more than single-digit support.


Learn more about the top contenders to be senator »
Kennedy's interest in the seat could mean the continuation of a family legacy in the Senate that began 56 years ago with the election of her father as the then-junior senator from Massachusetts.
But her appointment also could upset some Clinton backers, because Kennedy was a vocal Obama supporter during the primaries.

Watch more on Kennedy's interest in the seat »
Hank Sheinkopf, who worked for President Clinton's 1996 re-election campaign, said name recognition does not make Kennedy qualified for the job.
"Does she have name recognition? So does Jennifer Lopez," Sheinkopf said.
"The Senate seat is not a legacy place. We haven't had a Kennedy elected to office from New York state since 1964, and a lot of people would like to keep it that way," he said, referring to Caroline's uncle Robert Kennedy.
While Drescher said she has the "utmost respect" for Kennedy, the former sitcom star said, "I think I'd probably be good for New York."
Drescher told CNN's Larry King that "senior senators on both sides of the party lines" have encouraged her to go after the seat.
"I've moved away from the acting career anyway. I mean, I dapple in it, and I do things that only interest me. But I'm finding that all roads lead to Rome. And nowadays, Rome is Capitol Hill," she said.

Watch Drescher explain why she wants the job »
Paterson has said he intends to consult with people across the state to appoint "the best possible candidate to replace Sen. Clinton."
He said he will announce the replacement after the seat becomes officially vacant.
Lasry said Paterson has an opportunity to give women a "leg up" and send a message to people across the country.
"The more women you see in that position, the more comfortable people get with that -- and they think, 'Wow, I really could run for office,' " she said. "I think that really does make a difference in people's lives and the way people see women."
E-mail to a friend

All About David Paterson • Caroline Kennedy • Hillary Clinton